Northern Spark arts fest shifts from 1 all-nighter to 2 late-nighters
The popular Northern Spark festival returns to the Twin Cities this weekend with two big changes: First, it's not running all night; it'll wrap up at 2 a.m. Second, it's running for two nights — this coming Friday and Saturday — instead of just one.
Northern Spark started as a nuit blanche, or white night festival, lasting one night till sunup. Northern Spark's co-artistic director, Sarah Peters, said some people have had a hard time getting their heads around the changes this year.
"I ran into an artist I know in town who was very confused and thought we were crazy because she thought we were doing two overnights, like 9 to 5:30, and then get up and do another," she said. "And I was just like, 'No! No, no, no.'"
Peters said two all-nighters would kill them. But there are practical reasons for expanding to two shorter nights.
Grow the Future of Public Media
MPR News is supported by Members. Gifts from individuals power everything you find here. Make a gift of any amount today to become a Member!
"What we've heard from festival attendees for years, since really the beginning of Northern Spark, is 'I can't see everything.' That eight hours is not actually a very long time," she said.
With dozens of projects, thousands of attendees and several sites, it can be hard to see everything. This year there will be three main zones, walkably near each other in Minneapolis: at the Hennepin County/Minneapolis Central Library; on Nicollet Mall; and at the Commons, the open space near the Vikings stadium.
In total, Northern Spark 2018 will actually be two hours longer than in previous years. Peters said it's an experiment. The festival may well go back to one night next year.
The event opens Friday night at this year's Creative City Challenge at the Commons. It's called "Carry On Homes." As volunteers assembled a house-shaped interactive sculpture, organizer Shun Jie Yong said it's designed to explore immigrant and refugee experiences. He said the organizers asked immigrants what single object they made sure to bring with them to the United States.
"We titled that 'Carry-on Homes' because that object can be carried in carry-on suitcases," he said.
The sculpture features entire walls covered with suitcases. Organizer Aki Shibata said the project will continue to gather stories using blank luggage tags.
"People will be writing their immigration story, and then they can tag that on the suitcase," she said. "So other people can read people's stories."
Carry-On Homes will continue through the summer. During Northern Spark there will be seven other groups on the Commons, ranging from glass art and a message-weaving machine to a sculptural project using data gathered from security cameras in north Minneapolis.
"Oh my gosh, there's the mayor!" Shibata called out.
And it was indeed Mayor Jacob Frey, brown bag lunch in hand, coming to see what they were doing. He said he's a huge Northern Spark fan.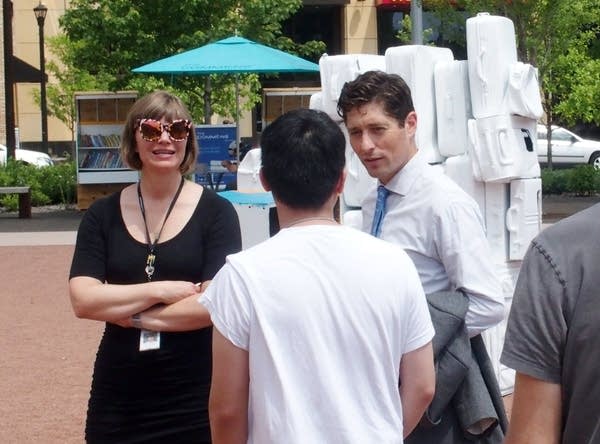 "It's this amazing, creative, almost psychedelic experience and it is beautifully, uniquely Minneapolis," he said.
Even when it's in St. Paul?
"Well, we'll claim it," he said.
A few blocks away at the Hennepin County/Minneapolis Central Library, preparations were underway for a new and improved version of what's become a Northern Spark tradition: the Night Library.
"It is an immersive, interactive theatrical experience with live performers, music, games, puzzles, all-around weirdness from librarians," said project manager Elizabeth Hilber, laughing.
Hilber says this is the fourth Night Library. In other years librarians built a maze out of cardboard at the Northern Spark site to house their show. Last year, 1,600 people came through. Hilber said using the third floor of the actual library has allowed them to dream big.
"It'll be totally dark in here," she said. "We did a lot of pre-filming for projections, so: light, projection, beautiful lanterns."
Lines get so long for the Night Library that organizers use an app so people can get in line virtually. They can visit the 11 other Northern Spark exhibits in the Central Library and then get a text when it's their turn on the third floor.
There are eight other attractions on Nicollet Mall. One is Weird Nicollet Walking Tours, led by urban geographer Bill Lindeke. He says he'll talk about some of the long-gone attractions of the street, including the Great Lakes Bar and Funhouse. Its barstools featured electrodes, "so that a particularly inebriated patron could get shocked or electrocuted while they were sitting there," said Lindeke. He also promises to highlight the ceiling train at the Donaldson's department store, the mummified monkey, life in the now disappeared Nicollet alleys and a host of other weird stories.
Tours begin at 10 p.m. and midnight on both Friday and Saturday.
The theme of this year's Northern Spark is commonality. Peters said the organizers wanted to explore what we have in common in these fractured times. She said she's been struck by how positive artists have been in their projects, while not washing away the difficulties we face.