Duluth lynching brings white man and black woman together 98 years later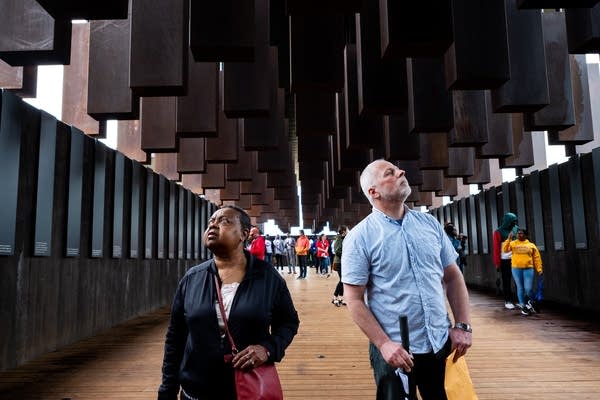 Editor's note: MPR News reporter Tom Weber and photojournalist Evan Frost traveled with people on a bus from Duluth to Montgomery, Ala., for the opening of a memorial to honor the thousands of African-American men, women and children that were lynched in America. This is the last installment in the series.
Being a foot taller than her, Warren Read naturally has a longer stride than Virginia Huston. But he was careful to keep pace with her so they could walk through the memorial together.
Read is white. Huston is black.
Their ancestors were on opposite sides of one of the most shameful moments in Minnesota history 98 years ago this week. It would be understandable for anger to prevent them from getting along.
Grow the Future of Public Media
MPR News is supported by Members. Gifts from individuals power everything you find here. Make a gift of any amount today to become a Member!
But here they were: Descendants of a lynching walking together through the National Memorial for Peace and Justice during its opening weekend in April, hundreds of miles from their homes.
The memorial and a nearby museum were built by the Equal Justice Initiative to remember more than 4,000 black people who were lynched in more than 800 counties across the country.
Read and Huston's connection dates to June 15, 1920, when three circus workers were hanged at the corner of First Street and Second Avenue in downtown Duluth. A woman had made a claim that she was raped by the men. Her accusation was never validated, including by the doctor who examined her.
Today, Read lives in Washington state, Huston in Missouri. They met more than a decade ago when Read was researching a book he wrote, "The Lyncher in Me." It tells the story of Read's discovery that one of his ancestors played a role in the Duluth lynching.
His great-grandfather, Louis Dundino, helped incite the riots when he drove a truck through Duluth, yelling for people to go to "the necktie party."
"My mother was really close to him," Read said, while on a shuttle bus to the memorial. "He passed away before I was born. But I'd heard stories growing up. My mother adored him, so this was a really stunning thing to find out. He served prison time for his role in the riots, but not for the murders.
In researching the lynching, Read tried to find descendants of the lynched men. He found Huston, who was unaware of her history. Read told her for the first time that Elmer Jackson, one of the lynching victims, and Huston were distant cousins.
They both hail from Pennytown, a historically black town in central Missouri. The town doesn't exist anymore and the only building left is a church.
"It was a shock to learn," Huston said. "But we have to let go of the past and not blame anybody. God controls everything. And we can't go by the color of the skin. We have to go by what's in everyone's heart to make this a better place."
A somber birthday
Read and Huston have stayed in touch over Facebook and have chatted over the phone a few times each year. But the trip to Alabama was the first time in six or seven years they'd been in each other's company.
The day they went through the memorial was Read's 51st birthday.
"It's a somber occasion with mixed emotions but I'm thankful I'm able to come do this in honor of Elmer and the other lynchings that happened," Huston said just before she walked into the memorial.
"I think I'm always surprised by the level of emotion that comes with this," Read added, while fighting back tears. "You'd think I'd be used to this by now."
The main part of the memorial is an open-air room with 800 columns of steel, each 6 feet long. Each column represents a county in the United States where at least one lynching occurred. Some columns have a single name, others more than 20.
The floor slowly descends as visitors walk into the memorial while the columns, which start out at eye level, stay at the same height.
That has the effect of eventually walking amid columns hanging above you, representative of the imagery a lynching victim hanging from a tree or light pole.
Most columns from the south
Most of the columns inside that main memorial are dedicated to the southern states where most of the lynchings happened.
The column with the Duluth victims, Elmer Jackson, Isaac McGhie and Elias Clayton, are outside the building in an area called Monument Park. The columns in the park are laying on the ground.
After about a half hour walking through the main part of the memorial, Huston and Read came by the column representing Duluth. Huston reached down and ran her fingers over each name etched in Corten steel.
"I'm shedding tears right now but they're tears of remembrance to let them know they'll always be in my heart," she said. "I thought I was going to be OK and not tear up. But there's just something here.
"We have to learn to love one another," she said.
'Reach across the divide, apologize'
For Read, this moment is about apology and forgiveness.
"I think our friendship speaks volumes that people can reach across the divide and apologize. Even if you didn't have a hand in specifically what happened, I think an apology and reconciliation is important because it brings to light things that were unspoken.
"Elmer is one name of many but it's important to put a human face on these victims because these kinds of crimes happened because people are dehumanized and anonymous," he added. "These were people who were loved by people who experienced loss when this happened. But that loss can carry on from generation to generation."