Photos: Artists capture State Fair's energy with sketches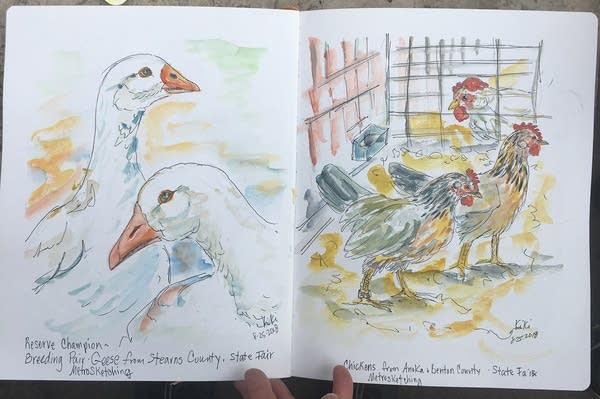 This year, a dozen or so artists met up for the 10th annual "Great Minnesota State Fair Sketch Together."
Participants spent the two-day event drawing fair scenes ranging from award-winning rabbits and geese to flights of beer. Each day ended with an afternoon meeting where artists compared their day's work.
Commercial illustrator and artist Marty Harris said artists tend to draw animals, architecture and vendors, adding that his favorite part of the fair is the Butterfly House.
"The pace is slower, the gestures are varied, and people interact with each other in very positive and gentle ways," Harris said. "For someone like me who loves gesture in drawing, this place is heavenly."
Roz Stendahl, a longtime lover of fair sketching, started sketching at the fair more than 15 years ago. Her passion eventually led her to start the Sketch Together event, Harris said.
At the end of the day, artists snap photos of each other's work, but always leave with their own work in hand.
Gallery
9 of 9
1 of 9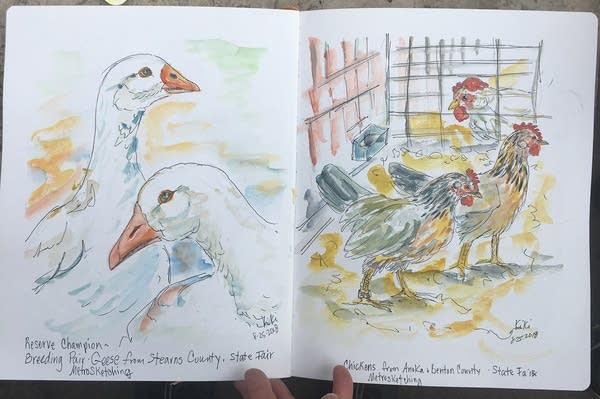 2 of 9