One district will decide control of Minnesota Senate
Republican candidate Jeff Howe has been campaigning daily in Senate District 13, which stretches from Paynesville to Sauk Rapids.
On a recent Friday, he had five incumbent Republican state senators and two state representatives helping knock on doors to spread his message.
"We felt it was important for the state of Minnesota for the Republicans to hold the majority. Because we firmly believe in the agenda that we have and that the Republicans bring forth," he said. "We just don't want that agenda that the Democrats bring to the table to be the majority in the Minnesota Senate."
The majority in the Senate is at stake after Republican Michelle Fischbach resigned to take the post of lieutenant governor.
Grow the Future of Public Media
MPR News is supported by Members. Gifts from individuals power everything you find here. Make a gift of any amount today to become a Member!
Before Fischbach's departure, Republicans controlled the Senate by one vote, 34-33.
"There is a lot of pressure to be successful," Howe said.
Howe is a three-term state representative from Rockville with long stints in the military and working as a firefighter. He gave up his relatively safe House seat when the Senate vacancy came up.
He's running against DFLer Joe Perske, a Stearns County commissioner and former mayor of Sartell.
Perske, a former teacher and coach, said he's running in part because he doesn't like what he sees going on at the state Capitol.
"I'm so frustrated like so many Minnesotans of the dysfunction down there. They fight like cats and dogs. They put those jerseys on like Vikings and Packers and go after each other."
Perske describes himself as a "zealous moderate" who would work for what's best for Minnesota and even break with his party if necessary. For example, Perske is anti-abortion.
"I am what I am. I grew up as a pro-life person. I mean, life is sacred and that's what I believe. So, when I was asked to run for the Democrats, I let them know very clearly that that was my stand, and I'm not going to change it just because I'm running for a party."
With so much attention on one district, Howe worries that voters might grow tired of the campaign literature onslaught, especially with the recent arrival of mailers paid for by outside groups.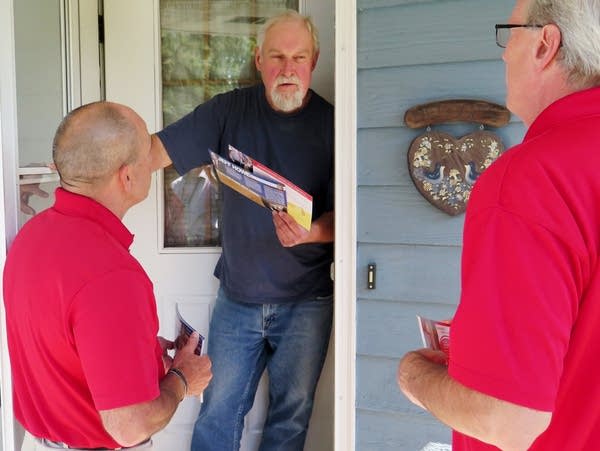 So far, district residents like Craig Lund of Sauk Rapids are taking it in stride.
"I think I got one today, but I just got home so I don't know who it is even from. I think there's been one or two at the door, or they leave them in the door if I'm not home. I look at them later."
DFL Senate Minority Leader Tom Bakk likes Perske's chances in November. Bakk says Perske is a strong candidate who fits the district.
"I think we're going to be very competitive. It's a very tough district for Democrats. There's no question about that. But it has been represented by Democrats before. Prior to Sen. Fischbach, Sen. Joe Bertram represented the district."
But Republicans are confident they can hold the District 13 seat and their Senate majority.
The latest campaign finance reports from late July showed Senate Republicans with $1.3 million in the bank, compared to just $300,000 for the Senate DFL.
Republican Senate Majority Leader Paul Gazelka said Howe is a great candidate. Gazelka also made it clear that his side is prepared to spend.
"It's a winner-take-all race. So, I expect a lot of dollars will be spent," he said. "We're going to do whatever it takes to make sure we keep that seat."