Severe storms, tornadoes leave path of destruction across southern Minnesota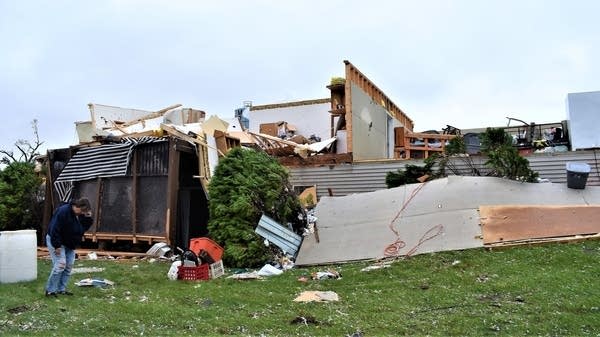 Updated: 5:20 p.m. | Posted: 10:05 a.m.
Residents in communities across a wide swath of southern Minnesota assessed and cleaned up damage Friday after severe thunderstorms — including several tornadoes — swept across the region Thursday night.
The path of the most severe damage cut from southwest to northeast, from Fairmont and Granada near the Iowa border, to Waterville and Morristown, through Faribault and on to Northfield and Cannon Falls.
Grow the Future of Public Media
MPR News is supported by Members. Gifts from individuals power everything you find here. Make a gift of any amount today to become a Member!
There were no immediate reports of injuries.
The Twin Cities National Weather Service office sent several storm survey teams out into the field on Friday, and confirmed at least four tornado touchdowns — near Granada, Waterville, Morristown and Faribault.
Curfews were in place in some communities overnight Thursday into Friday. The Rice County Sheriff's Office said Friday morning that states of emergency were being declared for Morristown and Faribault. The Cannon Falls Police Department said a state of emergency was in effect in that community, too.
Rice County Sheriff Troy Dunn said about 36 homes sustained damage in Morristown, a community of about 1,000 residents located 8 miles southwest of Faribault. Of those, about 12 homes were "severely damaged and uninhabitable," Dunn said.
"We've had no reports of injuries which is surprising when you see the wrath that this storm brought on to our county," Dunn said.
The damage continued northeast to the north side of Faribault.
"The Faribault airport took a very severe hit and there are reports in the city of Faribault as well of damage to some residences, where trees came through roofs and sides of buildings," Dunn said. "We have a trailer park near Roberts Lake (where) there's trees down around it and damage but we're fortunate that none of them were demolished. And then there's some pretty significant damage up by Northfield as well where barns and pole sheds were completely knocked down and moved."
Dunn said Friday morning that authorities were continuing to check damaged residences across the county.
Rice County authorities reported many trees and power lines down across the county, causing some roads to be closed until public works and utility crews can clear the debris.
"We have significant structural damage reported in Shieldsville, Wells, Cannon City and Northfield townships. A number of homes and outbuildings have been severely damaged or destroyed, as well as a loss of livestock," Rice County officials said in a news release Friday morning. "We are continuing to assess the damages and ask that our citizens as well as the general public refrain from driving or walking in the storm-ravaged areas. As the clean-up process begins, many of these areas remain unsafe due to debris."
The Red Barn Farm, a wedding venue and "pizza farm" near Northfield, was leveled by the storm, according to a post on the business' Facebook page.
"Our hearts are broken; last night's tornado left our precious Red Barn in pieces," the post read.
In Cannon Falls, the police department reported that it could be a couple days before power and natural gas service is restored to all homes. The city was asking residents to reduce water usage, because 10 lift stations in the city's sewer system were without power.
The city of Cannon Falls set up a shelter at the high school for residents who could not stay in their homes, and for the residents of a care center that had to be evacuated because of a generator fire.
To the southwest, the Martin County Sheriff's Office reported late Thursday that "roads in and out of Granada are closed for at least 24 hours — exception only for city residents and evacuation."
The National Weather Service on Friday said one of its survey teams has concluded that a tornado was responsible for the damage in and near Granada.
In Easton, Minn., the storms tore the steeple off of Our Lady of Mount Carmel Catholic Church. Father Matt Fasnacht estimated the steeple was about three stories high. He was in his house next door when it happened.
"I heard it — it was a loud thud," he said. "What happened was the wind pushed the steeple over on to the roof. Most of it luckily didn't go straight onto the roof; it kind of hit the side, made a huge hole, then bounced off to the side. But the top story of it poked a hole in the other part of the roof."
Fasnacht said he and dozens of parishioners are now working on getting a temporary roof put in place to cover up the gaping holes in the ceiling. They'll move this Sunday's services to St. John the Baptist church in Minnesota Lake.
Schools in several communities were closed Friday because of power outages, storm damage or both. The Cannon Falls Police Department, in relaying news of Cannon Falls Area Schools being closed Friday, said on Facebook: "We're (used) to snow days but let's hope we never have to use a Tornado Day again."
Xcel Energy reported more than 9,000 customers without power in its service areas in Minnesota as of 5 p.m. Friday. The utility said most customers should have power restored by Saturday evening.
Strong storms also moved across the Twin Cities metro area on Thursday night, prompting warnings and causing some street flooding, but no reports of widespread damage.
Minneapolis-St. Paul International Airport reported 3.28 inches of rain on Thursday, setting a record for the date. The previous record was 1.82 inches, set in 1902.
The Weather Service reported it was the fourth-wettest September day on record in the Twin Cities. (The record is 4.96 inches, set on Sept. 12, 1903.)
MPR News reporters Marianne Combs and Andrew Krueger contributed to this report.
If you have storm photos or stories you'd like to share, please contact us via Facebook or Twitter, or send an email to newsroom@mpr.org.