When kids come to see 'Hamilton,' it's noisy downtown
A couple of thousand Minnesota high school students will flood the Orpheum Theater in Minneapolis Thursday for a matinee performance of "Hamilton." It's the second local event for "EduHam," which uses the hit show to teach academic skills.
At the first such performance, last Thursday, a horde of students swarmed into the theater. Teenagers whooped in excitement.
Adrienne Diercks, the founder of Project Success, watched. This all started after three different people approached her three years ago to ask if she had seen "Hamilton."
"What's 'Hamilton'?" she replied. As pretty much everyone knows by now, it's a hip-hop musical based on Ron Chernow's biography of founding father Alexander Hamilton.
"And they said, 'Not only do you have to see it, but Adrienne, kids have to see this show. And you have to do it.' And I said, 'Yes! OK! Let me see what this is about.'"
Diercks traveled to New York and saw the musical. Not only was she seized by the excitement of the show, she was captivated by the diversity of the cast, and saw why it would draw in students.
"As a student just said to me the other day, 'This show is for us, and it's about us,'" she said. "And the reason is because who is on stage, and how they are singing and telling their stories and their message."
Project Success connects young people with different experiences, like theater, to build skills and confidence. The students attending "Hamilton" are from Title One schools, which receive federal financial assistance because of the high percentage of children from low-income families.
Originally, Diercks wanted to arrange for five matinees to be set aside for students. In time that eased back to two. There were still huge logistical hurdles to overcome, not least the question of whether the show was even coming to Minneapolis. When the tour was set, there were more logistics.
"And one big thing was, if it came for two weeks you can't give two matinees. But if it came for six weeks we could do two matinees," she said.
And they had to raise the money. "Close to a million dollars," said Diercks.
Some of that paid for the classroom component of the EduHam experience. Students followed a curriculum put together by Tim Bailey of the Gilder Lehrman Institute of American History. It's built around a song early in the show called "Farmer Refuted." It begins with the Rev. Samuel Seabury urging people to remain loyal to King George III. The argumentative Alexander Hamilton responds, and it becomes a rap battle.
In the classroom, students do a content analysis on the two letters upon which the song is based. Bailey said they then move to a thorny question: "Hamilton" creator Lin-Manuel Miranda uses artistic license to portray an exchange of letters as a battle of words in the street. Does that make it inaccurate?
"It's the balance between historical accuracy and historical integrity," he said. He pronounced the "Hamilton" curriculum a great success. "I have never seen students with more of a connection to our country's past than I have through this program," he said.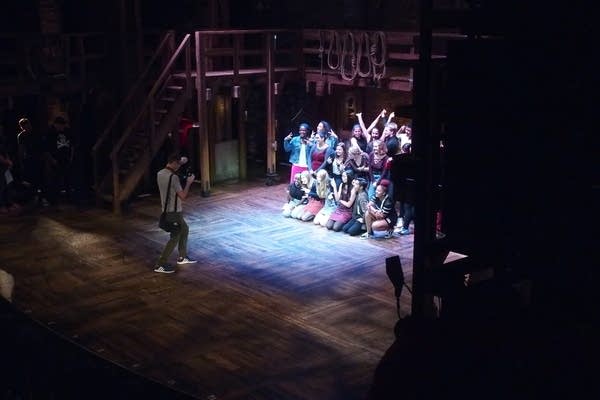 After seeing "Hamilton," students who left the theater seemed ecstatic. Some of the kids in a group from Minneapolis South High had been listening to "Hamilton" songs for years.
"There was no thought in my mind that I would ever have this awesome opportunity, so I am very grateful to be here today," said one.
"All of our teachers worked so hard," said another. "I would see my government teacher stressing out, trying to get every kid possible on this trip."
Some of the kids have worked pretty hard, too. Of the thousands getting to see a performance of "Hamilton," a few were selected to develop and deliver performance pieces of their own, based on characters from the founding era.
At the first EduHam event, representatives of 11 Minnesota schools took to the stage on the morning before the matinee. The first was Burnsville High School with a piece entitled "Don't Tax Our Tea." That was followed by Cristo Rey Jesuit High School's Latin-influenced take on King George III.
But the house really rocked for Naje Wright from Minneapolis Patrick Henry High School.
Wright said she knew nothing about "Hamilton," the show, until teachers told her about what they described as a chance of a lifetime.
"So I did a little research just to see what it would be like," she said. "And I was like, 'This is kinda lit! Like they dance, they rap, they sing or whatever. So then that's when they told us what assignment we could do: dialogue, monologue, poem or a rap. And I was like, of course I was going to go with a poem or a rap, because that's how I get down."
Wright decided to imagine the thoughts running through Alexander Hamilton's mind during his duel with Aaron Burr.
"If you were Alexander Hamilton, what would you be thinking during his last 12 steps?" she said. "If these are my last 12 steps, what will be my legacy? Like if these are not mine what will I do after? What consequences will I suffer? Will people still be on my side?"
And then the thoughts after he was hit by that fatal shot:
If it's the truth that kills me then let it be done.
May my actions teach everyone.
But the light is coming upon me.
Darkness gave me a kiss.
I made my choice
Fate didn't want me to hit,
So I had to miss.

The audience went wild in a way only 2,500 teenagers can.
Another crowd-pleaser came from Connor and Brandon Arneson of Thomas Edison High. They chose to craft a rap battle between George Washington and Benedict Arnold.
"You just got burned to the third degree," taunted Arnold. "Now run home to your daddy like when you chopped down that cherry tree."
The brothers performed in George Washington wigs. Brandon wrote and sang the part of Washington; Connor wrote and sang Arnold. He said they hadn't really tried rapping before, but it came together quickly.
"I don't find American history very interesting if I am being completely honest," he said. "But doing it in a way like this kind of makes it interesting."
"Hamilton" performers Phil Colgan and Conroe Brooks watched the student performers. They said the EduHam performances are their favorites because the audience is so responsive.
So how long before the student performers will be taking their jobs?
"A matter of years," laughed Colgan. "Hopefully a few years," said Brooks, "so I can get a good run out of this! That would be great."
When asked if acting is in her future, Naje Wright said she's actually thinking of becoming a marine biologist or aeronautical engineer — but then again, it was kind of fun up there on stage.
Your support matters.
You make MPR News possible. Individual donations are behind the clarity in coverage from our reporters across the state, stories that connect us, and conversations that provide perspectives. Help ensure MPR remains a resource that brings Minnesotans together.