Fact check: President Trump's Rochester rally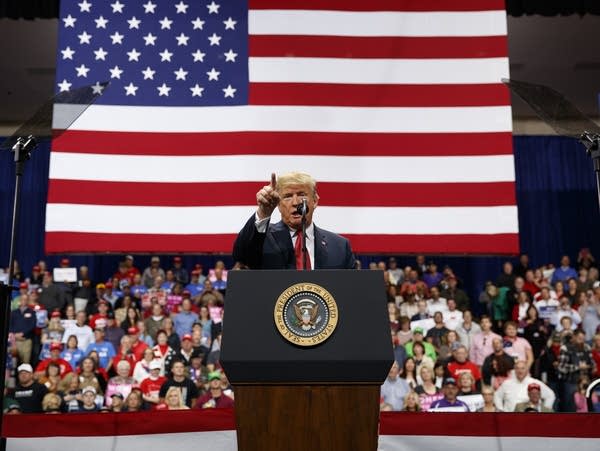 President Trump praised his Supreme Court nominee Brett Kavanaugh, ripped the Democrats and ticked off what he sees as the many accomplishments of his administration during his rally in Rochester Thursday night.
It was his latest stop on a tour to help Republicans maintain control of Congress this fall, pulling office seekers, including 1st District Republican Jim Hagedorn and Senate candidate Karin Housley, on to the stage.
The first-term president, who likes his superlatives (biggest, most, best), often paints with a broad brush, and he doesn't always hit the canvas. Here's a look at some of the things he said in Rochester and how they stand up to the facts:
What he said: "We are replacing the job-killing disaster known as NAFTA, with the brand new U.S-Mexico-Canada trade agreement. Millions of jobs lost, worst trade deal ever."
The facts: It's tricky to try and tally the impacts of the 1994 trade deal between the United States, Canada and Mexico. Trump is using the highest available estimate of jobs lost from a 2014 report from the Economic Policy Institute — a union-backed think tank — and rounding up.
That report stated more than 850,000 jobs have been lost as a result of NAFTA, but other estimates from business groups say the deal has actually supported millions of jobs over the last two decades.
He specifically hit on gains for China, claiming the United States lost more than $500 billion in trade to the country in 2017. But he missed the mark on that claim. A trade deficit is simply the difference between the value in imports and exports, and last year, that difference between the U.S. and China was $375 billion — not $500 billion.
What he said: "Since the election, we have created more than 4 million new jobs ... we've added nearly a half a million new manufacturing jobs."
The facts: It's true, the nation has generated roughly 4 million jobs since Trump took office, but that number is not exactly unprecedented. Slightly more jobs — 4.3 million — were created in the 20 months before he took office. And manufacturing jobs have also been steadily on the rise since President Barack Obama's first term. During Trump's time in office, the nation has added 350,000 new manufacturing jobs, notably shy of the 500,000 number Trump cited.
What he said: "We are making a lot of progress on the wall, a lot of progress, we've already built a lot of the wall."
The facts: There are repair and replacement projects underway along the Mexico border that will install new steel posts and taller barriers. But some of those repairs were underway before Trump became president, and the work is mostly installing new fencing and security technology. It's part of $1.6 billion he secured to increase security, Trump said, but it's not the same thing as the $25 billion concrete wall Trump talked about during the 2016 campaign.
What he said: "And we will always protect Americans with pre-existing conditions. We're going to take care of them. Some of the Democrats have been talking about ending pre-existing conditions."
The facts: Democrats are not trying to put future health insurance in jeopardy for those who have ailments that can be expensive to treat. One of the hallmarks of the Obama health law were guarantees that people with pre-existing conditions could access new policies. What makes Trump's stance about taking care of people in that position notable is that his Justice Department has argued in a federal lawsuit that it won't defend legal attempts to undo Obamacare protections. Democrats say that stance itself is a threat to people with preexisting conditions. The president also touted and tried to take some credit for the falling individual market insurance rates in Minnesota. He's right about the altered cost curve, but he leaves out that state lawmakers put a half-billion dollars into an account to help insurance companies with their costliest claims.
Your support matters.
You make MPR News possible. Individual donations are behind the clarity in coverage from our reporters across the state, stories that connect us, and conversations that provide perspectives. Help ensure MPR remains a resource that brings Minnesotans together.