Don't stop be-leafing: Minnesota's best weekend fall color
The southern half of Minnesota is ablaze — in a good way!
Fall foliage is at its peak in the Twin Cities and across large swaths of southern Minnesota. Much of the state's northern half is past peak, except for a bubble of beauty around Bemidji.
Despite last week's rainy, windy weather, there are still plenty of places to see the state's fall glory, although the Department of Natural Resources' fall color finder map makes it clear that the end is near. Go see it while you can.
Below are a few of the DNR's highlights and suggestions of where to go this weekend. You can also view the agency's entire color finder map online.
Oaks are glowing with color. Juncos have returned to the park feeders for the winter. Waterfowl including egrets and pelicans have been coming through the wildlife management area.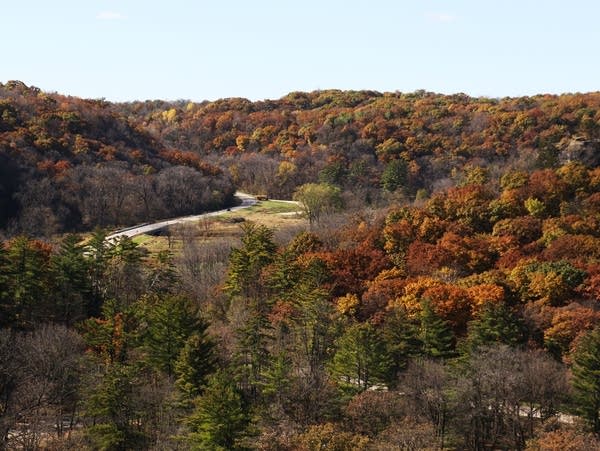 Chimney Rock and Inspiration Point are good overlook locations where you can get nice fall photos.
Tamaracks are gold and sphagnum mosses are shifting from green to a variety of reds, making for a great bog walk. Maples along the park road and the Rocky Point Trail are peaking right now with some bright reds among the yellows and golds.
Birches and aspens are shedding a golden glow throughout the picnic area and near the fishing pier.
The bird feeders near the visitor center are busy with birds preparing for their seasonal migration and are a great place for some bird watching.
Maple and ash trees are yellow and golden this year. Sumac has a deep maroon color and can be seen along the entrance road.
The north trail by the St. Croix River has many oaks with rather muted colors; the south trail has many maples and aspens, which are now yellow.