Future arrives in Minnesota as electric cooperative unveils battery project
When Sam Villella became a father, solar energy went from being cool to being imperative.
"Sustainability. [The] future," he said. "When I had children, that's what made the little bulb go off in my head."
Villella, who lives in Blaine, Minn., installed solar panels on his roof and bought an electric car. Then he tried getting his utility company, Connexus Energy, to start thinking like him.
Connexus is an electric cooperative, the largest of 28 such co-ops that make up Great River Energy. It has 130,000 member-owners in the northern Twin Cities suburbs. Member-owners vote for board members who oversee the cooperative.
MPR News is Member Supported
What does that mean? The news, analysis and community conversation found here is funded by donations from individuals. Make a gift of any amount today to support this resource for everyone.
Villella said he wasn't seeing co-op leaders embrace renewable energy the way he thought they should — until recently.
"Ten years ago, they thought this was not the future and that it was a passing phase, but I think as the costs have come down, they've really recognized — no, this is the future. They've really changed course," Villella said.
On Thursday, Connexus unveiled the state's first large-scale solar-plus battery storage project, built on two sites: one in the city of Ramsey and the other in Athens Township. No other electric cooperative in the country has anything like it — yet.
A few years ago, Connexus polled its membership to find out if people wanted more renewable energy. The answer, overwhelmingly, was yes. But most people didn't want to pay more for it.
In the past, those results would have meant staying the course and continuing to use power generated mostly from coal. In Great River Energy's member co-ops, that power comes from two coal plants in North Dakota, hundreds of miles away, and wind power in recent years.
But things are different now, said Greg Ridderbusch, Connexus Energy's CEO. Solar-plus storage is now affordable, at least when electricity is the most expensive at those peak times of day.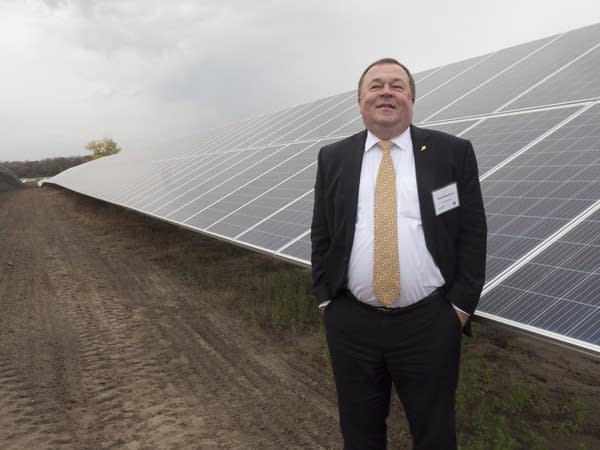 "It's no doubt that storage is a disruptor," Ridderbusch said.
Some see giant battery systems that store renewable electricity akin to cell phones or digital cameras — they change the world.
And they could definitely change the way electric cooperatives work, said Duane Ninneman, executive director of Clean Up the River Environment, a group in western Minnesota that advocates for more renewable energy in rural areas.
"They could leapfrog from an innovation point of view and actually put those member-owners to work in being generators themselves," Ninneman said.
Electric cooperatives were formed in the 1930s to help electrify rural America. The idea was that a lot of people working together could share the costs of generating power and installing lines.
The larger generation and transmission co-ops, like Great River Energy, are paying off big power plants and transmission lines through the sale of electricity to smaller electric cooperatives and their members.
It's not in Great River Energy's interest to let these smaller co-ops generate massive amounts of their own power, because that means they'll buy less energy from Great River. But the utility does let its member co-ops generate up to 5 percent of their electricity from local renewable energy projects.
"So far it's less than 1 percent of our option that has been taken up by the member systems, but they're very active," said Jon Brekke, vice president of power supply at Great River Energy, speaking Thursday during a case before the Minnesota Public Utilities Commission.
The Connexus project is a case in point. And with the costs of solar and battery storage coming down, Connexus and other electric cooperatives are looking to do more.
"We're already having some members contact us and say I want to put batteries not on the grid, I want them on my house, I want them in my business," Ridderbusch said. "So storage is just starting, and this is just one example of how storage will be used."
A lot of people are watching. At a ceremony at one of the Connexus project sites on Thursday, both DFL and Republican politicians were on hand, as well as other electric cooperatives and energy executives. Organizers decided to skip the traditional ribbon cutting, and instead connected two-dimensional models of a sun and a battery together.
"This whole project is about putting things together," Ridderbusch said.
Villella took the day off work to tour the solar field, transformer boxes and giant steel cabinets with batteries stacked from floor to ceiling.
"Fantastic. They're really doing it right here," he said. "Everyone's taking notice."