Parents protest after Minnesota school drops fall holiday celebrations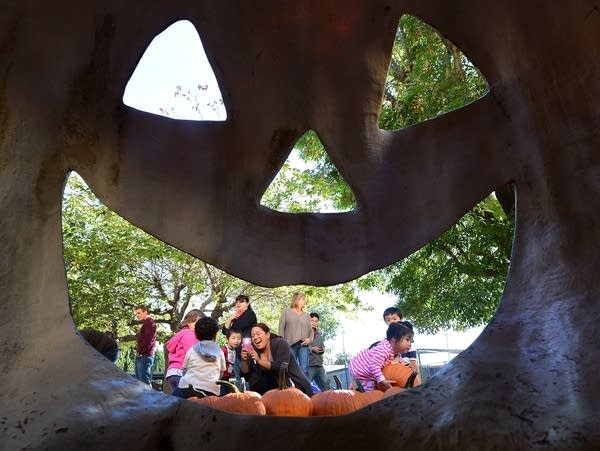 Missy Littman's home in Prior Lake, Minn., is decked out with Halloween decorations.
She loves the costumes, candy and other Halloween traditions — and that's why she plans to keep her 8-year-old son home from school on Wednesday.
Littman is upset after learning last month that her son's school, Jeffers Pond Elementary, would be doing away with a fall festival and parade of kids in costumes. In its place, an E-STEM day — that's environmental education, science, technology, engineering and math.
Littman took action when she heard about the change.
"It seemed like there was a lot of interest (from) parents saying, 'Why can't we do this? What is the big deal here?' " she said. "And so I thought, 'You know what? Since there seems to be so much interest in this, I'm going to throw the petition out there and see what happens.' "
With nearly 2,000 signatures on the petition, Littman says she asked for a meeting with the school principal and attended a recent Prior Lake-Savage Area School board meeting to try to get back the type of fall festival she'd sent her kids to in the past.
MPR News is Reader Funded
Before you keep reading, take a moment to donate to MPR News. Your financial support ensures that factual and trusted news and context remain accessible to all.
But she said school officials told her inclusivity and learning would be the priority, rather than a Halloween celebration that not all students' families agree with.
"I'm not sure why our schools need to — if we've got a few students that are staying home for religious purposes, I'm not sure why our school has to conform to that standard," Littman said.
The goal, according to a statement from Prior Lake-Savage Area Schools, is to focus on learning rather than Halloween. Individual school principals are allowed to decide whether or how their schools will celebrate holidays.
It's the same protocol for many districts across the state, as they weigh whether to celebrate holidays not observed by some students' families.
St. Paul Public Schools has also had growing pains associated with holidays. In 2016, the principal of one St. Paul elementary school faced public scrutiny after someone leaked a letter informing parents the school would no longer celebrate Christmas, Thanksgiving, Halloween or Valentine's Day.
St. Paul is the most diverse district in the state, according to the district's director of family engagement, Heather Kilgore. She said that's why each principal strives to understand how best to promote an inclusive environment.
"Our guidance is really driven by some core policies about inclusion, about equity, about the importance, actually, of multicultural and intercultural learning and relationships," she said.
Kilgore said there are no best practices for school holidays and celebrations that she's aware of — and that may be a good thing.
"I think whenever we try to make some definitive statement about things like this about community culture, I think we'll almost always get it wrong just because the individuality of school communities is an ever-changing thing," she said.
Child and teen psychologist Dr. Meghan Miller with Allina Health agreed. She said there has been a cultural shift around how to talk about differences. That can include holidays at school, and whether to preserve, drop or adapt traditional celebrations.
"Really trying to embrace, maybe, differences with one another," she said. "And I don't know that that's a bad shift but it's a hard conversation — and it does mean that as we have that hard conversation, how do we then shift culturally to make sure that we're not promoting something like shame but also not completely removing struggle from our children's lives."
For Missy Littman, dropping the fall festival is a change she doesn't want to be a part of. She plans to keep her son home on Halloween so they can have what she called a proper celebration.