State officials issue permit for Minntac tailings basin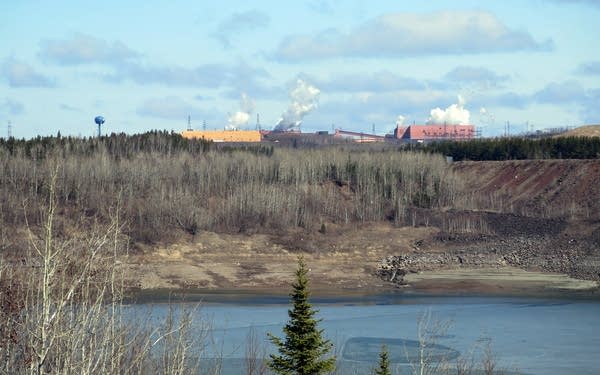 State officials plan to issue a water quality permit Saturday to U.S. Steel for a massive mining waste pit on the Iron Range.
The water pollution discharge permit from the Minnesota Pollution Control Agency lays out a timeline for the company to update a tailings basin that covers more than 13 square miles at Minntac, the state's largest taconite mine, in Mountain Iron.
The basin, which contains a mixture of water and leftover mine processing waste, has been in use since 1967, before modern environmental laws were in place. For many years, high concentrations of pollutants, notably sulfate, have seeped from the basin into nearby waters.
U.S. Steel has operated the basin with an expired permit since 1992.
Tribes and environmental groups have pushed the state for years to issue a new permit for the facility. The MPCA acknowledges that the tailings basin has long discharged several pollutants into surrounding waters at levels that exceed state and federal standards.
Of most concern is sulfate, which at high levels can inhibit the growth of wild rice. Tribal groups say wild rice in the area that they harvested historically has disappeared.
Gain a Better Understanding of Today
MPR News is not just a listener supported source of information, it's a resource where listeners are supported. We take you beyond the headlines to the world we share in Minnesota. Become a sustainer today to fuel MPR News all year long.
The MPCA issued a draft permit in November 2016, less than a week after environmentalists had sued over the state's oversight of the mine.
"So it's been a challenging permit to reissue, and it's taken us a lot of time, but we're very pleased to be issuing a permit that has a path for meeting surface and groundwater standards and a timeframe for achieving that," said Shannon Lotthammer, assistant commissioner for water policy at the MPCA.
Lotthammer said the permit includes requirements that are designed to meet surface water and groundwater standards, but that it does so in a way that also allows for the ongoing operation of Minntac.
The taconite mine and processing plant employ around 1,400 people on the Iron Range, and U.S. Steel officials had warned that excessive regulations could threaten jobs at the facility.
"U.S. Steel is pleased that MPCA acted to reissue the administratively-extended Minntac Tailings Basin NPDES permit. We are currently reviewing the permit and evaluating the conditions," U.S. Steel spokesperson Meghan Cox said in a statement.
But Paula Maccabee, attorney with the environmental group WaterLegacy, blasted the permit, saying it lets U.S. Steel off easy and doesn't do enough to address serious water pollution concerns at the site.
She also said the federal Environmental Protection Agency failed in its oversight of the Clean Water Act.
"For years EPA has said, 'State of Minnesota, you've got to have permits that control sulfate and protect your fish and protect your wild rice,' and here's the biggest, most important permit, and the EPA walked away and didn't do their job," she said.