Sensory-friendly Santa trades holiday bustle for quiet time during U visit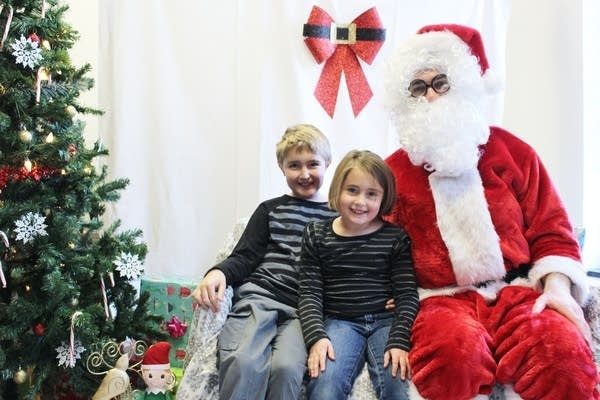 For children with autism spectrum disorder or other sensory sensitivities, the long lines and loud noises of a typical visit to see Santa at the mall can be overwhelming.
But now, for the first time, the University of Minnesota is hosting a Sensory Friendly Santa event just for them. It will be held on Saturday from 12 p.m. to 4 p.m inside the university's Center for Neurobehavioral Development.
Amy Krier's 9-year-old son Jamie, who has autism, has seen Santa before, but she said his visit on Sunday was much more manageable for the entire family. The Kriers, who live in White Bear Lake, experienced the set-up ahead of Saturday's planned larger event.
Krier said the accommodations inside the center made all the difference. Her son and daughter got to take their time and do some coloring before seeing Santa.
Grow the Future of Public Media
MPR News is Member supported public media. Show your support today, donate, and ensure access to local news and in-depth conversations for everyone.
"My son had forgotten his letter for Santa at home so he was able to recreate his letter to Santa and had some snacks," Krier said. "Then they took us into another room out of the way so they were able to see Santa on their own."
U of M psychology and pediatrics professor Dr. Suma Jacob helped organize the event.
Jacob explains that although most children are a bit thrown off by a visit to a crowded mall, a long line and a stranger in a big red suit, children with sensory sensitivities absorb even more of what is around them.
"It varies for different individuals but one way to describe it is that some people can hear almost every noise around them and have a difficult time blocking it out," Jacob said. "This is in some ways a strength but often exhausting or overwhelming when you see, hear and feel so much more nuance than most people do."
Jacob said there has been a big push in the last five years to make activities like going to a movie or the museum more accessible to families dealing with autism.
"We are trying to think of things from the perspective of the child instead of the adults or society," Jacob said. "These pushes are often parent-driven."
Jacob said the university is working with an occupational therapist to help guide Santa during the event.
"Our Santa has worked with kids with autism and other developmental disabilities," Jacob said. "Santa will be mindful to wait for the child to approach instead of taking the lead."
Jacob added that families will also be encouraged to take part in SPARK, the nation's largest autism genetics study.
As part of the study, children will be able to give saliva samples instead of having their blood drawn, which can often be especially traumatic for children with sensory sensitivities.
The study aims to learn more about what causes autism and to develop treatments that can improve the quality of life for people living with the condition, according to the website.
According to the Minnesota Department of Health, in parts of Hennepin and Ramsey counties, 1 in 42 children live with autism spectrum disorder. Boys were 4.6 times more likely to be identified with ASD than girls. There were no statistically significant differences in ASD diagnoses found by race and ethnicity. Nationally, the number of children diagnosed with ASD is about 1 in 59 children.
Krier said she deeply appreciates being able to give her son experiences many families take for granted.
"Being able to see him experience these things in a way that is geared toward what he can handle makes the world easier for him," Krier said. "Because with an autism diagnosis not everything is easy, so it's good to have something that's easy."