Hmong immigrants helped save this prairie town, but now their children are leaving
This story comes to you from Sahan Journal, a nonprofit newsroom dedicated to providing authentic news reporting about Minnesota's new immigrants and refugees. MPR News is a partner with Sahan Journal and will be sharing stories between SahanJournal.com and MPRnews.org.
Just off the main drag, beyond a sea of corn fields in southwestern Minnesota, there's the Bubai Food Store. Shoppers pull up and leave their car engines running while they head inside the town's sole grocery store. They can browse the shelves, where instant mashed potatoes and bratwurst buns share space with Thai fish sauce, or help themselves to hot egg rolls stacked in a warmer on the counter.
The store's character has changed along with the community. It's become an anchor for Walnut Grove's roughly 700 residents, but faces the same uncertainties as the town it serves.
Nearly two decades ago, owner Terry Yang and his brother opened the store to bring familiar foods to what was then a burgeoning Asian American community. In the early 2000s, Yang and other Hmong immigrants flocked to the area, drawn to available farmland, jobs at local factories and the slower pace of small-town life. Today about half of Walnut Grove's population is Asian American.
Grow the Future of Public Media
MPR News is supported by Members. Gifts from individuals power everything you find here. Make a gift of any amount today to become a Member!
Yang, who is 63, wanted to retire last year. But he wasn't able.
Most of his 10 kids left Walnut Grove to go to college and have settled with their young families in the Twin Cities, more than three hours away. None of his children want to take on the long hours and small profit margins associated with running a rural grocery store.
"It's time for me to take some time, and visit my kids and stay with them," Yang said. "Before time is over."
The influx of Hmong Americans into Walnut Grove and the surrounding area has slowed to a trickle since its peak in the early 2000s. Now an entire generation of young people have come of age in the area, with some people of Hmong descent now serving in positions of leadership in city government and schools.
The immigration gave the community a boost, but two decades in, they're facing the same challenge as other rural parts of the state: How do you give young people a reason to stay?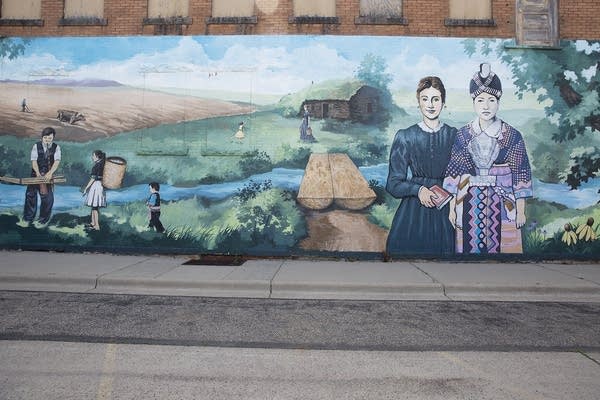 Little town on the prairie
Walnut Grove's Main Street is healthier than many small towns. Besides the grocery store, there's a bank, a bar and other little businesses wedged into a handful of the mostly brick downtown. Some are supported by the town's connection to the pioneer story of Laura Ingalls Wilder, who wrote about living in Walnut Grove. Bubai is down the street from a museum honoring Wilder that's housed in a series of buildings modeled after her books.
Not all is bustling on Main Street, though. There's an old phone booth with rusted hinges, a dilapidated two-story brick bank building and a boarded-up mechanics shop.
Most parts of rural America have been losing population to urban centers for decades. This means not only fewer tax dollars for public infrastructure and less income for local businesses, but that these small towns can no longer afford to support their own schools.
Facing that same dilemma in 2001, Walnut Grove combined its school district with nearby Westbrook.
But shortly after, the arrival of dozens of Hmong American families saved Walnut Grove from the snowballing decline other small towns faced as jobs left and businesses closed.
In 2000, just one of the nearly 600 Walnut Grove residents identified their race in the Census as Asian. By 2017, data from the Census estimated about 325 people of Asian descent in the little town, about half the current population.
Loy Woelber, a friend of Yang's, grew up on a dairy farm in the next county over. He started working as an administrator in the school district in 2001, right as Hmong American families started moving to the area.
Woelber, who is partly of German descent, connected with the Hmong families through their shared rural backgrounds.
"I had a bunch of chickens. When I knew families were coming, I'd bring them a chicken," Woelber said. "So we'd butcher the animal in the morning, and be able to have a party in the afternoon."
Woelber remembers the excitement of that time. New kids would be lined up at the secretary's desk trying to enroll in school, even after winter break. Enrollment swelled and Main Street again filled out with businesses, including Bubai.
But Hmong migration to the town slowed, then sputtered, then all but stopped. And now the population in Walnut Grove and surrounding towns has started once again to drain away. Census estimates show that the town has lost 101 residents since the start of the decade.
"All the men and women in the Hmong community that I got to be around all these years, their kids are all gone," Woelber said. "Maybe one out of the six or so might stay home."
The boom times brought about by migration are over, Woelber said. And now the Walnut Grove area finds itself in the same predicament as other small towns.
Some kids go to college outside the region and then can't find anything in their fields at home. Others try to patch together a living from side work or physically demanding jobs in agriculture or one of the factories in the region. Some are drawn to opportunities in the larger cities of Sioux Falls or Mankato.
Woelber's five children were all in the same situation as their Hmong American classmates. As they went off to college and started careers, they couldn't find jobs in their specialties at home.
"My five children have graduated, all from this system. All had an amazing experience because up here they're in a little town and they get to have a multicultural experience, they get to see the world," Woelber said. "I don't want them to leave."
But as more and more kids do leave, it makes it harder for the community to sustain basic services: a hardware store, a pharmacy, a grocery store.
"It really becomes a necessity, where folks are like, 'You know what, I love it here, but, man, how can I be a part of making it happen?'"
3 of 3
1 of 3
2 of 3
Holding down roots
Sheila Vang, 18, works at the lunch counter at the only gas station in Walnut Grove. Motorcycles peel down the nearby road and pull up to the gas pumps. The station is across the street from Nelly's Little Cafe on the Prairie, city offices and a big pile of gravel. She knows most of the people who come in.
Vang graduated high school this year and plans to study marketing at community college a half-hour away in Marshall, Minn.
She'd like to stay in Walnut Grove. It's peaceful and quiet. She likes that she knows everyone. But she does see drawbacks as she gets older, and said she plans to look for a job in Willmar, 80 miles away, where her sister lives.
"Because the town is so small, I'm kind of worried about finding a job here," Vang said.
Her graduating class is split between those who would prefer to stick around — but like her, face challenges finding work — and those who want to experience life in a bigger city.
Walnut Grove residents are proud of their small-town and its history. They host a yearly pageant in honor of Laura Ingalls Wilder. It includes dozens of actors, horses and even a wildfire. It's staged in front of the facade of a small town that volunteers built in the middle of a field.
Beth Danielowski, who is white, grew up in a small town five miles outside Walnut Grove and graduated from high school in 2017. She's wearing a long dress and bonnet for her role in the pageant. She's acted in it for the previous 11 years.
Danielowski is torn. She'd like to stay in the area where she grew up. But she also doesn't want to have to drive 45 minutes to Walmart.
"It's difficult living in a small town because there's not much opportunity for diverse things like theater and different cultures," Danielowski said.
A friend of hers who performed in the pageant every year moved away to Brookings, S.D., for school. Danielowski said she's lucky now if she sees her a few times a year.
The next generation takes the lead
Although the origin story of Hmong Americans in Walnut Grove often includes references to Little House on the Prairie, very few local Hmong Americans participate in the annual pageant honoring Laura Ingalls Wilder. It happens around the same time as the annual Hmong International Freedom Festival in St. Paul, which draws people of Hmong descent from around the upper Midwest.
Although Hmong Americans have lived in the Walnut Grove area for two decades now, the communities still find themselves somewhat separate.
Kou Thao's family came to the area from California in 1995, when he was in his early teens. Drinking a Diet Coke in a Perkins restaurant in nearby Marshall, Minn., Thao, 36, admits he's never seen the Laura Ingalls Wilder pageant that draws so many visitors to the region.
"It's going to sound really stupid on my end, but I've lived here all my life and I never really knew the whole story," Thao said. "If you haven't read the book, or if you don't follow that, then it doesn't really make sense to you."
Thao serves on the city council of Tracy, Minn., next door to Walnut Grove. He said he's tried to leave the region over and over again, but something holds him there.
But Thao does feel like he owes something to the town he grew up in — and to his parents' generation that brought him and other Hmong Americans to southern Minnesota.
"We still have a lot of the elder population here," Thao said. "I feel like it's important for us younger folks to stick around for them, because all of us can't just uproot and leave them out here by themselves."
But the older generation has changed as well, said Thao's wife, Khou Lor, who is 28. She grew up in Wisconsin, met Thao at the annual Hmong gathering in St. Paul, and moved to Tracy after they fell in love. They have a young daughter together.
Elders who fled their homelands following the Vietnam War have begun to shed their focus of just surviving, Lor said. Many are wistful for the countries they came from and long to return. But they keep a looser hold on the lives their children are building in the United States, she said.
One reason Thao wanted to serve on the Tracy city council was that he was shocked to learn that the population of Tracy was declining. He'd assumed that Hmong immigrants would have offset any losses. But Hmong Americans have pretty much stopped moving to the region.
Instead, Lor and Thao find themselves watching Karen immigrants move to the area and try to adapt to the culture the same way the couple's own families had to decades ago. Lor remembers her parents pushing her stroller across town through the snow to get to Walmart. They wore sandals in the freezing weather.
"Karen families that have older parents, like how our parents were back then, they would literally stare out the window and just sigh because they miss the old country so much," Lor said. "You have a heart for them because you know that it's not easy, and so you do really hope that they're successful in finding their place and their space in this community."
More than two decades ago, as some of the few young Hmong Americans in the area, Thao and his friend Peter Thor would get together to play basketball. It was sometimes difficult for both boys to grow up in an area that was almost completely white. Both have now risen to positions of leadership in their communities.
Thor, 39, is the assistant principal at Marshall Middle School. When Thor's family came to the region in 1992, he didn't have Hmong American role models. His mentors were his teachers.
"You didn't know what you could hope for, because your parents didn't know either," Thor said. "I feel like my generation had to go through all that stuff to show other kids growing up now that, 'Hey, you can kind of do whatever you want to do.'"
Taking on positions of leadership can be intimidating for people of Thor and Thao's generation, he said. Historically, the region has been much whiter than the rest of the state.
"You don't know if it can cause some uneasiness with others," Thor said. "I sometimes feel like I want people to know that I've earned this spot, that it wasn't just given to me because I'm a minority."
But Thor said a bigger struggle for him personally has been feeling accepted within his own culture.
He has four young children with his wife, who grew up near Marshall and teaches science at the middle school. Thor's wife is white and had great-grandparents who were 100 percent Norwegian.
Thor remembers one of his uncles objected to the marriage, saying it would send the message to cousins that marrying outside the Hmong culture was acceptable.
"And I said, 'What's wrong with that? She has the same values as I do. We're going to live here for the foreseeable future,'" Thor said. "It's not like we have a homeland to go back to. This is our homeland. We're Asian Americans. And we're Minnesotans."
That doesn't mean Thor left behind the Hmong culture. When he and his wife were dating, they'd go over to his parents house every Wednesday to learn to cook Hmong dishes. They still try to bring their kids over to their grandparents' home to practice speaking Hmong. His kids' shared Hmong and European ancestry is no longer unique.
"Everybody looks so different in our school system, and looking different is kind of the norm," Thor said. "We accept people for who they are and what they believe in. I feel like that respect level has definitely gone in the right direction, and I think that's why people stay in this area."
There's a mural painted on the brick wall of Terry Yang's grocery. The community raised money for it in 2012. It shows a girl in a typical pioneer dress — representing the town's ties to Laura Ingalls Wilder — standing next to a girl dressed in traditional Hmong clothing. In a few places, the paint has begun to peel and the colors have faded.
The building housing Terry Yang's grocery has been a store for decades. But once it was a bar. Some old timers remember in the '60s when the building's second-floor was a movie theater. The space where the projector once beamed across the room onto a screen is now filled with debris.
Yang knows that things change, including his grocery, which is at the heart of what Walnut Grove has become.
"We built it. We established it." Yang said. "And when we don't want to do it, we just close down or sell."