Police fatally shoot man after pursuit in Edina, Richfield
Updated: 8:20 p.m. | Posted: 7:45 a.m.
Police officers fatally shot a man late Saturday following a vehicle pursuit in Edina and Richfield that was streamed on social media.
A candlelight vigil held at the shooting scene on Sunday evening evolved into a protest march that shut down Interstate 494 for about a half-hour.
The man was identified by family and friends as Brian Quinones. The Hennepin County Medical Examiner reported Sunday night that he was 30 years old and lived in Richfield. The medical examiner said he died from multiple gunshot wounds.
According to a statement from Edina and Richfield police, the vehicle pursuit began at 10:22 p.m. in Edina, and continued to near the intersection of 77th Street East and Chicago Avenue in Richfield.
That's where officers fatally shot Quinones. The statement did not provide any further details about what preceded the shooting.
MPR News is Reader Funded
Before you keep reading, take a moment to donate to MPR News. Your financial support ensures that factual and trusted news and context remain accessible to all.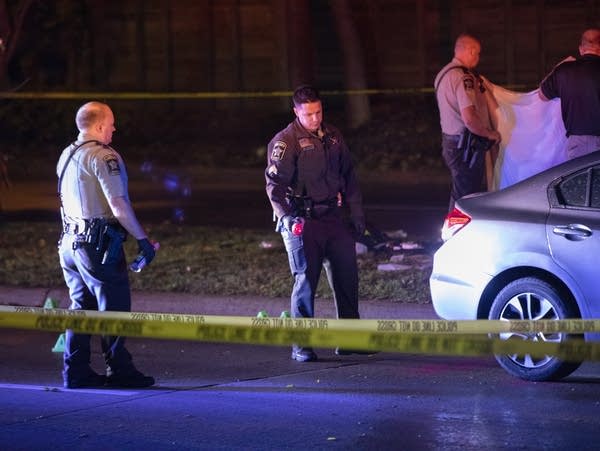 The Star Tribune, citing police dispatch audio, reported that officers yelled "Drop the knife!" immediately before the shooting. Authorities have not said whether the Quinones was armed.
The Hennepin County Sheriff's Office is handling the investigation. The sheriff's office declined further comment on Sunday when contacted by MPR News.
Authorities have not said whether the officers involved were wearing body cameras, or whether dash cameras on squad cars may have captured video of the incident.
Video of the police pursuit was streamed live on Quinones' Facebook page. In the video, flashing lights from police squads can be seen for a few minutes before the driver of the car — apparently Quinones — pulls over and quickly exits the vehicle.
About 15 seconds later, officers can be heard yelling — followed within seconds by two volleys of gunfire, totaling about 12 shots. Officers can be seen firing their weapons, but Quinones is not visible on the video at that point.
The video continues for more than 90 minutes, showing the interior of the vehicle, flashing lights and police officers walking past, before someone shuts off the camera.
Family, friends and community members gathered at the shooting scene on Sunday evening for a candlelight vigil. Many in the crowd later marched along 77th Street East and then onto I-494 at Portland Avenue, shutting down traffic on the freeway for about a half-hour before exiting at Nicollet Avenue.
No police officers were injured in the incident on Saturday night. The Edina and Richfield police departments said in a statement that they "express our thoughts and prayers to all those involved in this tragic incident."