Man fatally shot by police officer in St. Paul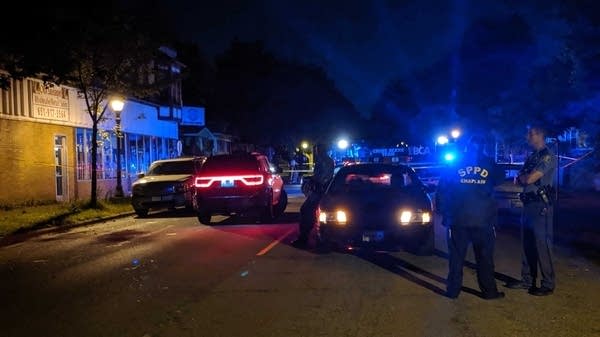 Updated: 1:29 p.m. Friday | Posted: 7:19 p.m. Sunday
St. Paul police say a man is dead after being shot by a police officer following a vehicle crash Sunday evening in the city's Midway neighborhood.
The incident happened at about 5:50 p.m. at the intersection of Thomas Avenue and Griggs Street, about four blocks north of University Avenue. The Ramsey County medical examiner's office identified the man as Ronald Davis, 31, of Little Canada.
The officer "was stopped at the stop sign when he was suddenly struck from behind by another motor vehicle," St. Paul police spokesperson Sgt. Mike Ernster said at a news conference late Sunday night. "The officer exited his vehicle, and was immediately confronted by the driver of the striking vehicle, and a fight ensued."
During the fight, the officer fired his weapon and struck the driver. The man was pronounced dead at the scene; the officer was not injured.
The officer was wearing a body camera that was activated at the time of the shooting; he has been placed on standard administrative leave.
The name of the officer has not been released. The Minnesota Bureau of Criminal Apprehension is handling the investigation, and Ernster deferred most questions to the BCA on Sunday night.
KARE 11 reported that neighbors said they heard yelling, then gunshots, then saw a heavy police presence.
St. Paul Police Chief Todd Axtell wrote in a Facebook post Sunday night that it's a "sad and difficult night for our city."
"I know that, regardless of the circumstances, an officer-involved shooting is a tragedy for everyone involved. It hurts and causes confusion and leaves us all with questions that might not be immediately answered," Axtell wrote.
"But I want you to know that your police department will do all it can to support the officer, who thankfully wasn't injured. We'll be there for the officers who were at the scene and his co-workers who know him the best. We'll reach out to the family of the deceased to offer our deepest and most sincere condolences. And we'll continue to focus our energy on keeping our city safe."
"Our hearts are hurt with the news of an officer-involved shooting in our Midway Neighborhood this evening. This tragedy touches all of our lives and leaves our entire community in mourning," St. Paul Mayor Melvin Carter said in a statement.
"Additional information will be forthcoming from the BCA, who has taken the lead on the investigation to begin our search for answers and understanding. My prayers tonight are with the family of the deceased, with the officer involved, and with all who are struggling in the face of this tragedy."
The Associated Press contributed to this report.
Correction (Sept. 20, 2019): A previous version of this story misstated the city Ronald Davis was from. The story has been corrected and updated.