Voter stories: What Minnesotans hope life will be like in the future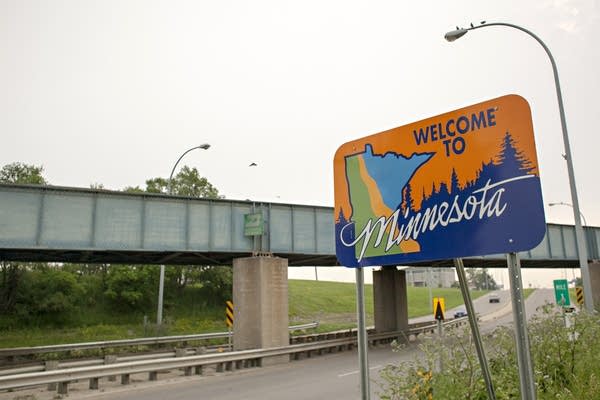 Updated: Oct. 28
As we approach the end of the voting period in this election, Minnesotans are sharing what matters most to them and their future here.
We asked Minnesotans: "What do you want your life here to be like 5-10 years from now? Why are these hopes important to you?"
Here's what respondents had to say.
Some of the responses have been edited for length and clarity.
Want to share your hope? Notice a perspective that's missing? Share your thoughts here.
---
"My hope is that we truly confront our racial divide and deal with it honestly. Until we reckon with our racial trauma, we will be a polarized country; we cannot continue on this path. America is a different country for our Black and brown neighbors. I want my 8th grade students to live in an America that values them, treats them equitably and justly, and affords them the same experiences as their white counterparts." — Alison, Monticello
---
"Education funding and environmental issues are my concerns. I also want people to be kinder to people they may not agree with politically." — Elaine, Center City
---
"I have just retired. I would like it to be a healthy and happy one. I worked primarily in early education. I want my little ones — whether I cared for them or not — to have a nurturing and loving Minnesota. No more of this rancor and meanness that has consumed this nation for nearly 4 years." — Clare, St. Paul
---
"Health care, environmental conservation that matters. I want to live in a compassionate society that cares for everyone, where race and social class do not dictate human wellbeing." — Maria, St. Paul
---
"A robust economy, where everyone benefits! Continue to support low-income families who suffer disproportionally from lack of affordable housing and low wages. Support health care for all, so that everyone has access to basic services." — David, Breckenridge
---
"I hope that Minnesota will become a place where we dismantle systemically racist institutions and reimagine and recreate them together with voices representing ALL our citizens at the table." — Natalie, Bloomington
---
"… I would like to see greater connection between Republicans and Democrats. Our common goal is to take care of this wonderful state. Let's compromise and keep that goal in mind. Perhaps it is time for some team building skills. The current friction hurts our state." — Sue, Apple Valley
---
"That our air and lakes stay clean, that our cities remain/restore their reputations as great cultural and diverse centers, that we are able to provide affordable health care for those in rural areas as well as cities, that our students and teachers are provided with the funding to keep pace with educational needs across the state, that people of all different backgrounds and colors can feel safe and protected in the presence of our police officers and that the lack of broadband accessibility is addressed in rural areas.
These things are important to me because I live up north and I see so much division between rural and urban Minnesotans. As a child growing up here and moving elsewhere but always coming back to visit, I never felt that! I was always so proud to be a Minnesotan. I want that to continue for the future generations!" — Vicki, East Gull Lake.
---
"Do something about the "Social Media Dilemma" that is tearing apart the fabric of our knowledge and unity." — Lauri, Marcell
---
"I want Minnesota to be a place where our BIPOC neighbors can have the same prosperity without discrimination as white people. Equal access to housing, financing, jobs, childcare, and health care." — Maggie, West St. Paul
---
"We want to be guaranteed our rights and freedoms guaranteed by the Constitution. We want government officials that work for the people and not keep building up their own power and money." — Gloria, Pine River
---
"I hope that the minimum wage will increase. I hope that health care will be more affordable. I hope that women will be better represented in politics and political decisions. These are important to me as they all affect part of my day-to-day life. Most jobs I am capable of having are minimum wage jobs. I'd rather not live paycheck to paycheck which is why I think they should raise minimum wage. Health care is important to me as my mother is a nurse. I just want the best for me and others and I think these goals will accomplish just that." — Corinna, Eagan
---
"I'm moving out of state to attend law school, but I hope to move back to Minneapolis to practice law. I love Minneapolis — it's become my home since I started college three years ago." — Claire, Minneapolis
---
"My hopes are to have my BA and either MPH or MD or MD/MPH. I want to be in a position to impact people and live in a state and nation where the governments are less corrupt." — Trevour, Bloomington
---
"Racial equity. These hopes are important to me as I have three black adult children and two wonderful granddaughters that are biracial. I have witnessed prejudice many times by teachers, law enforcement, and John Q. Public. It breaks my heart and causes every day uncertainty." — Barbara, Raymond
---
"My hope is that in 5-10 years I'll have a high paying job and a cabin up north for the summer. Being from Minnesota, having a cabin has been a core part of my life, thus I want the opportunity to have one for me and my family. One part of that is being able to afford it, hence the good career." — Nicholas, Minneapolis
---
"A diverse community with opportunities for everyone." — Mohamed, Woodbury
---
"I want to become a registered nurse but also a business owner. It's important to me because I want my kids to be able to have the same opportunities as everyone else." — Lexus, Pipestone
---
"Legalization of marijuana, there are far too many non-violent people in prison for smoking a plant. We need to return these people to their families and to the workforce." — Casey, Minneapolis
---
"To see more women in office and have more affordable health care. These are Important to me because there is not enough women in office and the health care system is trash right now and way too expensive for anyone and especially college students." — Tory, St. Cloud
---
As a retired 80 year old, I just hope things get back to normal and I can sing and solo with my church choir, MNC and VOX again. — Ann, Waconia
---
"I hope education for all (rural, immigrant, and poor) greatly improves and the tensions between right and left politics no longer defines our state conversations." — Benjamin, Minneapolis
---
"I hope that Minnesota can start serving all Minnesotans. The racial disparities in Minnesota are appalling and should be addressed as soon as possible." — Emily, Lakeville
---
"Effort for climate change. Legalize marijuana. Prisoner reform programs." — Jacey, Marshall
---
"Hopefully have a safer environment to live in without climate change and the coronavirus." — Giana, Pipestone
---
"My hopes are that the city takes actual and significant steps to eliminate the segregation and inequality between the white and African American communities, especially in regards to policing. The MPD is one of the most racist and bigoted departments in the entire nation and the bare minimum would be to defund and dismantle that department. I am not a minority, and I am extremely lucky in that regard because I have seen how horribly this city treats minorities. If there is not significant changes made to eliminate these inequalities (both in discriminatory policing and the disgustingly disparate socioeconomic statuses of white people compared to minorities, especially African American people) within the next decade, this city will become even whiter and more homogenous than it is right now, which would be a very disappointing and saddening thing to see happen, as diversity and equality is what a truly successful city and community should strive for." — Sam, Minneapolis
---
"My hope is that Minneapolis will become truly representative of all it's people and not just shut down conservative values in favor of far left progressive wants. Conservatives are just taking their money and moving outside of Minneapolis and watching it crumble." — Jeff
---
"That people will have 2 to 3 acres of land to live on." — Clem, Antrim Township
---
"Decriminalization of marijuana, it'll lower incarnation rates." — Reed, St. Cloud
---
"I want to see Minnesota become the first state to implement a health care system for all residents modeled after the health care system in Germany." — Justin, Lake Elmo
---
"Retired and not lose my social security as had hope to travel." — Cate, Puposky
---
"First hope we have, is to move out of Minneapolis, ASAP, after living here for nearly 50 years.   The second, is hoping the Mayor and City Council members begin to comprehend what it means to "Defund the Police", when the police are our only defense against anarchy.  Honorable police officers were facing  horrific violence night after night during the recent riots, and now it is expected of them to be responding to calls as usual." — Cynthia, Minneapolis
---
"That the Boundary Waters and North Shore remain protected. Not ruined." — Olga, St. Cloud
---
"I hope to see population and economic growth in rural Minnesota. I believe the urban-rural divide is a major problem for Minnesota and we are all worse off if rural areas are further written off and stereotyped by urban views of rural politics, causing further erosion in people's prospects in Greater Minnesota." — Zach, Baxter
---
"I hope to see expansion of health care affordability/accessibility and strong commitments to fighting climate change." Whitney, Hopkins
---
"Personally, I'm hoping to finally start a family. COVID and COVID-caused job insecurity has made my partner and I put a hold on our future. I want to see progress and reform in our approach to non-violent crimes. Above all else, I'd like to feel hope again." — Tanner, New Hope
---
"My hopes are that we can have reliable and consistent access to affordable housing and child care for our growing family. Being able to have the same opportunities that my partner and I have been so fortunate enough to experience." — Connor, St. Paul
---
"Add more places for mental health care, in communities and schools, and pathways to get more mental health professionals through college and on the job in rural areas.  My students need this help, and each person that gets help will be a more productive member in the community." — Barbara, Rushmore
---
"I hope that I can feel safe in Minnesota, no matter who I am, who I love, what my political beliefs are, what my religious beliefs are or what I look like. I just want people to care about other people first, not suspect or hate them first." — Gina, Cottage Grove
---
"I hope all children can get the education they need. I hope we are a leader in the country when it comes to what we spend our money on. I hope that we can make an investment in restorative justice so that victims get the help they need and people who commit crimes get what they need to never do it again." — Billie Jean, St. Paul
---
"Stay in south Minneapolis where I work and live, and have my children in good schools. I love this area but the racial tensions and police brutality is getting worse and is frightening. I grew up in northern Minnesota and the racism is actually worse up there so there is not a lot of options as an Indigenous woman." — Laurel, Minneapolis
---
"Substantially shrinking the gaps in education, health(care), socioeconomic status, housing, etc. between BIPOC and white Minnesotans." — Hannah, St. Paul
---
"I hope that Minnesota will better come together through its geographical separation in order to forge a single state identity. Sometimes, the Twin Cities and greater Minnesota are pitted against each other to sew division." — Raquel, St. Cloud
---
"Continued love and support for local businesses. The people, local businesses, and organizations are what I love most about Minnesota and I do not want more of these organizations to deteriorate due to lack of financial support." — Wayne, St. Paul
---
"Hope for equal treatment under the law. Awaking of whites to the injustices of POC, and jobs and opportunity for all. Back to good quality of life and low crime." — Jacqueline, Minneapolis
---
"I want a house with a garden for my two kids and a school for them which focuses on teaching them skills like the three Rs, not politically correct garbage." — J., St. Paul
---
"So many! Most importantly, I hope we can come together and embrace our politically 'purple' state, knowing the different political perspectives can help us make excellent choices at local, regional and statewide levels. Embracing it, rather than fighting it, can be the key to re-imagining civic dialogue and we can practice the fine (yet, sometimes messy) art of being in community conversation. This is important because it is through dialogue that we make our way to understanding and action. It is through this process that we can address issues of inequity, injustice, violence, and the climate crisis." — Danette, St. Paul
---
"My hope is that Minnesota can become a sought out state to live for everyone. I want to impact this change so that families of color can experience the same lifestyle and success (employment, education, housing, safety) as white families.  I want to see us be leaders in sustaining the beautiful natural resources we have in our state — our lakes, our  forests, our prairies and our farms." — Dara, Brooklyn Park
---
"Unity, equality. Let's see strong inner cities with diverse populations and businesses." — Kate, Savage
---
"Clean environment, caring, welcoming, unbiased citizenry, good jobs that pay living wage for all residents, as a minimum." — Kaye, Grand Marias
---
"Racial problems get better; long term care problems get better" — Shelley, Eagan
---
"Pay off all debt and save for kids college." — Janelle, Moorhead
---
"I'm hoping to keep it simple. In my age, I've become more diplomatic, so I can stay engaged and not suffer so many battle wounds on the front line. I aspire to be more accepting, while hoping the universe has a beautiful plan." — John, St. Paul
---
"I hope the lakes will be maintained better. There is nothing like "lake season," it would be a shame for Minnesota lakes to continue to become polluted to the point where they are unusable." — Rachel, Roseville
---
"I hope to be able to attend the University of Minnesota for Aerospace engineering. It's important to me because it's a major milestone in my life. I also hope that I can get a promotion at my work. To help pay for college and my car." — Austin, Welch
---
"Refocus and recommitment to the environment. Our natural resources are an asset where I live and it seems that parks are resources are getting overused, there is litter everywhere, and air pollution and noise pollution are making the North Shore no longer a relaxing place to go.
Large weather events, caused by global changes, are creating destructive erosion and damage to the environment. Invasive species are threatening our delicate eco system.
These are my hopes — that we can start saving our natural resources." — Jill, Two Harbors
---
"I hope to live in a state that values Black lives. A state that has less invested in our police and more invested in social programs that actually help the people. I wish for a society that cares about their lakes and rivers more than the taxes they pay for them. I wish to live in a state that leads the way in climate change measures. I want to live in a state that takes care of their houseless community by providing homes for them as well as getting them the help they need." — Mary Ann, Minneapolis
---
"One big hope of mine is to significantly begin a full transition away from fossil fuel use, and support the people whose jobs will be impacted by this transition. Also, I hope there are significant reforms in the structures of life that create institutional racism." — Justin, Shoreview
---
"I hope racial disparities in income, home ownership, education, and health reverse. I hope working together with economic development experts, social workers and human services professionals, educators, and public health professionals, we can create a Minnesota where all of our residents can thrive. I hope we support this by reinvesting in our communities by moving funding from police departments to community organizations and government agencies who work to support residents in building better lives." — Jennifer, Minneapolis
---
"Return to normal life and get to travel and visit with friends and family freely. Retire." — Kristi, Andover
---
"Be able to purchase my first home and have a stable job." — Nate, Minneapolis
---
"I hope we work to actually make a positive impact in communities of color and change our policing to be innocent-focused." — Holly, Minneapolis
---
"That my children will attend school as they used to — but be less concerned about gun violence in their schools. And that they see demonstrable change as it relates to racial and gender equity. That respect for all people becomes commonplace. That we become more united as a people." — Elle, Golden Valley
---
"Far fewer racial disparities in education and employment. Less segregation between neighborhoods. Slow down gentrification in North Minneapolis." — Amarita, Minneapolis
---
"I have a newborn, born in May of 2020. I love Minnesota and was born and raised in south central Minnesota. I hope Minnesota can be a leader in the nation in education and environmental sustainability. I want my child to live in a state that takes pride in educating people and taking care of the planet." — Jacob, Northview
---
"Growth of cities and towns in Minnesota through businesses moving to Minnesota. Out of state pop-up growth.  Preservation of natural areas (BWCA). Fewer mosquitos and even less construction." — Kuddus, Minneapolis
---
"We become more anti-racist and come to terms with our history. Additionally, strict environmental protections." — Alex, St. Louis Park
---
"I want Minnesotans to lead on finding creative, equitable ways to make the state a great place to live for all people. I want my kids to be the first generation of Minnesota kids that don't experience an achievement gap along racial lines. I want Minnesota to show the world that it is possible to be a great place for business and the environment and communities that care for one another." — Brandi, Minneapolis
---
"I want to see some bridging of the rural/urban divide that is becoming more pronounced by the day. We will never overcome the bigger issues of our state if we are a house divided against ourselves." — Mark, New Brighton
---
"I hope to have purchased a house, on some land, just far enough away from the big city, but easy to access if I need to. I love the idea of a small farm town. I am getting married in October, and I look forward to having kids, and fitting into the dad bod I've already got happening. I have found happiness in the last couple of years, here in Minnesota, and look forward to being a Minnesotan for the rest of my life" — Adam, Brooklyn Center
---
"Calm. Calm for the people of Minnesota. I miss Minnesota nice. I realize it comes from a national issue in the White House but I miss the days of good old Minnesota nice. Beyond that, take care of our parks, water, resources, infrastructure and put the brakes on Mayo driving up health care rates especially in southeast Minnesota." — Jackie, Wykoff
---
"I hope that in that time rural Minnesota becomes more progressive in their acceptance of LGTBQ+ people. I have two children who are afraid to be their truest selves in our current hometown." — Alisa, Alexandria
---
"Continue to strengthen public education school quality and access. Expanding public transportation and bike/pedestrian infrastructure. Attracting new commerce and industry. Expand affordable housing opportunities. Become a Midwest leader in renewable energy  usage. Easy stuff..." — Jayme, St. Paul
---
"A better environment, better health facilities, better education for my kids and others." — Lania, Fridley
---
"I hope for more equity in quality of life (education, health care, socioeconomic status, access to food, etc.) for all Minnesotans, with special attention given to minorities and immigrants" — Nicholas, Detroit Lakes
---
"My hopes are to buy a house and have more renewable energy products and resources." — Dana, Mound
---
"I would like to see the state put a greater emphasis on reversing the flow of money from institutions which maintain the status quo, to those which spread economic and racial justice across communities. I.e. give Met Council more power over redistributing tax dollars from wealthy suburbs to underprivileged neighborhoods. Restorative infrastructure investments, etc." — Bradley, Maplewood
---
"A booming economy after COVID-19, hopefully abolishing the police department, rebuilding Longfellow, Lake St. and north Minneapolis. Less cars more public transit/bikes on the roads, more eco-conscious businesses." — Karla, Minneapolis
---
"I hope that health care and education wouldn't cost as much. I doubt it will be free, but it's important so people can have more access to these things regardless of income." — Jack, Mounds View
---
"I hope Minnesota becomes more progressive. Lead the way on civil rights, worker rights and human rights. Keep pushing for more parks and be a mecca for outdoors." — Brian, Lino Lakes
---
"Real racial quality with real racial equal representation. More diverse restaurants and grocery store aisles. Lead the change in how we handle conflicts in our own area. Less police and more community resource representatives. Also. Less traffic. More efficient ways to get around the city and less traffic and less construction traffic. If you're going to tear up a road to put in new plumbing, widen or add a lane while you're at it. Don't do it two years later." — Antonio, St. Paul
---
"Hoping anyone who believes in White Supremacy moves away. Hoping for racial equality and a sane police force and more focus on education and culture." — Saba, Minnetrista
---
"For everyone to get along and no more destruction from people. Less violence and less media saying how bad it is so it becomes worse." — Erin, Cottage Grove
---
"I hope we are the leaders in showing America what a decriminalized, no-police-force, eco conscious state looks like. That means dismantling the police. That means legalizing weed and decriminalizing drugs and petty crimes. And that means putting climate into every piece of legislation in the state." — Emma, St. Paul
---
"Better pedestrian and public transportation infrastructure and environmental initiatives on the part of local and state governments. Minneapolis needs to transition from a commuter-centered state built for cars to one where cities and communities are built for people! And infrastructure and environment are crucial to consider in Minnesota's effort to understand and reduce systemic inequity." — Kenna, Deephaven
---
"Ending systemic racism. Defunding the police and reallocating the funds to other outlets. Improving the education — especially for our black and brown kiddos. Ending homelessness. Getting money into the hands of our citizens to help their lives improve. Protect nature." — KZ, Minneapolis
---
"That our communities can rebuild and come out of COVID-19 and 2020 stronger than before.
That our reputation for 'Minnesota Nice' and kindness precedes us once again. That we create safe spaces for marginalized communities. That we always honor and uphold our human rights, patients rights, and constitutional rights even when it isn't convenient, easy, or doesn't feel right or safe to do so." — Brittany, Bloomington
---
"Less dependence on fossil fuels and more renewable technologies. I want the quality of life for me and my future generations to improve, not be burdened by climate issues." — Phil, Rochester
---
"I hope that we find ways to incorporate diverse input from all of our communities to make them safer and to close the achievement and wealth gaps currently present." — Emily, Minneapolis
---
"I want to raise a family in the MSP area and want to feel safe doing so. I'm hoping we can set violence aside to better understand and learn from one another. What makes this state amazing is our sense of community. So let's love our home and it's people just a little bit more." — Brian, St. Cloud
---
To feel safe, supported, and welcomed to explore any part of the state that I've made home for the last 8 years. To be able to remain hopeful for raising a mixed family here. To be able to brag (5-10 years from now) about the progress, leadership, and true greatness of this state. As a mom to a two year old daughter, I know how I feel and what I know that living here will shape my responses to her experiences 5, 10, 15+ years from now. What happens in the next 0-5 will decide if our family will even stick around to see what happens or what we might have experienced keeping this our home." — Ashley, Minneapolis
---
"I would like to see Minnesota close the wide opportunity gap and become an equitable, safe and welcoming state for all people, especially those who have been marginalized." — Susan, Golden Valley
---
"I want to feel safe again and feel confident in raising a family here." — Molly, Minneapolis
---
"I want Minnesota to be a welcoming place for immigrants, refugees, people of color, people in poverty, and any other traditionally marginalized group. I want Minnesota to provide support and resources when folks need it. When we all do better, we all do better." — Grace, Rochester
---
"I hope we work towards eliminating racial inequality, become a destination for global professionals to find great careers, and a model state for protecting our land." — Mia, St. Louis Park
---
"I am 75 years old.  I hope to live long enough to enjoy my grandchildren and see them become young adults." — Lawrence, Roseville
---
"I hope that Minnesota is able to remain united and proud of our shared Minnesotan identity, rather than letting hate and fear divide us. I am overwhelmed by the gulf that feels to be ever-widening among Americans; I would love to see Minnesota overcome that." — Amanda, Grand Marais
---
"I hope we learn the best lessons from the pandemic. More work from home opportunities, especially at higher levels of management and government. The state should be paying more salaries in rural Minnesota. And also that we value the outdoors and public spaces. Biking, hiking, etc., have all become immensely popular in the last six months, but they are not really part of everyday life for most people because of our built environment." — Marty, Rochester
---
"My hope is that we can figure out how to truly listen to and engage with each other. So many misunderstandings (and so much hatred) can be overcome with open communication. Learning to listen better will also help with the polarization that has been made worse during COVID-19." — Nicole, Winona
---
"I hope that Minnesota remains a state that respects its workers, immigrants and everyone who makes this state great. I hope it does not devolve into a place run by fear, racism and bigotry." — Cynthia, Roseville
---
"Better economic reform in the northern communities that doesn't include mines or environmental degradation. Better protection for our water in the form of stricter regulations. Better education for POC in the school system." — Terri, Anoka
---
"A bonding bill that will repair our failing infrastructure." — Charlie, Mankato
---
"COVID gone, ready for new challenges. Understanding vs. racism.  Stop crime, more peace!  Clean up trash on roads (jobs created for criminals). Strong business and real estate climate. Fair taxation for a balanced budget." — Roanne, Brooklyn Park
---
"I'd like to see the Blue Line light rail extended into the metro area (I think it's called the Bottineau Line). I'd like to see educational and quality of life gaps eradicated." — Lolly, Crystal
---
"Full medical coverage for all — single payer, no extra costs, the co-pays are killing me — I can't afford to go in to see a doctor as often as I should, and have no choices about my medical providers since my insurance comes through my employer picked plan. … I would also hope we get distance learning in place, and "one-to-one device" i.e. a computer and internet access for each student, and robust curriculum they can work through at their own pace. It is time to join the 21st century — as a baseline right, and to better prepare our students for the realities of our work world. Even cashiers and warehouse workers need online access to check their schedules or upgrade their skills, and everyone works with a computer in some way for work, whether in person to calibrate and program cutting equipment (my husband's factory job) or teaching remotely (my high school teaching job.)" — Kris, Columbia Heights
---
"My hope for Minnesota is that our courageous leaders continue to do the right things for all of our citizens and that we all choose to come together to close the divisiveness that's driven us apart. Idealistic? Yes, but I'm hopeful!" — Michelle, Northfield
---
"Get out of the pandemic, improve the economy, fix the budget, lower budget deficits, grant statehood to D.C. and Puerto Rico, defund the NRA and get gun control passed. Also, work for responsible police reform, but not defunding without clear alternatives." — Derek, Minneapolis
---
"Carbon free electricity. A substantially reduced police presence." — Jen, Minneapolis
---
"Close achievement/opportunity gaps, Eliminate police brutality/violence. More BIPOC in political office. Invest in renewable energy/sustainable agriculture. Address school to prison pipeline. School debt forgiveness programs" — Emi, Columbia Heights
---
"To go more and more green. Fossil fuels are outdated and detrimental to our planet. The greater the Earth's population gets, the more we need clean green energy." — Scott, St. Louis Park
---
"0- to 5-year-olds get free free public education. Concentrated sex education for boys and girls under 13 years old. Reapportionment that makes sense for the future, not done by current elected officials." — John, White Bear Township
---
"Medicare for all and progressive income tax and adequate school funding." — Cortland, Rushford
---
"Protect our environment and be more open to immigrants and diversity!" — Michael, Wabasha
---
"Thriving farm economy. One hundred percent renewable energy. Hemp cultivation. Clean water. Net zero homes." — Jerry, Spring Valley
---
"I would like us to be closer to fossil fuel free. I would like to see 100 percent of Minnesotans with accessible, affordable health care, and I would like to see a greater investment in public education, especially at the collegiate level." — Marian, Brainerd
---
"Work together to achieve common goals to serve all people what is best for all." — B., Owatana
---
"A decrease in the achievement gap, a commitment to our green spaces, from small parks to the boundary waters." — Virginia, Lake Elmo
---
"Universal paid family and medical leave. Every child has access to high quality child care from birth through kindergarten. Everyone have the option to buy in to Medicaid/Minnesotacare." — Nathan, Minneapolis
---
"I'd like to see better supports for those on the lower rung of the ladder. I think we have a good start, but we still have work to do." — Tammy, Rochester
---
"Equity in education, housing, unemployment." — Susan, Hugo
---
"I would like to see individual city taxes go away. As a small business some cities you have a added tax. Making it difficult to work throughout the state.  It's an accounting nightmare." — Chuck, Melrose
---
"I'd like to see greater investments in education and our rural communities. So often the metro area and Greater Minnesota are discussed as enemies. I hope issues like rural broadband and more equitable funding in education can create a state with united civic pride." — Kristian, Golden Valley
---
"Doing our part in combating climate change." — Ellie, Lilydale
Your support matters.
You make MPR News possible. Individual donations are behind the clarity in coverage from our reporters across the state, stories that connect us, and conversations that provide perspectives. Help ensure MPR remains a resource that brings Minnesotans together.