Review: First Avenue's best new bands celebrates rising Twin Cities talent
On a frosty Friday night, concertgoers young and old crowded the historic First Avenue floor, shedding winter coats and stomping snow off their shoes. Hosted in conjunction by local radio stations The Current, Radio K, KFAI, and 93X, First Avenue's Best New Bands is a continuance of a mid-'80s tradition. This time, seven emerging acts took to the main stage and performed for their lives.
Recent Minneapolis transplant Raffaella kicked off the evening with a grungier take on her wry, polished pop. Accompanied by frequent collaborator Jake Luppen (of Hippo Campus fame) on bass, Sara L'Abriola ("Hank") on guitar, and Joey Hays on drums, the singer-songwriter channeled early-'90s and aughts angst, breathy vocals descending into sighs and shouts.
A wiry, tremulous presence onstage, Raffaella flitted across the dais in theatrical fits and bursts. Standout tracks "BLONDE" and "GROWN UP" had her, in turns, dropping into splits, clutching at Luppen's legs, or kicking in time to the drums. "I wrote some of these songs when I was absolutely devastated," Raffaella confided to the audience. "I thought nothing had meaning. Minneapolis has given me meaning. I'm beyond honored to be here tonight.
Up next, with a heady mix of African highlife, reggaeton, and R&B, Nigerian producer and multi-instrumentalist Obi Original brought his electrifying take on Afro-fusion to the masses. An effortless performer, Obi danced, leaped, and belted his way through a groove-heavy set, with seamless audience calls-and-responses.
MPR News is Member Supported
What does that mean? The news, analysis and community conversation found here is funded by donations from individuals. Make a gift of any amount today to support this resource for everyone.
Joined later on by Kion Rose, as well as Bakarii and Ch!nwe of pan-African group Ozone Creations, the group's chemistry was undeniable in songs "Fanta" and "Unknown Banga 001." My favorite moment? Obi's calls to the crowd to "get low" were met with little resistance – then an endearing, but awkwardly Midwestern, scramble to get back up.
Minneapolis-based artist Mike Kota's set posed a stark contrast. A less danceable, more contemplative follow-up, Kota's bare bones lyricism and wrenching vocals set an intimate scene: "Keep me alive, keep me sweet/Tell me something new to put my mind at ease."
"This is a night of firsts for me," Kota told the crowd in between songs. "This is my first night on the First Avenue main stage. This is my first time with a live band… and I haven't s---- my pants yet." Her acerbic humor was welcome levity. Kota's true prowess lies in her deft guitarwork and production ability, with songs like "Rift" and "It's Not Serious" studies in understated, gorgeous harmony.
With the excellent closer, unreleased track "Dragonfly," she dissolved into wails, a crescendo of guitars following suit.
Carbon Sound favorite killusonline's ferocious 30-minute set provided a much-needed jolt of adrenaline in Friday's proceedings. Self-described as "chaotic-death-grind-rap-core," the local group's experimental mesh of hip-hop and hardcore roused a sense of contained anarchy in the crowd, and bodies slammed against each other in an ever-present mosh.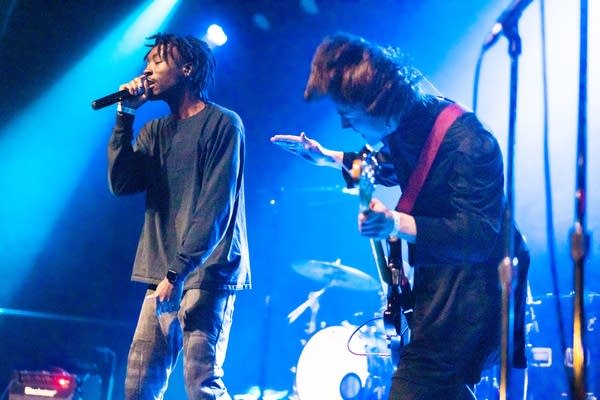 Riotous tracks "Floor Pedal" and "Inside Out" sent drummer Theo Galetka's drumsticks flying up in shards, all the while vocalist Mory prowled the stage amidst throttling bass.
Folk-rock group Harlow proved considerably mellower, playing a summery, wistful mix of old, new, and unreleased. A quiet folk tune "Palo Alto," my personal favorite, comes off their latest EP, Other Lives, Told, but the band was remarkably diverse in their offerings, veering from straightforward country to arena-ready rock.
Coming off a landmark year, four-piece indie group Creeping Charlie took the stage with aplomb, their distortion-laden tunes echoing the likes of Metric and the Greeting Committee. With recent gigs opening for Shamir and Landon Conrath, as well as a December residency at Amsterdam Bar & Hall, the band's feedback-laced songs were easy crowd hits, "quiet" and "GTFO" particularly primed for head-bopping.
The words "WEAPON OF MASS CONSTRUCTION" are etched across lead singer/guitarist Julia Eubanks' Fender, and the description feels apt: Creeping Charlie's compositions are complexly architected, riff-heavy works.
Closing out the night, Brotherhood of Birds, a seven-piece (!) Twin Cities-based bluegrass group powered through a lean assortment of songs. Replete with a standing bass, mandolin, banjo, and fiddle, the group was true to its Americana roots, playing selections from their 2021 EPs Caged Vol. 1 & 2.
All in all? Best New Bands was a rousing success, a night primed to dance with friends, nurse a cold drink or two, and discover some new music. Three days later, my eardrums are still shot. It was more than worth it.