Care about punk music, trans history or both? You need to know Venus DeMars
In celebration of LGBTQ+ Pride Month, throughout June MPR News is featuring stories about transgender and nonbinary Minnesotans making an impact. See more at mprnews.org/changemakers.
Venus DeMars is a local treasure, full of stories and wisdom from more than three decades (and counting) as a rock and roll musician and a bold, confident, transgender frontwoman in the Twin Cities, her hometown of Duluth and beyond. 
The glam punk rock star formed her first band in the '80s, came out as trans by the decade's end, and fought tirelessly to get herself hormone therapy in the '90s, when little was known or offered in the way of health care for trans people.
DeMars, 63, and her wife of 40 years, teacher and author Lynette Reini-Grandell, live in a south Minneapolis home engulfed in lush trees, plants and flowers. Inside, one of DeMars' paintings fills the living room ceiling. Reini-Grandell recently published a book about her relationship with DeMars and the journey they've been on together. DeMars is working on a memoir of her own.
Grow the Future of Public Media
MPR News is supported by Members. Gifts from individuals power everything you find here. Make a gift of any amount today to become a Member!
After her first band dissolved, DeMars formed All The Pretty Horses in the early '90s. She still performs under this name (now Venus DeMars and All The Pretty Horses) and plays regularly in the Twin Cities and nationally. In 2014 the band toured with Against Me!, fronted by trans punk icon Laura Jane Grace. Most recently, DeMars shredded at Twin Cities Pride in Loring Park, among appearances at many other Pride-related shows throughout the month. 
On stage, DeMars is glam embodied, often geared up in black leather, corsets, porcelain makeup. And she has a flair for performance: She's known to pick up an angle grinder during her set and take it to a metal plate she holds over her pelvis, shooting sparks across the stage. 
Editor's note: The following interview has been edited for length and clarity.   
What got you interested in rock 'n' roll?
Oh, two things: I saw The Monkees when I was a tiny little kid on the TV. I just was like enamored by that. And then I saw David Bowie on "The Midnight Special" — "The 1980 Floor Show." Both of them on black and white TV in my sister's room on the second floor. And I heard "Space Oddity" sitting in a parking lot of a Target store. I was probably 9, and I just was enamored with that whole world, so I've been doing it since then.
I started in the early '80s with my first band, which was right during the time when The Replacements were just beginning to take off. They would warm up for The Suburbs, who were the signed band in town. We would replace The Replacements on occasion, which is our little inside joke. 
How'd you get your first band together? Friends from high school?
It was friends I met after high school, but it was a group of people that all knew each other through high school. I had an apartment in a condemned apartment building — a friend of mine did. It was an underground deal, with the owner who was slowly remodeling this big townhouse in Duluth, a brownstone apartment building.
My friend had one of the condemned apartments over on one side, paying under the table. And then he told me about the one on the other side, so I took that one. The deal was we had to fix everything. We couldn't ask for anything. So I repaired the floors. I repaired the toilets. I did everything. But we paid hardly anything to live there for two years, and during that time we formed a band.
It was the early days of the punk era. We were like one of the first punk bands in Duluth, so we just had a blast. We saw all the music scene down here in the cities. A manager down here heard about us up there, invited us to come down so he could represent us. Of course that didn't last, but we did move down here because of him, and we started the band house. We tried really hard. We played Goofy's Upper Deck, McCafferty's, all the punk clubs, 7th St Entry. And nobody remembers that band, which I'm thankful for.
So you were playing in the cities a lot in the '90s, probably.
Yes, we did. [All The Pretty Horses] did a lot of the small shows. We put out our first debut album, which is still not digitally out there — which is on my docket to do because this year's the 30th year anniversary of that band, All the Pretty Horses. We released that first album. My drummer was struggling with some addiction issues, so he quit after we had gotten the album.
It took us a while to get back on our feet. We couldn't get anywhere here because I was trans, and nobody knew what to do with that. It was way before it was a thing, and people were really not taking me seriously at all — or the band. I couldn't get us into any of the major things or get any industry help or anything. 
I had a travel study opportunity to go out to New York. I met some friends out there. They showed me the music scene out there, which at that time was drag punk. Who knew? I didn't know, and nothing came back here from the coasts back then in the early '90s. And so I discovered this world out there, and it was like, 'We have to come out here.' I booked my first gig at a lesbian bar called the Meow Mix on Houston [Street], and now is no longer there. I did it through fax machine, if you believe it. Nobody trusted email back then.
We just started going out [to New York] every couple of months. I got to be part of the New York drag punk scene with the band. So we did CBGB. We did Limelight. We did all the cool clubs out there.
I met Debbie Harry. I met Joan Jett. I convinced her to watch us. I had this thing where I had my light people carry me on their shoulders, and I made them go out to where her table was, and she was like, 'Oh, alright … I'll watch.' And then she loved us, and she couldn't believe we were from Minneapolis. 
You said people [in Minneapolis] "didn't know what to do with you." Did you feel like people [in New York] knew what to do with you?
Yes and no. They totally got drag out there, so the drag punk thing was big. We didn't have a problem fitting in on that level. But I was 24/7, and that was different. We fit the scene, but we were still something different because I had actual breasts on stage, which I was not shy about showing, because that's what you did to prove that you weren't drag — that it wasn't a costume. 
I developed this whole domme fetish persona that was pretty aggressive on stage, physically. And that was on purpose to prove that I wasn't pretending.
Did you meet other people, girls, women who were '24/7,' as you said? 
Not too often. I did in the evenings. The Now Bar was a trans bar. Because we didn't have a lot of opportunities as trans people back then, it was mostly to find clients. So that was kind of the way you made money, unless you were lucky enough to have some other means of income. Lynette and I being married, and my freedom to be on stage here, allowed me that ability to be myself, where other people didn't have that opportunity.
I didn't see people who were 24/7 normally like you do now. You see people all the time now. You see people in careers, you see lawyers, see doctors. You didn't see that back then. Everybody was people that worked at night. That's when you saw the trans girls. During the day — no, I never did. I was very lonely.
Minnesota was one of the first [states] to instill protection, but there were so many loopholes that it was really difficult to enforce. So you still risked getting fired. You still risked losing your apartment. Everything was at risk to be out as trans back then. It was a lot of work, and if you passed really well, you might be able to get away with it. But then you had to live stealth. You had to not acknowledge being trans. It was a very difficult time to navigate.
What are the current words you use to describe your identity?
Very, very interesting and intriguing question. I came out in 1988, and that was way before anything. So my language kind of came from nothing. And I didn't know what to call myself. So using the terms now, I lived nonbinary for a long time, but I didn't have that language. So I just kind of presented … people saw me as female. But legally, I hadn't changed.
I started hormones in the early '90s, so my body changed early on, and that was before there was any protocol for anything. Now I say she/her. I am legally changed — name, gender, all of that. And then I am post-surgical. But it took a long time to get to that point, because of when I started. There was no option to go any farther than that, because insurance didn't cover anything. 
If you want to talk about it, I'd love to hear about what that was like in the '90s.
It was crazy. I knew about the Program in Human Sexuality at the University [of Minnesota]. But no insurance would cover to go there, and that was the only route to get approval to get surgical transition. And that approval meant that I would define myself as being a "heterosexual female," which would mean that I would have to divorce Lynette, and I didn't want to do that. And Lynette obviously didn't want me to do that. 
And even if I had gotten approval, the only options for me to get it done would be to pay for it myself. But it would have been, you know, in a $50,000 range plus a trip over to Thailand, more than likely to a place I don't know and to doctors I have no idea about. Who knows what the recovery is. It was early days, and there was just no option. 
So I just started to live my gender, which was female presenting. I did a documentary in 1990, and so I had met a lot of people in the gender world at that time. And we didn't call it that. It was nothing. It was just people.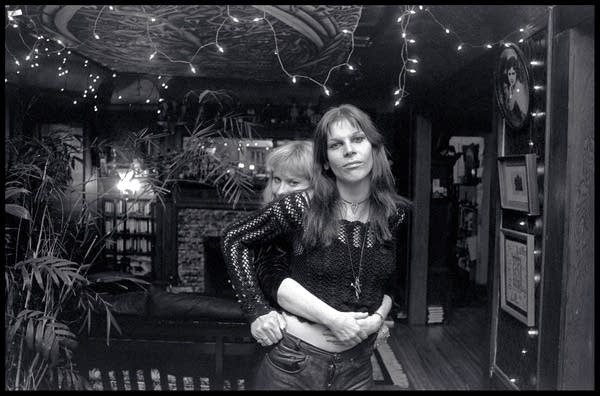 How did you think about it at the time?
It was a bunch of misfits, and there was no organization. I came out in therapy because I was horribly depressed. My therapist — who I'm sure was gay, but he couldn't tell me that cause he would have been fired — had me take this big [exam] for mental issues. I took that, and that rose to the surface. 
I originally came out as transsexual, which ultimately is where my path led to. But at that time, without the option, he was able to find a number for a self-organized, underground community that was providing a safe place to "cross." Primarily the members were female-presenting men.
Super underground. You didn't know anybody's name. You had to go through a process of getting accepted. And I had to make a phone call … scarier than shit. Way before internet. But we found it, and it gave me a place — a safe place to be who I was and slowly become more and more who I was.
Through that I became friends with somebody that had gone through transition. She gave me her doctor's name. I called them up and they said, "Oh, no, no, you can't … We can't treat you for that." So I just called my clinic. I just called every two days, asking if there was anybody there willing to talk to me about hormone treatment. And I [kept calling] for like three weeks. And eventually, they just … Everybody knew, because I just kept calling. And eventually somebody volunteered to talk to me, and I had to self advocate. 
He was concerned about me being in a relationship, being married, but I self advocated through it. He put me in touch with an endocrinologist … had to do it all over again. Both of them just decided to say, "OK, it sounds legitimate. We will give you hormones, but the story is that you are planning to go through transition, if anybody asks." Basically, I just lucked out, and I snuck under the wire. It was just an unsaid thing. 
My endocrinologist retired shortly after. My regular doctor kept me up on it. I overdosed once because I had underground stuff — shut my liver down. Had to re-advocate to get back on. It was a mess. It took forever, and it was very high dose of estrogen. And I got denied at one point in the late '90s from the insurance company. I had to advocate all over again to get it reinstated. So yeah, it's been a workout.
You've played here in the Twin Cities for a really long time. How have you seen things change? 
I am amazed at the distance that the trans community is at right now — the accomplishments we've made. I mean, we've made it all the way to being acknowledged by the President of the United States. That was amazing. That was a life changer. I toured with Laura Jane Grace, so I got to see … the whole rock and roll scene embrace of trans — incredible. 
And now we're experiencing the backlash, which I think is part of what we need to do to get ourselves to a permanent place of self empowerment, unfortunately. And to be honest, I didn't think I'd see it. I thought I would be doing what I was doing in the '90s, where I felt like I was the only one, and trying to make as much noise as I could on stage. 
I brought back some of these ways of approaching the music from New York. I started doing theme nights here. I did fetish nights. I used to do them at First Avenue in the Mainroom, and I used to do around Valentine's Day, so I called it the Valentine's Day aftermath. And it was great and huge, and that was back when fetish was something unique and interesting. 
And then I did a trans night called the Kitty Cat Shack, and I used to do that at the Turf Club. And that was wonderful, and a lot of people still very closeted — but a lot of people from the community would come up and were very appreciative that I had a place for that. So if they were willing to, they would come and be themselves, but not everybody did.
When were these happening?
That was happening early aughts. Then we started working out in New York. We toured England. And then the film came out. All of that helped convince the Minneapolis scene that maybe we were worth paying attention to. So then we started being able to get more gigs and do more things, but it was still early. We couldn't get industry. Everybody else was getting signed. Everybody else got record deals, and the press here were kind of wondering why we weren't. It was rough, because we all thought we would get to that point. 
We had a big meeting in New York. I write about it in my [forthcoming] memoir, but I was basically flat out told 'no.' They asked me not to be trans, so they could represent me to the major labels. I said, 'I'm not going to do that.'
What would you say are some of your proudest accomplishments as an artist?
Not giving up. Really, I think that's it. I didn't give up. I just kept going, and I kept pushing. I just tried to be myself, be as loud as possible and be on stage, and I wouldn't let anything get in my way, to a fault. Definitely had relationship issues because of that obsession. But I think now, reflecting, that is the single thing that I'm proud of.
What advice would you give to younger trans people?
If you're in a city, or an environment, or state which is not respecting you for who you are, you need to move. You need to get somewhere safe. You need to be yourself. 
If you're trans yourself and you're struggling to come out at any age, you need to just do it. Get to a safe place. Get to safe people. But be yourself, because your life is not going to get better if you try not to, if you try to hide it. That's not who we are. 
And then getting older — there's a whole thing coming up. Elder care for LGBTQ people is pretty horrible. People are having to go back in the closet. People are not being able to stay together in their relationship. People who are trans are being forced to detransition. It's horrific. And nobody's talking about that, because few people talk about elders things. It's a voiceless group of people, and advocacy is next to nothing.
And I'm looking at the bottom end of that coming up, and I'm worried. I'm very worried about everything. I'm worried about our politics. I'm worried about our country. Makes me very upset and emotional. The only thing we can do is be loud. Be out there. Not give up.
Is there anything else you'd like to talk about?
I went to a performance a friend of mine, Walken, put on at the Southern Theater. One of the things that they've been talking about — because they're going to seminary, as a trans person, trans masculine — that trans can be seen as a calling, and that is echoing that sense of importance, advantage, the insights that are unique to living a life of in betweenness. 
Those things are valuable, and they're spiritual. And I think those are the positive things that we as trans people need to remember when things get hard. There's a reason why we are who we are. And that reason will be how we live our lives.