National UAW strike expands to Twin Cities area
Updated: Sept. 23, 6:30 p.m. | Posted: Sept. 22, 8:07 p.m.
Workers picketed for a second day outside of an auto parts warehouse in Plymouth, Minn., on Saturday after United Auto Workers leaders expanded the union's strike against the Big Three automakers.
More than 5,000 workers at 38 General Motors and Stellantis parts distribution centers are now part of the strike, UAW President Shawn Fain said Friday.
That includes the Stellantis Mopar Parts Distribution Center along Highway 55 where striking workers carried signs and waved at passing vehicles.
Mopar workers argued Saturday that a two-tiered wage system puts the company at a disadvantage in the labor market. New hires and temporary employees are paid less than half the wages of long-time staff for the same work, while missing out on benefits like profit sharing and holiday pay, according to health and safety coordinator David Carlson.
Grow the Future of Public Media
MPR News is supported by Members. Gifts from individuals power everything you find here. Make a gift of any amount today to become a Member!
"You can go to Target and make $20 an hour. You can go to Amazon and start off at $20 an hour. Why would you start here at $15 an hour?" asked Mopar employee Jeff Stevenson.
Stevenson has worked for Stellantis for over 20 years. He and three other colleagues were displaced last March after the closure of an assembly plant in Belvidere, Ill., where he estimates up to 300 people at a time worked for lower wages.
He said it was unfair for new hires — who must work eight years before getting a similar salary — while also creating animosity between coworkers.
UAW Local 125 secretary-treasurer John Kontzelmann said the strike has received support from other Minnesota labor advocates.
"We have to be united behind workers, so that we can be sure that our economy stays strong for everyone," said State Rep. Ginny Klevorn, DFL-Plymouth.
Kontzelmann said the Minnesota AFL-CIO is scheduled to hold a rally outside the Plymouth facility on Tuesday, Sept. 26 at 8 p.m.
Union officials said a strike at the facility is unusual and they have generally a good working relationship with management.
The Mopar facility shutdown impacts delivery of parts to Chrysler, Jeep and Dodge Ram dealerships across the Upper Midwest and parts of Canada.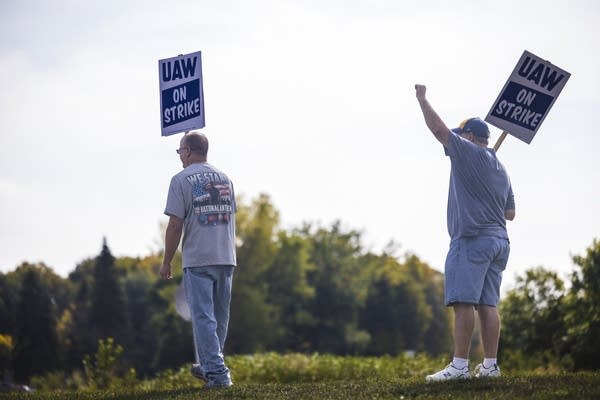 Meanwhile, workers at the General Motors Parts Distribution Center in Hudson, Wis., plan to strike in shifts around the clock.
"We're out 24/7," said Steve Frisque, president of UAW Local 722. "We'll be out here until they tell us anything different till we get a contract. So that takes a day or that takes two months. I hope it doesn't take two months but we are out indefinitely we're not going back in until the international gets a contract and we ratify it and then we will go back to work."
Three of the workers Frisque represents live in the same house in nearby Spring Valley, Wis. Jeff and Jodie Schmidt, and their adult son, all work at the distribution center.
Jeff said he's optimistic that the walkout will lead to a better contract.
"We're glad to do it. Sounds like everybody was anticipating being called up. They wanted to participate," he said.
Jeff said they will have to cut back to make up for lost wages during the strike, but he and his wife Jodie think it will be worth it in the long run.
"We just are trying to keep things simple and not you know, do all that extra stuff," Jodie said.
Workers on the picket line get strike pay benefits from the union, Frisque said. He said the people he represents are glad their union is fighting for a better contract.
"There's a sense of, you know, this is the right thing to do. We've been giving to General Motors for years. We keep giving, giving and giving, and they don't want to ever give anything back, so the line was drawn in the sand and this is what we need to do and hopefully GM comes back to the table," he said.
The workers are asking for wage increases and cost-of-living adjustments, but the automakers say the demands would put them as a competitive disadvantage, according to NPR.