GLOW Holiday Festival lights up St. Paul's CHS Field with dazzling displays
The GLOW Holiday Festival returned to CHS Field in St. Paul Thursday, featuring millions of lights and dozens of activities after a demanding four-month long process. 
Holiday festivities come early for the GLOW team each year as they begin taking inventory and creating a winter wonderland in early July. Actual set up at CHS Field starts exactly one month before the opening date — for a week straight, workers loaded and unloaded 50 trucks worth of equipment and lights for the final design.
Each design element comes in multiple pieces, the larger-than-life glowing trees and animals you'll find all around CHS Field must be assembled individually, with each light strand having a specifically coded port that it calls home.  
Co-founder of GLOW Adam Wendle says "it's chaos the first couple of weeks" as they work to unload the trucks and find the perfect match for the hundreds of pieces of animals and trees.
Grow the Future of Public Media
MPR News is supported by Members. Gifts from individuals power everything you find here. Make a gift of any amount today to become a Member!
Wendle is not alone in his battle with the lights. Alexander Freer, GLOW's lighting designer, usually works on theater and dance shows, but says working on a large-scale holiday project like this one requires an acute attention to detail on the "controllable elements," but the job itself is exceptionally gratifying.
While the behind-the-scenes coding and computers that run each individual light is work that is often unseen each night, the physical effort of setting up an event this large cannot be overlooked.
The trees in the stadium alone take a minimum of eight people and a full week to fully build and set up. All of the animals (most about 14-feet tall) come in up to eight sections and take a crew of four people about two hours to build (the electrical work comes much later in the process).  
They have 25-30 people on site every day starting Oct. 16, and most people work 16-hour shifts, with the light technicians staying all night to make use of the dark. "I get here before my family wakes up, and I get home when they're all in bed," says Wendle. 
In addition, once the event is open, maintenance crews will comb through the entire display every day after the stadium closes to the public to check for dead lights and any other electrical or display issues.
"That's the reality of having an outdoor light show in Minnesota, we prepare for the worst and hope for the best," he says.
In the last few hours before opening, it would normally be down to the details; but with high wind gusts of up to 40 mph in the past few days, many of the designs had to be tethered down to concrete and re-built after falling over.  
Earlier this week, a giant ornament started rolling down the concourse, breaking into seven pieces. But even with the difficulties, to Wendle and his co-founders it is all worth it.  
"We love the holidays. We love the spirit. We love to see families, couples, everyone come out and enjoy the holidays together," he says. "Whether you celebrate the holidays or not, it does not matter. We want you to come be together with your family and friends."  
So, what does the cost look like to create a holiday display with 3 million lights?
"Cost? ... Significant, millions of dollars," says Wendle.
GLOW did not turn a profit last year, but Wendle says "we're not trying to get rich here, that's not the point. We're trying to create something that we enjoy, that the community enjoys and that benefits the entire St. Paul area."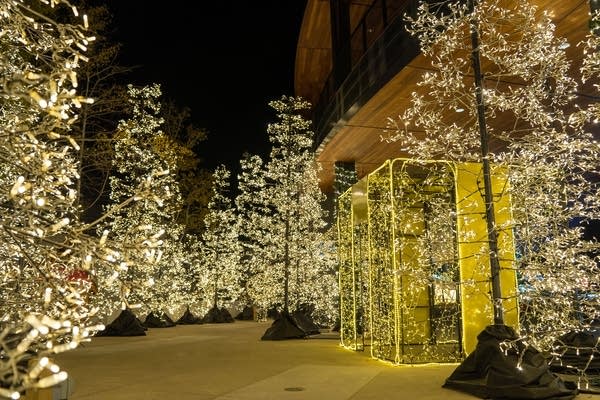 This is GLOW's fourth year working with local charities and over the years they have donated more than $250,000 to benefit the community. This year, $1 of every ticket sale will go to a mix of 30 local charities, and that is not the only community benefit that GLOW hopes to bring about this holiday season.  
All local businesses, including restaurants, bars and hotels, make a profit from the crowds that GLOW draws. On Friday and Saturday nights, GLOW often pulls in a crowd of more than 8,000 people, who all then want to have dinner and visit the community. "All of the bars and restaurants in the area are packed on GLOW nights," says Wendle.  
For the creators of GLOW, it is all about the people. Freer explains that after setting up his first show last year, he took some time to come out of his tech booth and watch the visitors on the main concourse. "It's truly a magical experience to watch people 'ohh' and 'ahh' at everything they see," Freer says. "It's beautiful." 
GLOW is open through New Year's Eve, with closings on Thanksgiving Day and Christmas Day. Adult pricing is $20.75, and children's pricing is $12.75. You can buy tickets ahead on the GLOW website.
Featured this year is a two-lane zipline ($12), synchronized light-music shows, a four-lane tubing hill ($3.75) and 15 family firepits for smores. Wendle says "it's one of those things where you can drive through neighborhoods and see beautiful Christmas lights, but how many people have walked through a stadium and seen multiple millions of lights where they normally just watch baseball."