Jump into the Minnesota Made Matchup. We asked you to submit your favorite invention/idea/place with Minnesota roots — and you delivered! The first votes have been cast and now it's time for the top picks to go head-to-head.
Round three, the State Fair vs. "Let It Be" album
Can't see the submission form? Click here.
Encourage your friends and family to join the fun, one vote per IP address.
About the contenders:
The Minnesota State Fair keeps getting bigger — new attendance records were set the past several years. The 12-day-long event is home to foods and attractions that have become state staples — Sweet Martha's, Giant Slide and Pronto Pups, to name a few.
It has also hosted historic events, such as the speech credited as President Theadore Roosevelt's first public use of his famous foreign policy tagline: "Speak softly and carry a big stick."
The Replacements, who got their start in Minneapolis, released their third studio album, "Let it Be" to a warm reception from critics in 1984. It was ranked No. 241 on Rolling Stone's list of the 500 greatest albums of all time.
It was also a turning point for the band with lead vocalist Paul Westerberg saying years later that the band was getting tired of playing "noisy, fake hardcore rock." It's one of many rock albums to come out of independent Twin Cities record label Twin/Tone Records.
"What better work of art to represent Minnesota than an album of scrappy and sincere songs from four totally average (probably below average) Minnesotans recorded on the outskirts of downtown Minneapolis." — Jim Lonetti
---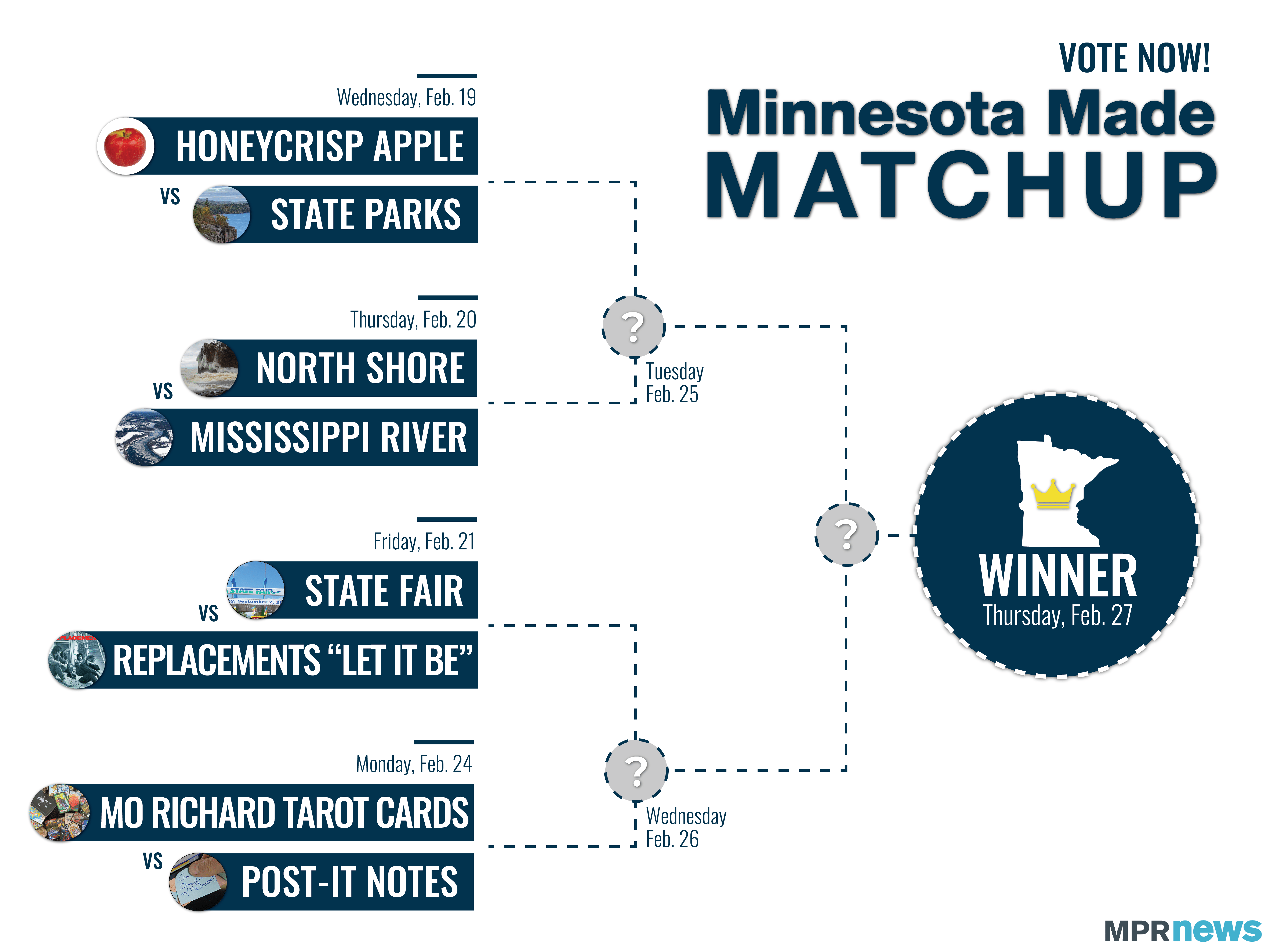 In case you missed the announcements on All Things Considered: State parks beat out Honeycrisp apples in the first voting round and the North Shore washed away the competition in round two. Check back each day of the bracket to vote for your favorite!
Why should your pick win? You can make a case for what you voted for in a video on Twitter or Instagram and tag #MNMade — we'll share the most compelling arguments with the rest of our audience.
MPR News is Minnesota-made and we know you love us when you give. Become a member or donate today! Your support helps us make the news programming you love.
After we crown the best "thing" to come out of Minnesota, we'll hold another vote for best person — so if you submitted a public figure, stay-tuned!