In most cases, antibiotic-resistant staph doesn't cause any harm. It can live for years in a person without ever causing an infection -- much like regular staph, which most people contract at one time or another in their lives.
But in the past year, the Minnesota Department of Health has recorded a big jump in the number of these resistant staph cases in the community. There were at least 993 in 2005, compared to 495 reported cases the previous year. The Health Department believes there will be even more this year.
Kayla Johnson, an otherwise healthy 10-year-old, is one of their first cases. Kayla has been in a Minneapolis children's hospital for a week, with a sudden and severe staph infection in her hip joint.
As her mother gingerly helps her into her hospital bed, Kayla struggles in pain.
"Ouch," she says. "Slowly. Ouch."
Vancomycin flows through an intravenous tube inserted into Kayla's arm. This drug is one of the few antibiotics that still works on this type of staph.
Kayla is lucky. She's expected to make a full recovery in a couple of weeks. But for the moment she's not thinking about that. She's more interested in figuring out what happened to her.
"I'm thinking like, how did it get there?" says Kayla. "Who gave it to me?"
I'm thinking like, how did it get there? Who gave it to me?

Kayla Johnson, recovering from a staph infection
Her mother Beth wonders if she got it from her classmates.
"She plays basketball ... just basketball and then school. So who knows," says Beth Johnson. "What I've heard is that somebody else could have carried the staph without getting sick and somehow she got it, and we have no idea."
At one time, antibiotic-resistant staph infections were found primarily in hospitals or long-term care facilities -- places where people are sick or have weakened immune systems and where antibiotic use is high. Resistant staph can be found just about everywhere, from computer keyboards to phones to the insides of people's noses.
State Health Department officials doubt that the bacteria escaped from hospitals. Its molecular print is different from hospital staph. Instead, they believe it developed on its own as people increased their use of antibiotics.
It's Kathy Harriman's job to figure out what's going on with the resistant staph, also known as MRSA. Harriman is with the Minnesota Department of Health's infectious disease investigation unit.
"More people have them. It's just kind of a critical mass," says Harriman. "In some communities the MRSA strains may be the community strains. They may be more common than the sensitive strains. And you know, that's not what we'd like to see happen."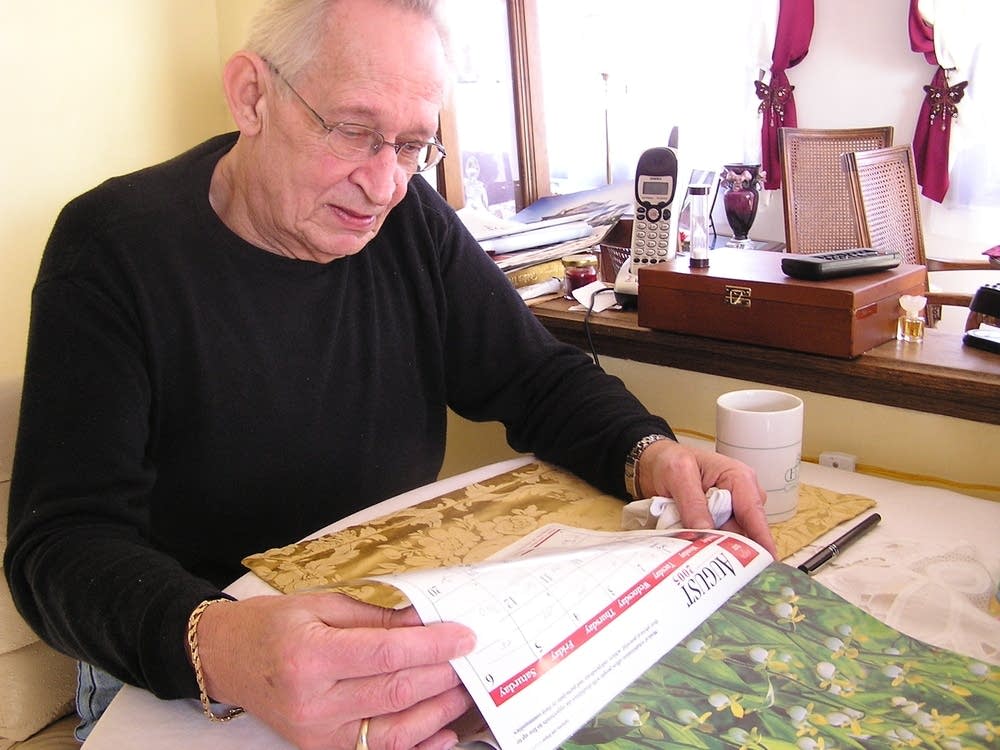 Harriman and her colleagues don't know if Kayla has the new strain of MRSA (methicillin Staphylococcus aureus). Only more testing will tell. Officials are keeping a close eye on that particular strain because it has spread so rapidly in recent years.
There are early signs that the strain might cause more severe infections.
"These strains seem to have some toxins that can cause some pretty serious pneumonias, necrotizing pneumonias, just some very bad infections, also some toxic shock-like infections and so on," says Harriman. "There have been a number of deaths and very serious illness."
The Health Department collects specimens of the staph bacteria from patients whenever possible. They're hoping to learn more about its ability to cause such severe infections in seemingly healthy people. They also want to track how often staph is colonizing in families.
On a recent Saturday afternoon, epidemiologist Jessica Buck stopped by Terry Knutson's home. The Bloomington man barely survived a lung infection last year, which has been traced to the new staph strain. Buck has come to collect a sample from Knutson's nose to see if the bacteria is still living on his body.
"So I'm going to swab each side three times," Buck explains.
"That's it?" says Knutson. The procedure is over in seconds.
Knutson, 66, looks healthy now. His thin frame and pale complexion are the only hints that he spent 25 days in a coma last summer.
"I refer to it now as the month I went to sleep," says Knutson.
It began on a Friday. He woke up with a really bad headache that just wouldn't go away. By Saturday, Knutson was convinced that he had the flu. He spent that whole day in bed. When he woke up Sunday morning he was drenched in sweat. His daughter demanded that he go with her to the hospital.
As he was getting in the car, he felt like he was dying.
"So that was about 11 o'clock on a Sunday morning," says Knutson. "And I remember going to the hospital and feeling really weak in the emergency room. There was a long line of people waiting to see a doctor and I collapsed on the floor. And I don't remember much of the emergency room from then, but I do know by 3 o'clock in the afternoon I was intubated on life support."
Dr. Robert Shapiro thought Knutson was dying, too.
"Septic shock, organ failure, respiratory failure. He had all that. I mean he was as sick as you get," says Shapiro, one of several doctors who tended to Knutson.
Knutson's family members told Shapiro that he had been exposed to his grandson's staph infection earlier that week. The grandson had developed the infection on his skin following a serious tumble from his bicycle.
Most of MRSA cases only involve skin infections, which is why Shapiro says he really didn't think it was likely that Knutson's lung infection was caused by staph.
"Quite frankly, when I heard the story I was dubious," says Shapiro. "I sort of thought this was going to be pneumococcal pneumonia, which would be the most common community-acquired pneumonia. (Someone could) easily get that sick, would look like that on the chest X-ray and even looking at it under the microscope could look like that. So I was a little surprised."
But two days later, tests confirmed that Knutson had antibiotic-resistant staph. Around the same time, his grandson's father also developed a staph infection on his skin.
Shapiro and his other doctors had to literally scrape the staph infection from Knutson's lungs in a procedure called a broncoscopy. They performed five such procedures that month. Eventually Knutson recovered, after receiving heavy doses of the antibiotic Vancomycin.
Shapiro is quick to point out that Knutson's case is rare. But he says severe cases are occurring more often. And as a result, he and his colleagues now treat all severe infections as if they are caused by staph until they know for sure that they're not.
"What's scary about it for me is that five years ago, we would have never considered that as a possibility," says Shapiro. "Eventually these bugs will become resistant to the drugs we have now. We don't have very many left."
There's not much time to solve the problem either. Kathy Harriman with the state Health Department says already there have been a handful of community staph cases in the U.S. where Vancomycin didn't work on the infection.
She says that means that there may come a time when there are no drugs to treat antibiotic-resistant staph.
"We can't just assume that there will always be some new drug to take care of these infections, because there just aren't a lot of new antibiotics in the pipeline," says Harriman. "The drug companies say we've picked all the low-hanging fruit. It's not that easy to come up with new antibiotics."
But there is something that can be done. Harriman says studies have shown that when doctors are more careful about prescribing antibiotics, resistant strains of bacteria decrease. She says it takes a long time and a lot of diligence, but eventually the resistant bacteria can lose its foothold.