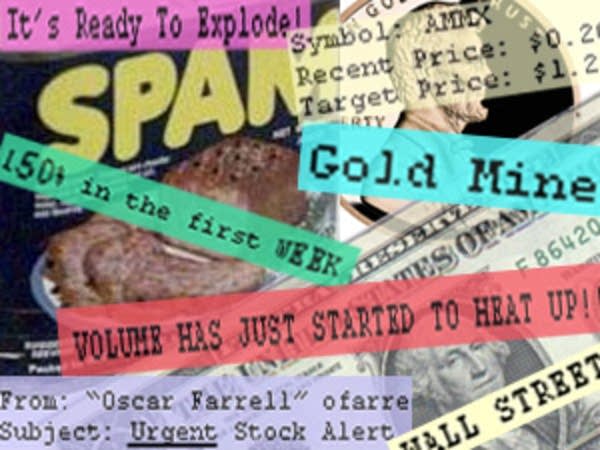 The messages roll in with subjects like "Stock Alert" or "Shareholders Update." Maybe it's something more personal like, "Call me...let's talk." And just one click away is free investment advice: stocks the world hasn't discovered yet, which promise to be the next, maybe, Google. And now you've got an early, inside line on it.
If you've seen more of these in your inbox lately, you're not alone. Stock-hyping spam exploded over the past year, from less than 1 percent of all spam e-mail at the start of 2005 to as much as 15 percent today, according to the Internet security firm Sophos. The stocks being hyped are shares in real companies. But many of the stocks are not traded on stock exchanges, and the companies are not subject to strict securities regulation.
There are pharmaceutical companies, clothing importers, and a large number ostensibly involved in natural resource exploration. One company is working to launch a dinner theater in a Chinese castle. And maybe you've been tipped off to a Florida company called Extreme Innovations, which makes motorcycles and a three-wheeled speedster called the T-Rex.
"I'm completely appalled by this whole situation," says Extreme Innovations' CEO Nazarith Dewoodi. He says it "boil(ed) my blood" to see massive amounts of spam in January bearing his company's name. The message cribbed part of a recent company press release, including a quote from Dewoodi himself.
"You get pretty upset when you find out somebody's using your name, doing something you did not promote," Dewoodi says.
For the most part, the stocks are tanking left and right.... You'd have better odds flipping a coin than you would investing in hot stock tips.
Nonetheless, Dewoodi says Extreme Innovations has given up on tracking down the spammer. "We've tried. But it's costly, it's time-consuming, and frankly we'd rather just move forward and deny ourselves from the situation, because we had nothing to do with it. We don't know these people."
For small companies like Dewoodi's, it can be a public relations nightmare to be connected to annoying e-mails. And people who act on the spam can lose lots of money on the company's stock--just the opposite of what a firm is supposed to do for its investors.
Most experts believe stock-hyping spam is usually part of a so-called "pump-and-dump" scheme: The spammer buys up shares of a tiny company, then sends out millions of messages suggesting the stock is the next big thing.
Twin Cities investment advisor Ross Levin says its a modern form of an old trick: "They're hoping people will just jump on the bandwagon, and momentum will cause the stock to rise."
Even a small number of new investors can cause the typical spam stock to rise. When it does, the spammer cashes out, sending the price back down -- maybe even lower than it was before. Levin also says in some cases, the company itself might be the originator of the spam, trying a desperate move to prop up its own share price.
In any case, Levin says companies hyped in spam e-mails are extremely risky ventures. They're almost always so-called "penny stocks," with share prices ranging from a few dollars to a few cents. They may be companies just starting out, or foundering through hard times.
Some may exist only on paper. Minnesota Public Radio tried unsuccessfully to reach about a dozen companies, often finding disconnected numbers.
To see just how risky these stocks are, blogger Joshua Cyr started hypothetically investing $1,000 in each company that showed up in his inbox. Cyr started his SpamStockTracker.com web site in May, to track his portfolio.
"For the most part, the stocks are tanking left and right," he says. "There are a couple that have gone up a little bit. But certainly you'd have better odds flipping a coin than you would investing in hot stock tips."
So far, Cyr has lost about half of the $53,000 in play money he's invested. Many shares in his imaginary portfolio have seen their price drop to zero.
Cyr believes stock-hyping e-mails are potentially more financially dangerous than many other types of spam. Whereas a useless herbal remedy might put you out $20, he says, the loss from an unsafe investment can be immense.
The remedy however, is simple, and the same as with most other unwanted e-mail: Ignore it as best you can.
Gallery
1 of 1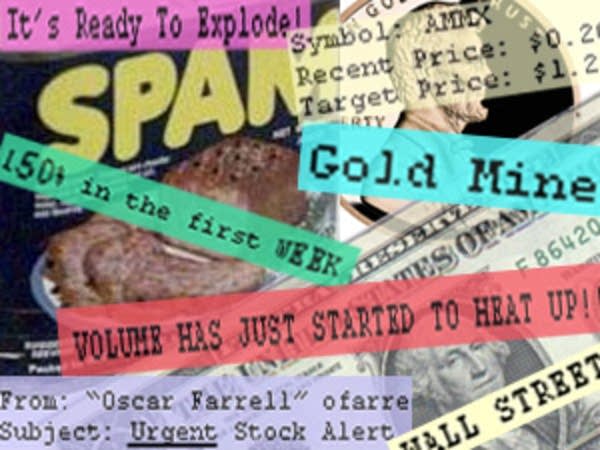 Your support matters.
You make MPR News possible. Individual donations are behind the clarity in coverage from our reporters across the state, stories that connect us, and conversations that provide perspectives. Help ensure MPR remains a resource that brings Minnesotans together.