Car sharing got its Twin Cities start last June with a program called HOURCAR -- as in, a car for an hour. It's a nonprofit business with an environmental agenda; it aims to reduce the number of cars on the road by making it easier for people to get rid of their vehicles and use "shared" cars instead.
HOURCAR launched last year with a fleet of six hybrid Toyota Priuses and 20 members. Now its fleet is has doubled and its membership has multiplied to 200.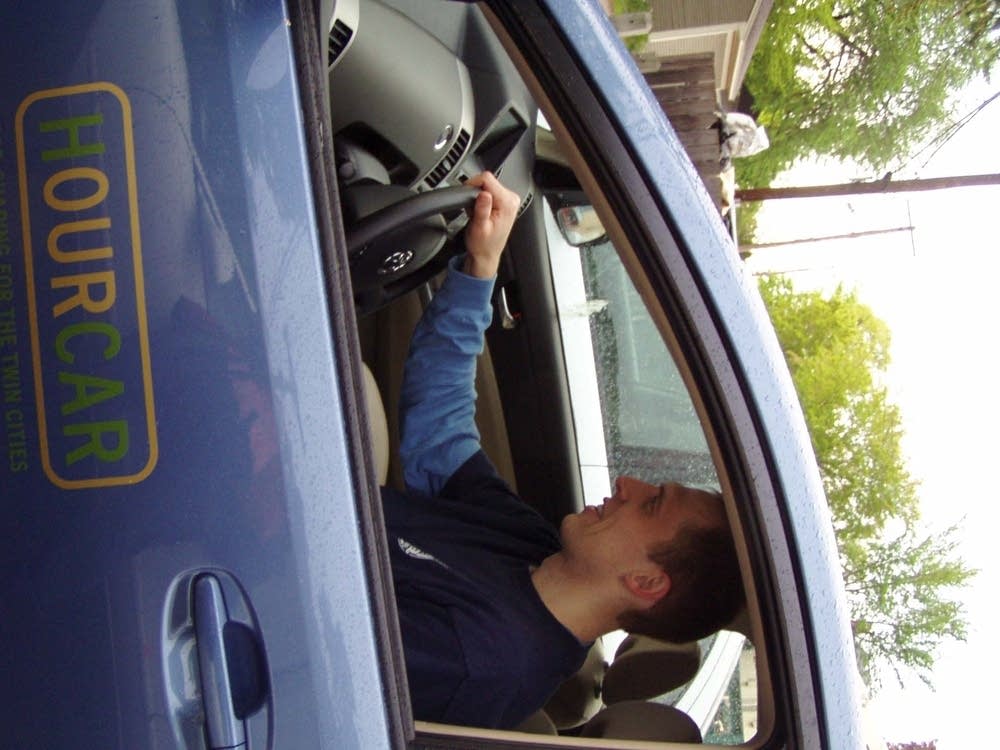 Bart Gottschalk has been using HOURCAR since it started. On a Monday night he's about to run an errand with one of the cars.
"We're at the corner of 34th and Hennepin, right behind the Dunn Brothers Coffee location," he says. "I live about five blocks from here, and there are three HOURCARs within walking distance."
Gottschalk pays a monthly fee and an hourly rate to use the HOURCAR. There are different packages available with prices based on how often someone wants to rent the car out. Members reserve cars online or by phone, and they're issued a access card called a key fob.
"I take the key fob and go up to the driver's side door and wave it in front of this thing and it beeps at me, and I hear the driver's side door unlock, and I'm in," Gottschalk says.
When Gottschalk first heard about HOURCAR, he decided to try a little experiment. He would go for a month without using his car and just rely on the car sharing program. He wanted to see if his quality of life would suffer from not having his own wheels.
I actually do walk most places, but there's always a time when you need a car.

Amy Patrick, car-sharing customer
"I found that it didn't," Gottschalk says. "I found that it was really quite easy; it just took a little bit of planning ahead -- a little more than I'm used to, but it wasn't hard to do that."
Gottschalk isn't someone who relies heavily on a car. He usually bikes to work, so HOURCAR isn't playing a huge role in his life. But it is helping him to plan around the eventual demise of the beater car he owns. He expects the transmission to fail any day. Gottschalk says with HOURCAR available, he won't need to replace his car when it dies.
Amy Patrick uses another car sharing programin town, Zipcar, for her errands. Zipcar came to the Twin Cities in January. Unlike Bart Gottschalk, Amy Patrick doesn't have her own car. She just finished her Ph.D. at the University of Minnesota. She can't afford to buy a car, but that doesn't mean she can always do without.
"There is pretty good public transportation, but the bus I would ordinarily take to go to the mall no longer runs on the weekends, which is when I would go," Patrick says. "And I like to go hiking, and the bus isn't going to take me out to Afton State Park. I actually do walk most places, but there's always a time when you need a car."
HOURCAR and Zipcar have different strengths. For example, HOURCAR is more widely available in the Twin Cities. But Zipcar members can use the service in several other cities around the country.
Car sharing programs like Zipcar and HOURCAR have long been popular in Europe and have recently been taking off in the U.S. -- enough for at least one expert to devote her studies to it.
Susan Shaheen is the head of a transit research group at the University of California, Berkeley. She says the growth curve for car sharing in the U.S. has been steep. She says there are currently 17 car sharing programs in U.S. cities with 100,000 members.
"In terms of the total number of people, relative to the total number of Americans getting around, 100,000 is a smaller number," Shaheen says. "However, the potential for the concept appears to be quite strong."
Shaheen says her recent survey of car sharing programs suggests that the total potential market is about two million people, enough to have positive effects on the environment and traffic.
For now, in Minnesota, any benefits are mostly concentrated in the Twin Cities. HOURCAR's Mary Morse says the program has attracted some suburban users, but there are limits to how useful it could be to suburban commuters.
"I think if somebody lived in a suburb or an exurb, and they needed to drive their car to their workplace in another suburb or another exurb and they were not served by transit at all, and they just had vast distances to commute, HOURCAR wouldn't work well for them," she says.
Both Zipcar and HOURCAR say they'd like to expand into less urban markets.