What would Ralph Rapson do?
French architect Jean Nouvel has designed a nine-story complex for the Guthrie Theater Company -- his first building in the United States. The new Guthrie complex echoes the neighboring 19th century flour mills that have since been converted into condominiums and a museum.
Visitors to to the new Guthrie can dine in one of its two restaurants, and walk out on to a cantilever bridge that juts over the river, affording expansive views of the locks and dams, and St. Anthony Falls. The complex has three stages.
All of this is quite a change from the Guthrie's old home on Vineland Place, on the other side of downtown Minneapolis. Designed by architect Ralph Rapson in the 1960s, the original Guthrie Theater was a white space, light and open.
While Jean Nouvel prides himself on his unique approach to each project, Rapson, at the age of 91, stands by his artistic consistency. He remembers pulling out the old plan for a house decades later, to see if it still met his standards.
MPR News is Member Supported
What does that mean? The news, analysis and community conversation found here is funded by donations from individuals. Make a gift of any amount today to support this resource for everyone.
"As I looked at that some 40 years later, there wasn't one single thing I wanted to change, to bring it up to date or anything," says Rapson.
In the 1950s, Rapson was the face of America diplomacy abroad -- designing U.S. embassies across Europe. For 30 years he was the dean of architecture at the University of Minnesota, teaching generations of modern architects.
But over the past several years, he's seen a number of private residences he designed torn down. Then came the demolition of a church for the deaf. This fall his signature Guthrie Theater will be destroyed to make way for a sculpture garden for the Walker Art Center, which owns the land.
The U of M's current dean of architecture, Tom Fisher, sits at Rapson's old desk in what is now Ralph Rapson Hall.
"It's unfortunate we're just throwing it away. We have, with Ralph Rapson, one of the most important American architects of the last 50 years living here, still practicing, and we've been tearing his buildings down," says Fisher.
The new Guthrie Theater does attempt to pay homage to Ralph Rapson's work. The legendary thrust stage theater for which the old Guthrie is best known has been meticulously recreated, only deviating to allow for wider seats and slightly better sightlines.
Fisher says while he thoroughly enjoys the new building, he wishes the public had made a stronger effort to find a use for the old.
"I think this community should do more to preserve and honor his work, rather than letting it go and saying, 'It's too bad,' but not caring for it enough," says Fisher.
But right now, new is cool. Minnesota is in the midst of a building boom. Several major foundations and corporations make their homes here. Thanks to their support, celebrity architects Cesar Pelli, Michael Graves and the team of Herzog and DeMeuron have designed a new public library, and expansions of the Walker Art Center, The Minneapolis Institute of Arts, and the Children's Theater Company.
Back in 1964, when the Guthrie was looking for a home, funding wasn't so readily available. The Walker Art Center loaned the Guthrie's founders the land, but they had to cut corners and make compromises in order to complete the building.
Guthrie Artistic Director Joe Dowling is tired of hearing lamentations over the loss of the old Guthrie. He says it was beautifully designed, but not built to last.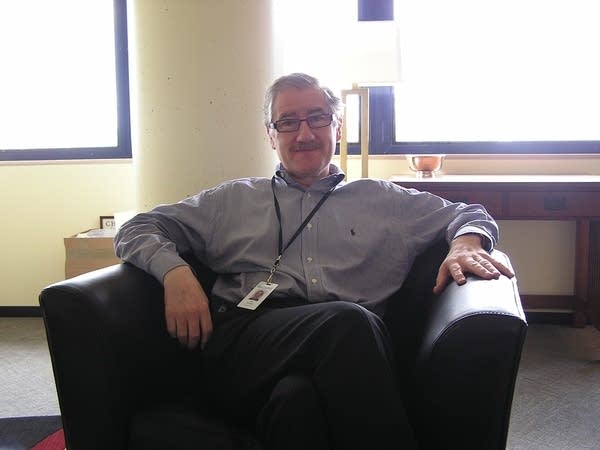 "It is not a building that -- without major, major reconstruction, major, major annual fundraising -- could survive," says Dowling. "And no one has come forward with a viable plan. The Walker Art Center would be insane to leave it sit there to rot."
Architect Ralph Rapson is still hard at work at his Minneapolis architecture firm, drawing renderings of buildings and furniture by hand, while his son Toby and other staff architects use the computers.
Rapson says he has had the bittersweet misfortune of living long enough to see several of his buildings demolished.
"I'm not one of these people that thinks that every building has to remain forever. Times change, conditions change, circumstances change -- we must move on," says Rapson. "People have asked me, 'Does it hurt?' Yes, it hurts! It's like losing a child, if you will."
Rapson says when he heard that the Guthrie had bought a piece of land on the Mississippi riverfront a few years back, he sat down and designed a new theater for it. But he never submitted the design.
Gallery
3 of 3
1 of 3
2 of 3