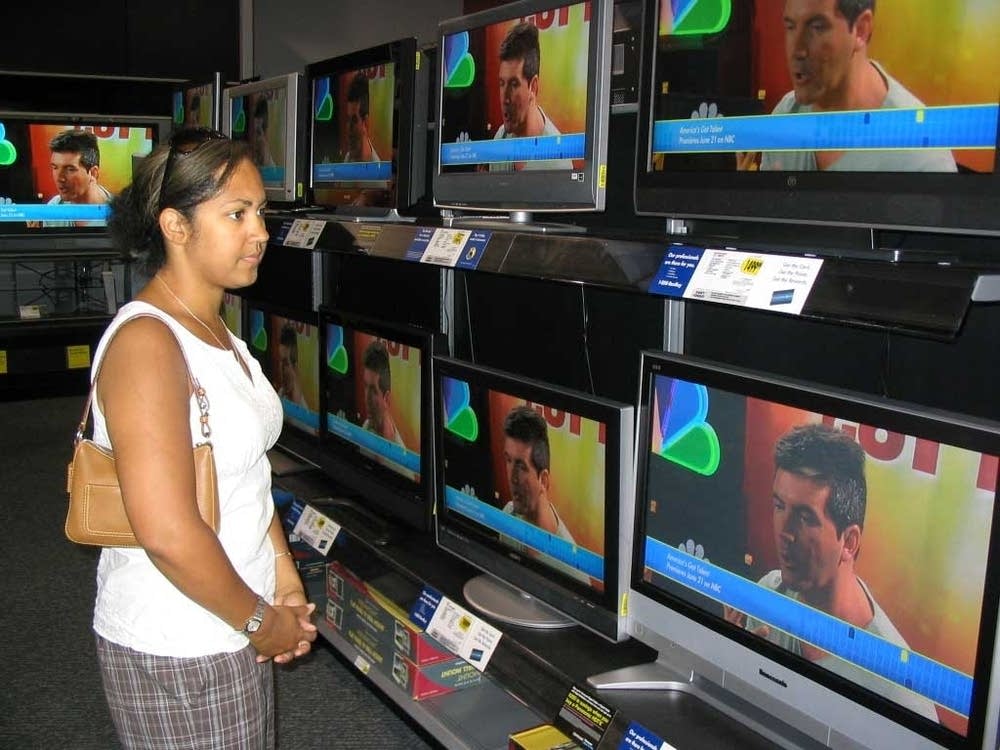 At the Best Buy in Eagan, Bethany Pearson is checking out high-definition TVs. Large regular TV sets a few aisles away sell for around $300 or less. But she's ready to shell out $1,500 for a sharper image, and a screen that's better suited for watching movies.
"It's so much clearer, and more like watching a movie at a theater than watching TV," she says. "And I do like the wide-screen format, rather than the old square version."
Pearson also likes how light the LCD flat-panel TVs are. Even a 40-inch set may weigh only about 60 pounds.
High-definition TV sales are soaring as their prices plunge. The Consumer Electronics Association says flat panel TVs now account for 36 percent of TV sales and could grow to 63 percent in three years.
According to the research firm, DisplaySearch, the average selling price for some sets has fallen by 25 percent or more in about a year. But even with prices falling, you'll sill pay dearly for them.
Most sets in the 32-inch range start at $1,000 or more. You can spend well over $10,000 for a huge screen and make it the heart of a rocking home theater. With the high end at five figures, Cathy Tripp doesn't mind spending up to $1,500 on a new flat panel high-definition set. That is, if she can convince her husband to go along.
"I was looking at this 32-inch one," Tripp says. "We don't need the monster theater experience, just something bigger and better than we have now."
That's typical, according to a survey by the consulting firm Jupiter Research. The survey found about 80 percent of consumers planning to buy HDTVs say picture quality is the main reason for their purchase.
The research also found many buyers want a TV that will be ready for the future. In 2009, as it now stands, all TV broadcasts in the United States will be digital. Jupiter found about one-third of folks interested in HDTVs are willing to spend up to $2,500 on them. Some are willing to spend twice that.
Consultant Steve Kovsky, who tracks the TV industry for San Diego-based Current Analysis, says flat panel big-screen TVs are a huge factor in the success of Twin Cities-based Best Buy. The TVs are not only big ticket items. They're also highly profitable.
Kovsky says they give Best Buy a shot at selling lots of add-ons -- everything from furniture and surround-sound audio systems to extended warranties and installation services.
"The TVs are driving their business right now," says Kovsky. "Those are probably the most important, most strategic products in the store."
For the most recent quarter, Best Buy saw a triple-digit spike in flat-panel TV sales. Best Buy won't disclose how much money it makes selling the TVs. But it doesn't conceal its enthusiasm for them.
At Best Buy's annual shareholders' meeting last month, president Brian Dunn said sales will continue to soar.
"Flat-screen television has moved into Best Buy's power zone," Dunn said. "The price has moved to a place, and the value of the experience has moved to a place, where the adoption rate is going to be staggering in the next 24 to 36 months and beyond. ... It's a huge growth area for us this year."
But not everyone who's thrilled by the visuals of the new-generation TVs can get past their prices. The snazzy TVs grab Mike Flanagan's eye too, but not his wallet. He's been watching a concert video by the band, the Eagles, on an $8,400, 63-inch TV.
"The quality of the picture is unbelievable," Flanagan says. "I just wish the price was a little cheaper. That's a lot of money, compared to my first 17-inch, 19-inch TV that was probably $300, at most."
But if prices keep falling like they have, Flanagan, and others like him, could eventually be parting with some serious cash for the sake of a prettier, and bigger, picture. Flanagan says he'd consider buying the TV he's eyeing if he can pick it up for about $3,000 instead of $8,000.