Twins win Hennepin County stadium sales tax
The board vote comes after months of negotiations and hours of public testimony. But before tallying the "ayes" and "nays," the members of the board took one more opportunity to explain their votes.
Commissioner Mike Opat, who was the county's lead negotiator on the deal with the Twins, explained his vote for the tax by saying the time is right for it.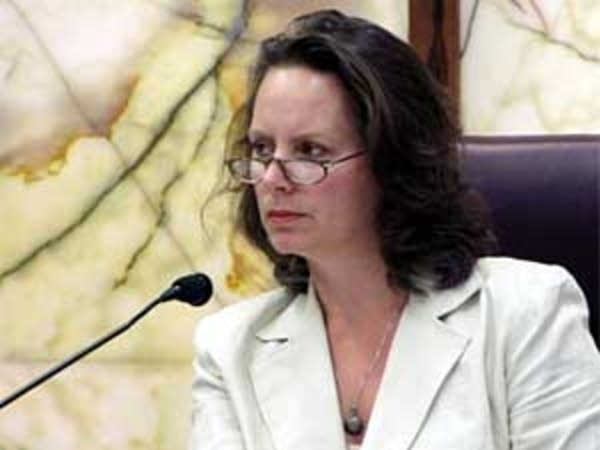 "I think we're ready. It's time for the process to end. It's time for the action to begin," said Opat. "People are excited about a new ballpark. We're excited about a new frontier for downtown."
Commissioners Mark Stenglein, Randy Johnson and Peter McLaughlin also voted for the tax.
McLaughlin touted a provision he added to the resolution which will allow excess tax revenue to pay for extended library hours in Minneapolis and youth sports. McLaughlin, who represents a part of south Minneapolis, says up to $2 million per year could become available.
"I know my constituents are running over to Highland in St. Paul to go to the library way too many times. We've got beautiful library buildings in our city, but they're not open enough. This plan will provide money for library hours. It's going to provide money for youth services at a time when we have young people shooting one another," McLaughlin said.
MPR News is Reader Funded
Before you keep reading, take a moment to donate to MPR News. Your financial support ensures that factual and trusted news and context remain accessible to all.
However, commissioners who voted against the funding plan say this particular provision will extend the life of the sales tax. Commissioner Linda Koblick attempted unsuccessfully to have that portion of the resolution removed. Koblick has been the most outspoken critic of the plan on the board.
She accused county staff and officials of being intentionally vague about the details of the negotiations. Koblick scolded proponents of the plan for promoting a funding program that uses taxpayer dollars to pay for the majority of a stadium that the county will not own -- one that will be built for a private business without taxpayers' consent.
"This is a stadium. This is a playground where ballplayers go and play a game that's owned by a privately-held business owner, with a for-profit motive. This isn't a government function and it never has been," said Koblick. "We don't even get to look into their books and say, 'How are you making economic decisions?' so we can help control some of those decisions. Ten-million-dollar player salaries? I doubt you'd ever see that in a local government."
The .15 percent sales tax will go into effect in January 2007. It will not apply to food, clothing or medical supplies. And proponents say they expect the tax will be paid off before the 30-year maximum set by the state legislation passed earlier this year.
Commissioner Koblick also asked county staff to estimate how much the sales tax will effect the county's own budget for 2007. The county's budget and finance director says in 2005, the county spent $193 million for goods and services. Based on that figure, he estimates the new tax will mean the county will spend an additional $290,000 next year.
The stadium is expected to be completed for the 2010 season.
Gallery
1 of 1