Churches tie environment and faith
According to some Christian theologians, the relationship between religion and environmentalism can be traced to a young couple -- maybe you've heard of them -- named Adam and Eve. That's how John Hart, a professor of Christian Ethics at Boston University, describes it.
He told an audience at Pax Christi Catholic Church in Eden Prairie that Adam and Eve were the world's original tree-huggers. It's a conclusion he's drawn from the Bible's Book of Genesis.
"There's a particular phrase in there which has not quite been accurately translated from the Hebrew for a number of years," Hart said. "But it says that the first humans are put in the garden, which represents Earth, to conserve and to serve it. If we think along those lines, to serve and conserve, I think we would have a sense of heightened responsibility towards the creation of which we are a part."
As Hart spoke, about 1,000 people sat in rapt attention. They came from nearly 90 different Catholic churches in the area. And they came not only to hear a biblical argument for caring about the environment, but a scientific one as well.
MPR News is Member Supported
What does that mean? The news, analysis and community conversation found here is funded by donations from individuals. Make a gift of any amount today to support this resource for everyone.
A number of speakers, including local meteorologist Paul Douglas, science policy director J. Drake Hamilton of the nonprofit group Fresh Energy, and arctic explorer Will Steger, held forth on the scientific evidence of global warming.
For these speakers, there's no question as to whether global warming is taking place -- and wreaking havoc on the world's weather systems, and water and food supplies. Steger drove the point home.
"If you went to Fairbanks, Alaska and questioned global warming, you'd be driven out of the state," Steger said. "Everybody in the north knows about this; they've known about this for 15 years. If you're an Eskimo or a hunter up there, your life is melting out from underneath you."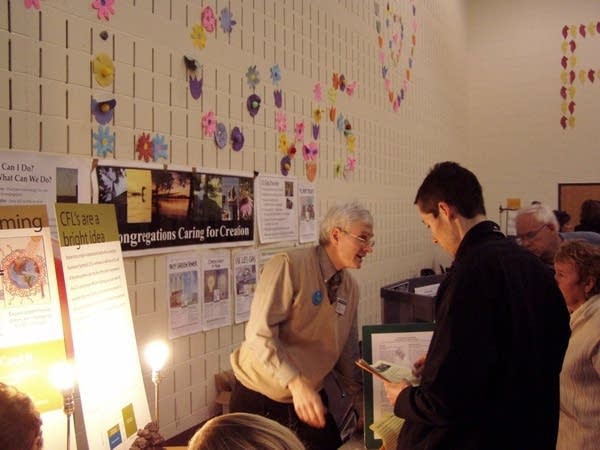 Steger said a couple years ago he couldn't get an audience for such remarks, because critics would label him a global warming alarmist.
Some of the people involved in organizing the forum agreed.
"When we spoke in years past about being careful about the environment, people would immediately get the hairs on the back of their necks up," said Debra Hugunin, who belongs to St. John Neumann Catholic Church in Eagan. "They thought, 'Oh, environmentalists, they're tree huggers. They're liberals. They're the left.' But when you put it from the perspective of creation, that's universal, and not offensive."
Christian interest in the environment has existed on a small scale for a long time, but it's been growing in the past few years. Some in the movement say that's because of increasing media reports about climate change.
In any case, the interest extends well beyond the Catholic community. Broad-based groups like Interfaith Power and Light are now advocating at a national level for a greater connection between environmental stewardship and faith. In many cases, that means teaching congregations about energy conservation and renewable energy.
In Minnesota, an interdenominational group called Congregations Caring for Creation has helped set up global warming film screenings and discussions at about 200 churches. Their aim is to teach individuals to reduce their environmental footprint, and encourage them to alert lawmakers to their concerns about global warming.
That's all good news to Catholic churchgoer Tom Valind, who attended the forum at Pax Christi in Eden Prairie. He says he's glad to see churches expand their definition of morality to include environmental stewardship.
"With the divisiveness of moral politics, I think this is a very positive turn," Valind said. "There's a lot more to morality than just abortion or gay marriage. A Christian is an entire person, it's more than just those two issues."
The Twin Cities Catholic Archdioceses plans to do more on the topic of the environment. It's convening a Global Warming Action Team, to develop strategies for addressing global warming through parish efforts and through public policy.
Gallery
1 of 1