When Buckley was just 3 years old, his grandmother predicted he would become an engineer. And Buckley did, while also becoming the first member of his family ever to graduate from college. He went on to get a doctorate degree in engineering.
Today, Buckley boasts he knows how just about everything works, from cars to computers. And in a recent speech at the University of St. Thomas, Buckley said he's an adept repairman, too.
"My wife absolutely loves it when there's almost nothing that breaks in the house that I can't fix," said Buckley. "Apart from broken hearts and balloons. I set them aside."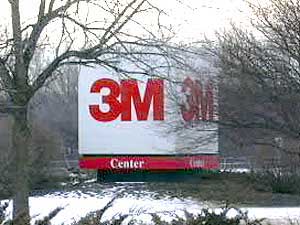 But can he "fix" 3M to the satisfaction of Wall Street and 3M's employees?
Wall Street wants more growth and profits. Many employees want a company more focused on fostering innovation, and boosting morale.
Buckley told his audience at the University of St. Thomas that it's quite a challenge to balance the interests of Wall Street with those of customers, employees and other constituents.
"We've always got to be cognizant of walking this fine balance between short and long term," said Buckley. "If you don't pay attention to long term, there won't be a long term. But unfortunately today if you don't pay attention to the short term, you won't get a chance to get back in the game for the long term. It's an interesting balance we face."
Buckley came to 3M from the Brunswick Corp., which makes boats, bowling balls and pool tables among other things. In Buckley's first year leading 3M, profits and sales have grown. The company earned $3.9 billion on revenue of $23 billion.
3M also went on a buying spree, spending nearly $900 million to acquire 19 companies. Buckley also initiated a huge stock buyback program intended to bolster 3M's stock price.
Still, 3M's quarterly results have twice disappointed Wall Street in Buckley's first year. The company's stock is pretty much where it was when Buckley's joined 3M.
So, how do stock analysts feel about Buckley's first year?
"To say it was an unmitigated success would probably be a bit of a reach," says Morningstar analyst Scott Burns. "He definitely had a lot of choppiness."
Burns recalls Buckley seemed flustered during 3M's second-quarter earnings call, when Wall Street was surprised by disappointing sales of 3M optical film for TV sets. Burns says Buckley didn't seem to be fully in command.
"There was a hint of just not really having a grasp or really that firm kind of, 'I'm in control of this situation,'" says Burns. "There was a lot of, 'We're doing our best. We don't know what's going on. We're going to try to fix it.'"
"He has communicated with the 3M community better than any CEO I've ever seen. People are getting back to enjoying their work."

Art Fry, former 3M scientist
But Burns is confident Buckley has the smarts to succeed at 3M.
Burns especially likes the acquisitions made under Buckley's leadership. The acquisitions range from a German firm that makes personalized passports to a Brazilian company that provides earplugs, eyewear and hand cream. None is very big. But overall, Burns says they're significant.
"When you take them in aggregate, he has done a good job -- he and his team have done a good job -- of finding high-margin, high-growth businesses that really tuck in well with what 3M already has," says Burns.
Under Buckley, 3M has been much more acquisitive than it has been historically. But University of Minnesota professor Alfred Marcus says buying other firms is one way to meet Wall Street's demands for growth.
"The big change is mergers and acquisitions," says Marcus. "How many did they have -- 16, 18 this year? Which I think is really a lot for 3M. 3M in the past was doing one, two maybe a year. This is a very different way of going after growth." While Buckley has his critics on Wall Street, he has fans as well.
Edward Jones analyst Dan Ortwerth praises Buckley for not letting short-term stock price pressures deter him from investing in research, new plants and other actions that will pay off with long-term growth.
"They needed to reinvent the growth engines inside the company," says Ortwerth, "and Mr. Buckley came in and said he would do exactly that by increasing capacity, by expanding product lines and by focusing on increasing overseas opportunities."
Overall, 3M employment grew about 6 percent in 2006, topping 75,000. But Buckley disappointed some employees by selling the company's pharmaceutical business. That could leave some long-time 3Mers without jobs. And Buckley earned the ire of many employees when 3M decided to end an employee stock option program.
So, what are the prospects for the return of the old 3M culture? Former 3M corporate scientist Art Fry is optimistic. Fry, who invented Post-It Notes, says Buckley is making work fun again for many 3Mers.
"He has communicated with the 3M community better than any CEO I've ever seen," says Fry. "He has done more to build up the technical organization, and people are getting back to enjoying their work in the laboratories and technical areas."
But Fry says Buckley has to do more to improve morale and trust, and to address fears people have of losing their jobs. Perhaps most importantly, Fry says Buckley needs to re-educate -- or remove -- managers who are more focused on cutting costs than building the company.
For his part, Buckley says 3M's future will depend largely on wizardry. And that may satisfy both Wall Street and 3Mers.
"At 3M, we have some real magic," Buckley said during his speech at St. Thomas. "It comes from the science base, the training and the technology of the people we employ, covet and celebrate in our company."
As it stands now, a good number of Wall Street analysts are waiting to see how much magic Buckley can work with 3M's sales and profits.
According to the financial news service, Bloomberg Professional, seven analysts have a buy on 3M stock. And seven have holds on the stock.