Which Minnesota college can cut energy use the most?
Nick Hansen's third-floor dorm room at St. John's University in Collegeville is crowded. Hansen, a 19-year-old freshman environmental studies major, and his roommate have made the best of this small space.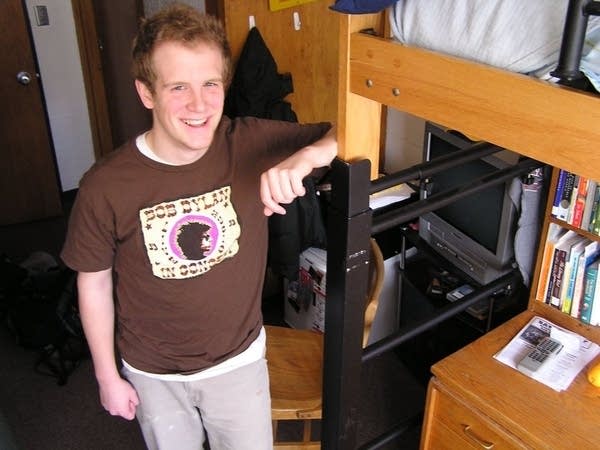 Their beds sit on lofts over desks piled with books, and the students have managed to squeeze in all the comforts of home. Comforts, it turns out, that need a lot of electricity.
"There's a computer, my lamp, there's an alarm clock and then two desk lamps, refrigerator microwave, television," Hansen ticks off the list.
Add in the cell phones and the iPods that need charging, and this is a plugged-in room.
But in the name of competition, Hansen and his roommate are unplugging a lot of their stuff. They want to save electricity on things like idle cell phone chargers, which draw power even when they're not charging a phone. And they're unplugging their personal computers at night.
The St. John's University environmental club has done some research and found out the campus power plant has to burn 2.2 pounds of coal to make enough energy to run a computer overnight. Hansen also says it made a lot of sense to unplug another major electricity hog, a tiny dorm fridge.
Before you keep reading ...
MPR News is made by Members. Gifts from individuals fuel the programs that you and your neighbors rely on. Donate today to power news, analysis, and community conversations for all.
"It was on with one or two bottles of orange juice in it. So we unplugged that," Hansen says.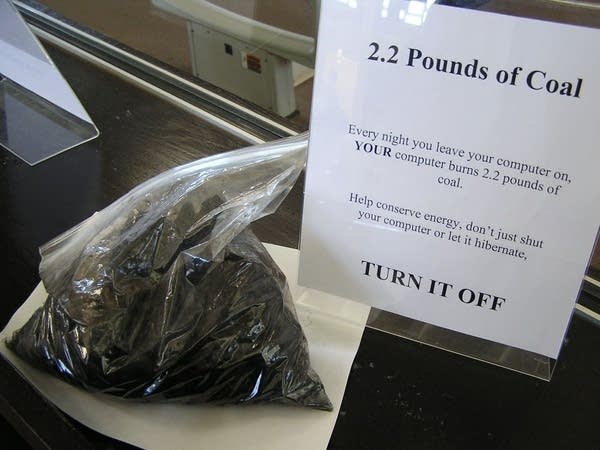 Ultimately, Hansen is driven to use less energy out of concern for the environment. But there's also a competitive edge to his effort this month. Hansen and other St. John's students are cutting back on their power usage for a statewide contest called Campus Energy Wars.
Fourteen Minnesota colleges, both private and state-run, are competing to see who can cut energy use the most throughout February.
The contest began last year as a competition between dorms on the Carleton College campus in Northfield. This year the event has gone statewide.
Becky Dernbach, a junior sociology and anthropology student at Carleton, is one of the students who helped organize the original contest. She says by unplugging unused appliances and turning out lights, Carleton students significantly lowered their February energy consumption last year.
"In the underclassmen dorms, energy use went down by overall 16.3 percent," Dernbach says.
This year, Carleton students are on track to drop energy use even more in their dorms -- Dernbach says by up to 20 percent. She's pleased the contest has gone statewide, and thinks it's proof a nationwide conservation effort could be successful.
"Imagine if everyone in the U.S. cut back their energy usage by 15 or 20 percent. That would be enormous. That would make some change," she says.
Students at the University of Minnesota's Morris campus are also taking part in this year's statewide Campus Energy War.
Troy Goodnough works on energy efficiency on the Morris campus, and is leading the school's work to become energy independent in three years through the use of wind power and renewable fuel sources.
Goodnough has encouraged students to swap their incandescent light bulbs for the more efficient compact fluorescent type during the contest.
He says the effort is instilling Minnesota college students with good energy conservation habits, something they'll need in the future.
"If we can't turn off the lights when we leave the room. If we can't turn off our computer, or even better unplug our computer, we're not going to be able to do much more difficult things that we have to in the future," Goodnough says.
It'll be a few weeks before coordinators for the Campus Energy War know who won the contest. Although they say in the end, what really matters is that Minnesota college students are working to cut the amount of energy they use.
Gallery
1 of 1