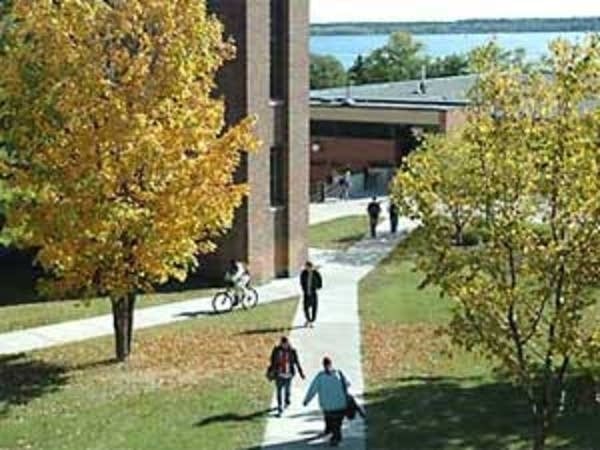 The faculty, staff and students at Bemidji State don't usually give much thought to campus security. But it's getting lots of attention now as people reflect on the shooting that left 33 people dead at Virginia Tech. Bill Maki is vice president of administration at BSU. He oversees the university's security and safety department. Maki says the Virginia Tech shooting prompted BSU to review its crisis plan.
"Emergency planning is always a challenge until it has some meaning to it," Maki says. "We will use a situation like this to re-emphasize our planning, because it is a moment where people are apt to pay more attention to it than they normally would."
Several BSU faculty members admit they're not sure what they should do if a shooting were to happen on campus. That includes history professor Elizabeth Dunn, who's also president of the faculty association. Dunn says it's time for everyone on campus to get a refresher course.
"I imagine I'm like a lot of faculty and haven't really focused on it, because you just don't think something like that is going to happen at your institution," Dunn says. "We're up here away from any large urban area. We're a small campus. We feel probably a false sense of safety up here. I think it will be revisited. I know it's been a topic of conversation around campus."
Bemidji State University has steadily improved security over the years. There are now video cameras scattered across campus. There's talk of replacing keys with electronic access cards. E-mail and telephone calling systems would be used to communicate across campus in an emergency. Dunn says she thinks there are still security gaps.
"It's difficult to get in touch with faculty who are actually in the classroom if something should happen," she says. "And I think that difficulty has been acknowledged, but I haven't seen an effective solution to that problem yet."
The university has it's emergency plan posted on the Web. But BSU student senate president Cody Nelson says he doesn't think many students even know the plan exists.
"They're not aware," Nelson says. "I think that the university on paper says that we are aware... We're not prepared in any sense, regardless of how many committees we have, regardless of what a piece of paper tells us. We're not prepared... But I think that's the nature of institutions as well, too."
Nelson says he expects the student senate will take up the security issue at it's next meeting. Meanwhile, BSU officials say they expect to fine tune the campus emergency plan based on lessons learned in Virginia.