"Average Family" is the name of a reality cable television show thought up by a Minnesota car salesman looking to create some publicity for his business.
Two families must survive for a summer, using only tools of the pioneer days. Whoever has created the most stuff at the end wins an RV, complete with a TV and a microwave.
But one of the fathers makes a mistake when he mentions on the contest application that he and his family are Native American.
While their opponents -- the Monroes -- get a wagon, flour and sugar, and a gun for hunting, the Roubidouxs are handed animal skins, birch logs, some jerky, and bows and arrows.
As both families struggle to find enough food to survive, the situation quickly deteriorates, with each family trying to take advantage of the other.
Kids steal food and hold family members for ransom. At one point the Monroes force the Roubidouxs onto a makeshift reservation.
Elaine Patterson plays the part of Sarah Monroe, who consistently tries to do the right thing while everyone around her is getting out of control.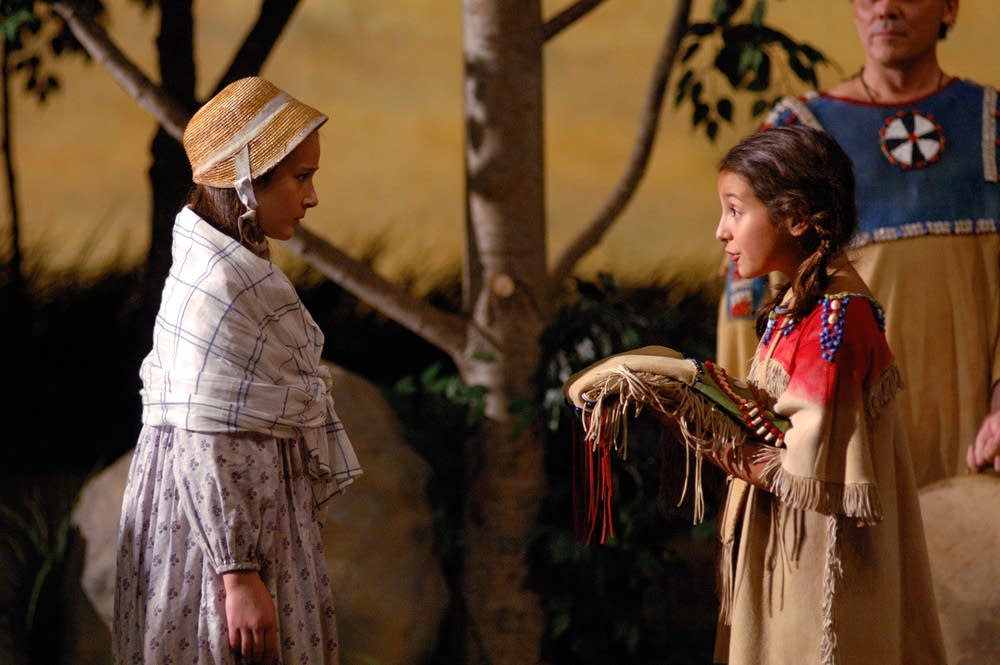 "I think that the stakes in this show get so high," says Patterson. "I think that there is no one who is guilty of starting it -- we just automatically started after each other."
Playwright Larissa Fasthorse says she wrote this play to put Native American issues front and center.
"I feel like so much of the Native American experience in this country, since colonization, has been sidelined and put on the edges," says Fasthorse. "Even myself, growing up in South Dakota, we had one month of history that was specifically Native American, in all my years of school."
In "Average Family," the set is surrounded by large television screens. As the story evolves, characters take turns sharing their inner feelings with the camera.
Playwright Larissa Fasthorse admits she's a TV addict, and she thought reality television could be a useful storytelling device.
"I was trying to find a way in to issues of culture and history and family -- that kids in this age of YouTube and reality television and everything could access easily, and that was fun," says Fasthorse.
In the play, Mikenzie Roubidoux is a young tomboy who's not very familiar with her Native American ancestry. She's not that different from Raven Bellefleur, the actor who plays her. Bellefleur says she was introduced to a lot of Native American culture during the rehearsal process of the show.
"I learned a lot about how to build a teepee. I honestly didn't know anything about building a teepee," Bellefleur laughs. "I learned about how they live, about Native song, and I also learned about friendship and teambuilding."
In "Average Family," when Sarah Monroe hands Mikenzie Roubidoux a book about Dakota culture and traditions, she starts learning about her heritage, and uses what she learns to help her family survive.
In the end they rise above the situation, and in an act of selflessness give everything they make to the Monroes.
"What I hope that people take away from the show is their own concept of competition," says Connor Flanagan, who plays the oldest brother in the Monroe family.
"Because the families wouldn't be so desperate if they worked together. I just think that it's a powerful message," says Flanagan. "And I think it's one that gets lost when you focus on the bad history and the bad blood, and I think that the show is about building the bridges between the two cultures for healing."
Playwright Larissa Fasthorse says she hopes audiences notice that both sides in the "Average Family" family feud are imperfect, and will recognize their own battles and fears in those onstage.
"Average Family" runs through Oct. 6 at the Children's Theatre Company in Minneapolis.