Governor and legislators announce I-35W victims relief fund
The "I-35W Emergency Hardship Relief Fund" will reimburse injured survivors and family members of those killed in the Aug. 1 collapse for up to $10,000 in lost wages. The cap might be raised if money remains after an initial round of claims.
Sen. Ron Latz, DFL-St. Louis Park, Rep. Dennis Ozment, R-Rosemount, and Gov. Tim Pawlenty's staff developed the proposal, which doesn't require legislative approval. Latz says this was a quick way to provide help.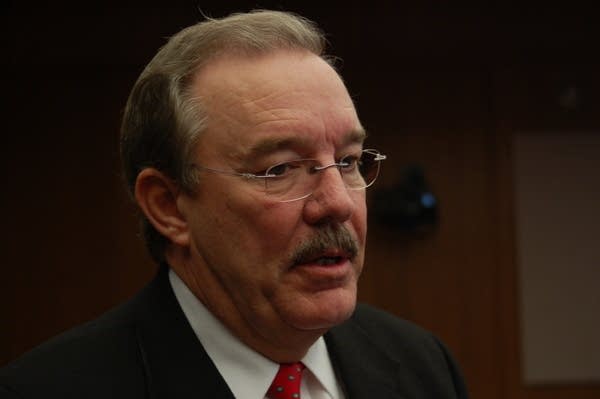 "There are people who are really hurting financially that are at the end of their ropes, and they need to make that mortgage payment or need to make that rent payment. And they need some funds immediately," said Latz. "This is something we can do in the short term to help them get through that financial crunch, while the Legislature and the governor try to sort out how to handle the long-term situation."
That long-term solution could come next year, if the Legislature approves a comprehensive settlement package.
Grow the Future of Public Media
MPR News is supported by Members. Gifts from individuals power everything you find here. Make a gift of any amount today to become a Member!
Lawmakers are expected to consider the creation of a victim compensation fund and whether to raise the state's current liability cap, which is $1 million per incident and $300,000 per individual. Rep. Ozment says the relief fund was just a first step.
"There's some real serious work that's going to have to occur during session when you talk about an overall victims fund," said Ozment. "This is just emergency funds. This is just kind of up-front stuff. This is just to try to help them."
"The fact that there was nothing there yesterday and there's something there today is good. It's helpful."
The collapse killed 13 people and injured about 100 more. Many of the injured have been unable to work and are facing large medical bills.
Chris Messerly is an attorney representing many of the survivors and families of the victims. Messerly says some of his clients are struggling to make ends meet.
"It's better than nothing. It's not a lot, but it will help them get by day-by-day during this time of year," said Messerly. "And it's something that they're grateful for because somebody is actually doing something to help them out financially now, and we all applaud that. I think just as a Minnesotan, that's a wonderful thing to see that the state is helping out. And it's wonderful from the standpoint of these victims."
Bridge survivors were also praising the emergency aid. Kimberly Brown of Minneapolis says many people will be encouraged by the state action. Brown says she did not lose wages after the collapse, but she knows others who did.
"Every survivor's situation is unique. So, while this emergency fund will help some people, it may fall short for others," said Brown. "But the fact that there was nothing there yesterday and there's something there today is good. It's helpful."
Survivors and victims families will have to document lost wages before receiving payments. The state Department of Administration will process the emergency relief claims.
Gallery
1 of 1