Lawmakers to weigh fairness of compensating bridge victims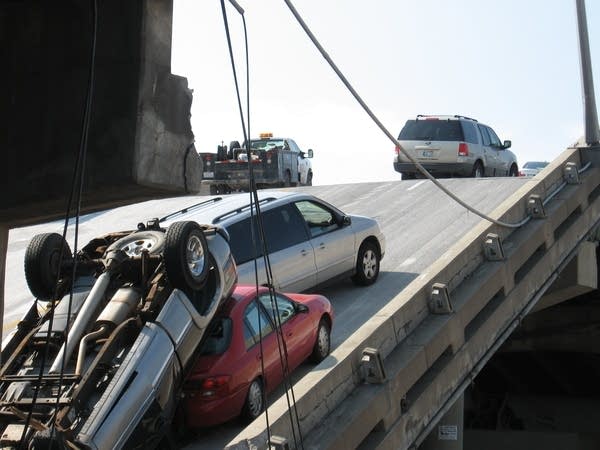 (AP) - Minnesota lawmakers are considering whether to offer financial help to the victims of the Interstate 35W bridge collapse, who face mounting medical bills and other costs.
It's a lot more complicated than whether the state can afford it.
Some people worry about acting before an investigation determines why the bridge fell on Aug. 1, killing 13 people and injuring about 100.
There's the risk of raising expectations for victims of the next disaster, or favoring bridge victims over people hurt in other incidents who wait years to collect their due through the courts.
Grow the Future of Public Media
MPR News is supported by Members. Gifts from individuals power everything you find here. Make a gift of any amount today to become a Member!
"Should we bypass that entire system for this particular group of people who are suffering? And would that be a fair thing to do?" asked Sen. Ron Latz, who heads the Joint House-Senate Subcommittee on Claims.
There's also the task of putting a price on human life and suffering.
That panel meets Friday to hear from collapse victims, lawyers, state officials and Ken Feinberg, the special master who ran the Sept. 11 federal compensation fund. Feinberg parceled out more than $7 billion to 5,300 victims, averaging about $2 million for families of those killed and $400,000 for the injured.
Two Minnesota legislators have proposed establishing a similar fund for the bridge collapse victims.
It's rare for states to do that.
"Sending them to court is probably condemning them to not get any recovery."
California did after the San Francisco-Oakland Bay Bridge collapsed in a 1989 earthquake. But Rhode Island did not after a 2003 nightclub fire that killed 100, and calls to compensate hundreds of thousands of Hurricane Katrina victims went nowhere.
The Minnesota panel will also consider the normal process of settling claims against the state, the workers compensation system and other compensation models that could help the bridge collapse victims, Latz said. The group is working with Gov. Tim Pawlenty's office to come up with recommendations.
Minnesota law limits the state's liability to $300,000 per person and $1 million per incident, an amount dwarfed by bridge victims' losses, which could reach hundreds of millions of dollars, their attorneys said.
"If the state dares tell them, 'Here you go, you all share the million dollars,' that's worse than saying we're not going to give you anything," said Chris Messerly, an attorney representing some of the victims.
Other cases have stayed within those limits, though with far fewer victims. The state recently paid $300,000 to settle with the family of college student Dru Sjodin, killed by a convicted rapist released from a Minnesota prison.
If bridge victims get more, "we would have to explain to Dru Sjodin's family that her life was worth less than the life of someone who died on the bridge, and I don't know how we would do that," said Latz, an attorney who has worked on personal injury cases.
Survivors of a Minnesota worker who dies on the job get a minimum of $60,000, plus up to $15,000 for burial expenses under the workers compensation system. The state even has a system set up to help victims of violent crime - more than 1,700 of them got reparations averaging about $2,190 last year.
If the state doesn't set up a special fund, victims who press for a settlement above the liability cap likely face years of legal struggle. The claims panel normally doesn't take up requests until they've gone through the courts.
Bridge lawsuits might not even begin until the National Transportation Safety Board pinpoints the collapse's cause, which might not happen for another year or longer.
Lawmakers rarely override Minnesota's liability limit. It last happened in 1994, when they approved an extra $70,000 for the victims of a 1998 prison van crash that killed four and injured 11. The van held juveniles being rewarded for good behavior with a movie outing.
The victims in that case ended up with 29 cents for every dollar of their actual costs - and that was after years spent in court to get the state's maximum liability of $600,000 at the time, plus interest.
Victims could go after private companies that worked on the bridge, including the consultant that examined the bridge, the contractor resurfacing the deck when it fell and the company that installed anti-icing equipment, said James Schwebel, an attorney for another group of victims.
But responsibility for the collapse might rest with those who designed or built or repaired the bridge decades ago, making it impossible for the victims to get anything, said David Weissbrodt, a University of Minnesota Law School professor. There's no guarantee lawsuits will succeed.
"Sending them to court is probably condemning them to not get any recovery," Weissbrodt said. "And if we care about these people, that's why the legislation is necessary."
When survivors and family members of those killed in the bridge collapse poured out their struggles before a House panel two weeks ago, legislators seemed poised to act. Latz said he, too, wants to help.
"We're going to do our very best to do what's right for the survivors, their families and the state and the taxpayers of Minnesota," he said.
(Copyright 2007 by The Associated Press. All Rights Reserved.)
Gallery
1 of 1