There's no mystery to the meat in the cafeteria at J.J. Hill Elementary in St. Paul. The rotini, though -- that's another story.
Vivian Obee was eating it the other day.
"I really don't know what it's called, but I might as well just say noodles with sauce on them," she said. "The nurse made me get salad, and a banana and this garlic bread."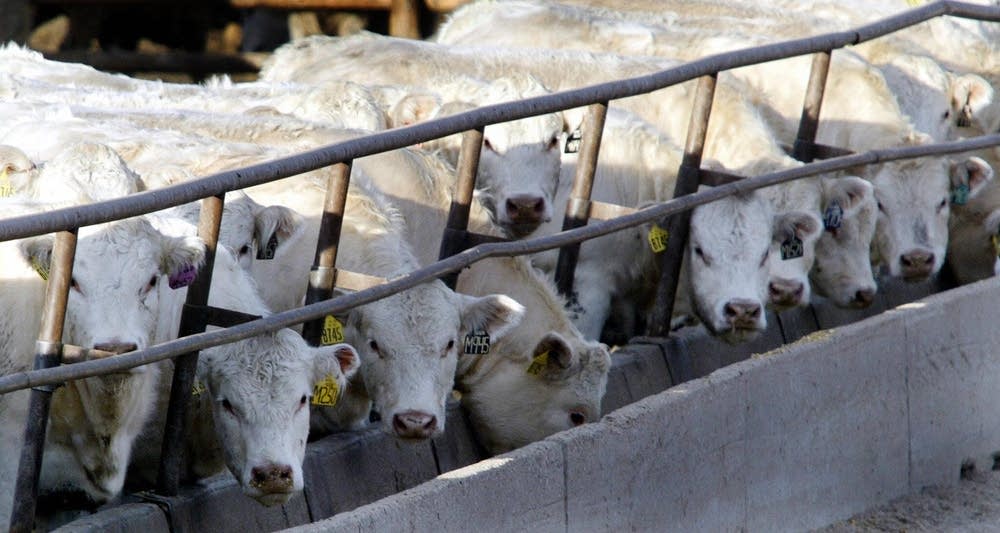 This lunchroom is ground zero for what may be the largest food recall in history. More than 37 million pounds of suspect beef has gone to U.S. schools in the last two years.
St. Paul got almost 21 tons of it, more than any school district in the state. That's partly because the district depends heavily on government commodities to help keep its food costs down.
Since school started last September, kids and staff have eaten more than 17,000 pounds of recalled beef. It works out to about one spaghetti lunch per month for every student in the district.
"What we need to get, more than anything else, is more morality and more ethics in producing food."

U of M food science professor Ted Labuza
The suspect cattle were "downer" cows that couldn't walk into the Westland/Hallmark slaughter facility in Chino, Calif. "Downers" are thought to be at higher risk for E. coli and salmonella contamination, as well as mad cow disease.
No one has reported any illnesses linked to the meat, although symptoms can take years to show.
The thought of her second grader eating tainted beef gives pause to Vivian's mom, Natalie Obee. She and her husband used to own the Cafe 128, a well-known St. Paul restaurant. Obee knows food.
And while she's confident her daughter's school does a good job making safe meals, Obee said she can't help but rethink school lunch and the food industry in general.
"The fact that the USDA is doing buying for the school systems, and the USDA is allowing these kind of downed animals getting into the food system, I mean, clearly they do not have our children's best interests at heart. It kind of seems like they're falling to the bottom of the barrel," said Obee.
Jean Ronnei, though, says kids are her top concern. She's head of student nutrition in St. Paul. Her staff makes enough meals to serve a full house at the both the Xcel Energy Center and the Target Center every day. Not all of them get eaten.
"Trying to please 40,000 palates in St. Paul schools proves challenging at times," Ronnei said.
But Ronnei says the food is as safe as anyone can make it.
"I've worked in restaurants. I've worked in health care. I've worked in school cafeterias. And I will tell you that there is no place I would rather eat than in a school cafeteria," said Ronnei.
In St. Paul, Ronnei says the schools go to every length to keep it that way.
*They track the temperature of perishables, from the trucks that bring it in to the pans that serve it up.
*All their meat is tested by an independent lab.
*They even make site visits to their produce suppliers.
"Our food safety program is absolutely top notch," Ronnei said. "We've had it in place since the '80s, and it gets more comprehensive, more in depth, year after year."
She said over the 19 years she's been in the school lunch business, she's also seen the USDA improve its own controls. In fact, fewer than two dozen of nearly 1,000 meatpackers in the country meet the higher standards required of school food suppliers.
But then came the recall from the Westland/Hallmark meatpacking plant in January.
"When we got notified of the beef recall, I thought, 'Here we go. We're going to have to do damage control.' And that's never a great place to have to be. If we don't have good safety, we have nothing," Ronnei said.
That concern is now prompting troubling questions in Washington.
Members of Congress say they want assurances the National School Lunch Program isn't buying up surplus or inferior food just because it's cheap, or to prop up agriculture. The program feeds more than 30 million children annually.
The National School Lunch Program is also meant to fight poverty. Free lunches are virtually the definition of being poor. That has critics wondering if there isn't a double standard for food safety.
Ted Labuza, a professor of food science at the University of Minnesota, doesn't think so. He points out that soups and other products made with the same beef are being pulled from grocery stores. Progresso soups, made by Minnesota-based General Mills, are on the recall list.
But no hearings on Capitol Hill or new inspectors are going to make the problem go away.
"I've been in many meat plants," Labuza said. "I have always seen inspectors there. I've never seen downer cattle get into the line. So something happened here that nobody's talking about yet. Eventually it's going to come out."
"Having these hearings is a political thing," Labuza continued. "This is a great time. We're coming up to elections, so we've got to protect our children. Get more inspectors -- things like that. What we need to get, more than anything else, is more morality and more ethics in producing food."
Food inspection officials from the USDA will testify Wednesday. Officials with the National School Lunch Program will be on Capitol Hill later this month.