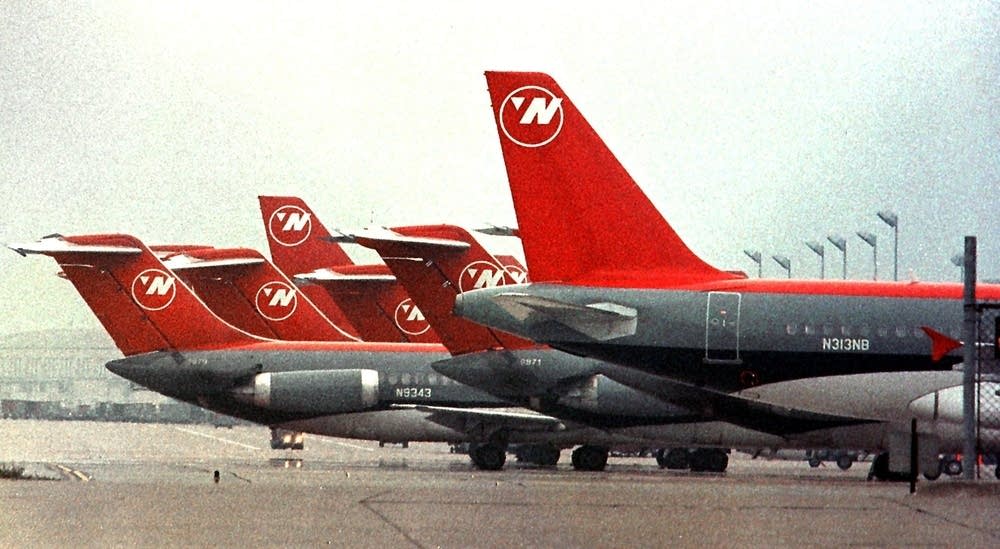 It was a bad quarter for both Northwest and Delta, as their fuel costs soared and they were for the most part unable to pass long increased fuel prices to customers.
Both airlines also choose to recognize paper losses of several billion dollars that made their quarterly performances look horrendous.
The airlines said they had to book the non-cash accounting charges to acknowledge steep declines in what they think their companies are worth. Their share prices have fallen dramatically since they emerged from bankruptcy last year.
Including those accounting charges, Northwest lost about $4.1 billion in the quarter and Delta, about $6.4 billion. Setting aside those charges, Northwest lost about $200 million on its operations and Delta lost $270 million.
Those losses were greater than what analysts expected. Calyon Securities analyst Ray Neidl said it is hard to forecast airline earnings, given the steady rise in fuel prices.
"They ended up losing more money than we were projecting," Neidl said. "But at this point with oil going through the roof, that should be no surprise. It's very hard to hit a moving target when oil is going up 2 or 3 percent every day."
Some observers questioned whether the two airlines might be trying to make their finances look as dire as possible. The big losses came just one day before their CEOs appear before a Congressional committee to discuss Delta's plan to acquire Northwest.
Were they?
"The answer is no," said Northwest CEO Doug Steenland.
Steenland said the airlines were just following accounting rules that mandate they reassess the value of the companies, as the airlines prepare for a merger. Steenland said it was time to disclose the impaired value of Northwest and Delta.
"Particularly given the impact oil price run-ups have had, an impairment was in fact required, and we used our best efforts to estimate what that was -- the $3.9 billion that we announced," he said. "There really was no discretion here. There was no effort to do this in advance, and we basically followed the accounting book."
Northwest said the $3.9 billion impairment charge Northwest took in the quarter will have no impact on the airline's cash reserves, financial flexibility or operations.
It's not unusual for companies to take such impairment charges before a merger. Thrivent Financial for Lutherans analyst Bill Hochmuth said the move helps companies make their financial statements as accurate as possible -- and hopefully helps them avoid unpleasant financial surprises down the road.
But Hochmuth said taking a high-profile hit now could help the public relations effort to reduce criticism of their deal.
"Anything that both Northwest and Delta can do to say that alone they're not as good as they are together is beneficial to the argument that they need to combine," he said.
Northwest was really burned by higher fuel costs in the quarter. The airline's fuel bill rose 57 percent to $445 million.
And Hockmuth noted there is no relief in sight for the airlines.
"It's just a really difficult time, given where fuel is," he said. "And unfortunately, it doesn't look like it's going to pull back anytime soon."
As Northwest and Delta see things, rising fuel prices increase their need to merge. By combining, the airlines figure they can greatly increase their revenue and cut costs.
Steenland said the airlines should see annual revenue gains and costs savings even greater than the $1 billion they boasted of last week, when they announced their merger.
"I think we were conservative in the estimates of the synergies," Steenland said. "And I think as the process goes forward and gets more detailed and granular, I'm highly confident that number will increase."
Of course, there will be no merger until the U.S. Justice Department reviews the deal to asses if it will harm industry competition. The airlines insist it won't, but several members of Congress suspect it might.
And that skepticism is likely to appear in tomorrow's hearing about the merger.