For many Internet users, speed is convenience.
But in online gaming, speed can be the difference between life and death.
"You can't play the game effectively. You die," said A.J. Schmalenberger, a 20-something studying video game design at Brown College.
With a higher-speed Net connection, he could have more success with online games like Age of Conan.
He said he and his roommates are ready to pay $150 a month for the fastest connection available. Schmalenberger thinks it'd be money well spent.
"Better gamming. Faster streaming video. I like watching a lot of TV shows on places like hulu.com. It's frustrating when you can't get a good connection. With that better bandwidth, I'd be able to just do everything a lot quicker," he said.
The two leading Internet service providers in Minnesota are rolling out super speedy services to satisfy customers like Schmalenberger.
Both have launched next-generation services that let folks zip about the Net at speeds most people never dreamed of before. For $150 a month, Comcast offers a 50 megabit service. Qwest's pitching 20 megabits for $100.
Comcast's permits a customer to download a 4 gigabyte high-definition movie in about 10 minutes, about six times faster than they previously could.
Qwest's speediest service tops out at 20 megabits. But Qwest said that's fast enough to snare a two-hour movie in about six minutes.
Comcast choose the Twin Cites to roll out it 50 megabit service, which it proclaims to be the fastest consumer service in the country.
David Diers, Comcast Vice President, Advanced Services, said the cable company is using the Twin Cities to assess the possible nationwide appetite for super speedy services.
"We're kind of the test market to see where is the demand and what it will be. But I know a lot of eyes are on the Twin Cities. We're anxious to answer that question as we're rolling out to other systems across the nation," Diers said.
Super high speeds have lot of practical appeal, too, for telecommuters working with mega-files, for instance, and for small and mid-size businesses that are finding they need increasingly fast Internet connections.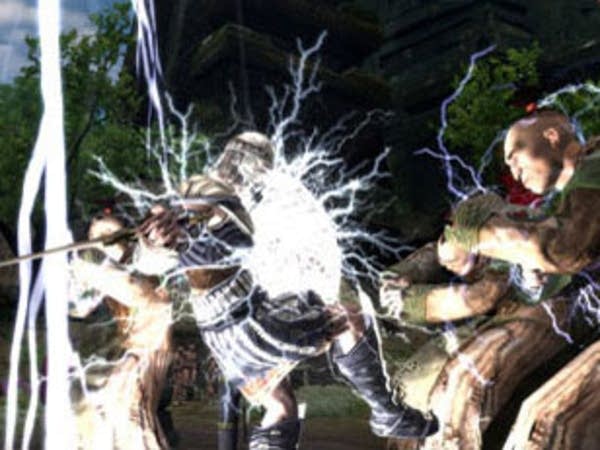 Karie Johnson is Director of Virtual Construction at Adolfson & Peterson Construction in St. Louis Park.
At her office, she gets on the Internet and takes colleagues in Denver, Arizona and other states on virtual tours of buildings still in the planning stage.
The 3-D images, generated from architectural and other digitized files, stream over the Internet to distant viewers. The images change as she moves about a virtual building.
"You can see all the duct work is in there. And in this case you can see a fire sprinkler is going through this object right here. By using this technology we can find these things out before they get constructed in the field," Johnson said.
Her company has three Net connections, including a 30 megabit one. But Johnson would like a bigger pipe to the Net, because right now the virtual tours can be slow and jerky.
"I could be navigating through a room and they might see the beginning and end of the room. They don't really see the in between. Unless I go really, really slow, at a turtle's pace," she said.
But the state's leading Internet service providers disagree about how much speed most customers want. Qwest Minnesota president John Stanoch contends Qwest's high-speed services are a better value.
"The top speed offered by our competitor at this time is more speed than most people need and I think it's at a much higher price point than people want to pay." Yankee Group telecom analyst Victor Vittore said he doesn't expect a stampede to sign up for the speediest Internet services.
"It's not necessarily a mass market type of service just yet," he said.
But Vittore said the growing availability of high-quality video on the Web will likely fan the demand for the highest speed services.
"All the networks are deploying full episodes now on their web sites. I think you will see more and more of the mass- market consumer turning to the Web for video entertainment, " Vittore said.
And if consumers need even more speed, they'll likely get it. Qwest, Comcast and other providers could give consumers even more speed down the road.