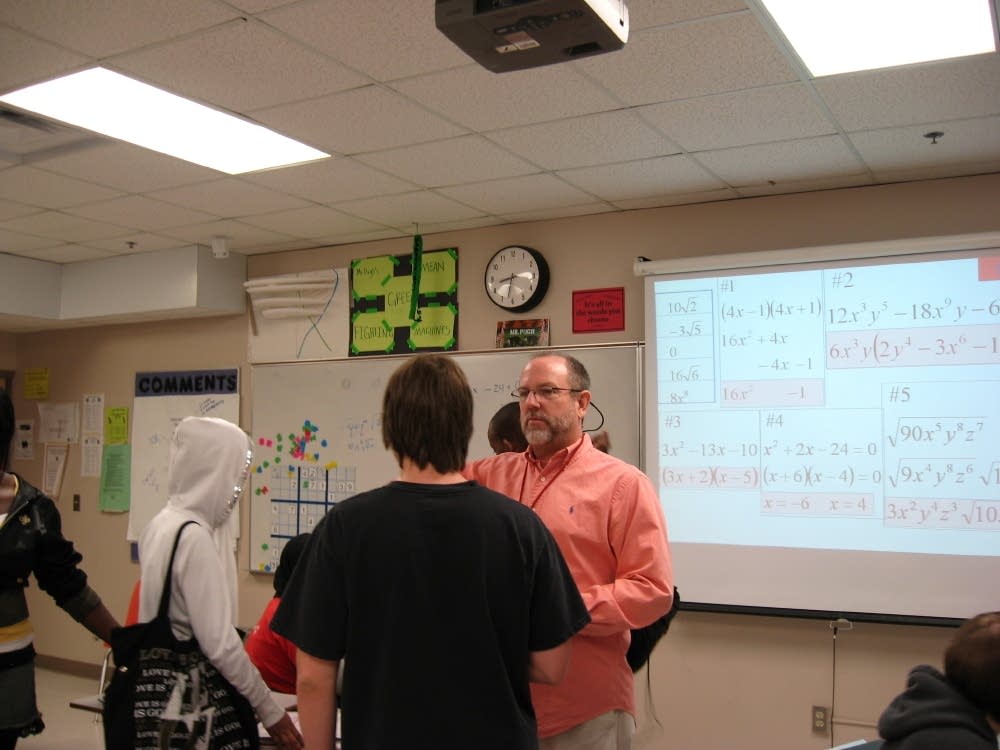 The union held its national Representative Assembly in Washington D.C. over the holiday weekend.
It isn't usually news that the presumptive Democratic contender wins the support of the three million member teachers union. They've picked Democrats in every election since they started endorsing presidential candidates in 1976.
But Obama won less support than any other Democrat in a generation. Less than 80 percent of the teachers in Washington D.C. voted to affirm their leadership's endorsement for Obama.
It's the poorest showing by a Democrat since 1980, when Massachusetts Sen. Ted Kennedy challenged incumbent Jimmy Carter for the Democratic presidential nomination. Bill Clinton won 91 percent approval in 1996.
What happened this year? It's all about the money.
For one thing, Obama has expressed enthusiastic support for school choice -- although he doesn't back vouchers for private schools, like his Republican rival John McCain. Obama also expressed his support this weekend for "merit pay."
The crowd actually booed him when the subject came up, at least in one video of the event.
Teachers are against merit pay because of what they'd have to do to get it. In a bootleg video of the convention address, shot by an attendee, Obama said Saturday he supports more money for teachers under certain conditions.
"When our educators succeed, I will not just talk about their greatness," Obama said. "Under my plan, districts will be able to design programs that give educators that serve as mentors to new teachers the salary increase they have earned. They will be able to reward those who teach in underserved areas or take on added responsibility."
"And if teachers learn new skills, or serve their students better or consistently excel in the classroom, that work can be valued and rewarded as well," Obama continued.
Some teachers fear merit pay would open the door to outright performance pay, known more obscurely as "value added." If teachers get more pay for kids who do demonstrably better, the thinking goes, they're liable, too, to suffer financially when kids fail.
Opponents argue the plan could make teachers responsible for any number of failings -- in parenting, nutrition, health care and all sorts of things outside the classroom.
But Obama is clearly putting some distance between himself and the teachers union and his candidacy -- literally and figuratively.
He spoke to the gathering via satellite from Butte, Mont., this year. In 2007, he was there in person. It might be an effort to not seem beholden to one of the Democrats' key interest groups.
He's also straying from the NEA script on the No Child Left Behind Act, passed in 2001. It's since lapsed, But it'll be up for reauthorization under the next administration.
Teachers and school officials almost universally dislike it. They say it distracts from other important goals of public education, that standardized testing is a poor measure of performance,and that the feds never pay for the burdens they put on local schools.
But minority communities and parents aren't ready to do away with it. A recent poll by the Washington, D.C., based Public Education Network found black and Hispanic families are much more amenable to testing and No Child Left Behind than white families.
Arnold Fege is the public engagement director for the group.
"I think minority organization and African-American parents, while they might be concerned about the bias of testing, they don't want to lose the role, the strong role, the federal government has played in assuring their children get an equal opportunity at a good education," said Fege. "If No Child Left Behind were dismantled, I think there's great concern the lever, the federal lever that they believe in, would be lost."
John McCain has also expressed support for No Child Left Behind, although he's proposed a discretionary federal spending freeze that would apply to education and other funding.
But he's also got his own set of caveats about the law, including some doubts about whether schools can reasonably be expected to hit the 2014 benchmark to get all kids at grade level.
The upshot seems to be this -- it may sport a new look and work differently, but this last weekend seems to indicate that NCLB, the great experiment in bringing market forces to bear on public education, isn't going to end under the next administration. Whichever one that may be.