A light rain falls as Kyle Johnson walks down a path at the Agassiz National Wildlife Refuge. He spent the night collecting moths here and is returning to pick up the white sheet and ultraviolet light used to lure moths to his net.
There are hundreds of species of insects in the bogs, and yes, there's one insect that will find you.
"The region contains some of the most significant peatlands in the world."

Kyle Johnson
"If you don't like mosquitoes it's gonna be tough sledding out there," says Johnson.
But he's willing to contend with the mosquitoes and the biting flies to explore the hundreds of miles of bogs that are a unique Minnesota landscape.
"A lot of these big peatlands, it's like a patch of Alaska in Minnesota," he says. "A lot of the plant species and a lot of the insects found there are identical. Very strange lands of moss and stunted black spruce, very alien compared to anything else out there and the habitat is one of the most poorly explored, so there is frontier out there to explore."
Minnesota has more peatland bogs than any other state except Alaska. Some of those bogs are among the most unique in the world.
Minnesota is one of the few places where bogs don't have permafrost. But the isolated, sometimes treacherous areas are rarely explored.
Kyle Johnson has spent the past two years hiking deep into the isolated peatlands. He often sleeps in a hammock slung between two stunted black spruce.
He's met bears who wanted to share his lunch, but has yet to see another person in the bogs.
Johnson has captured hundreds of moths and butterflies, including many never before found in Minnesota, and some entirely new species.
"(It's) kind of a black hole for knowledge," says Johnson. "Nobody has looked. The region contains some of the most significant peatlands in the world. Red Lake peatland at 400 square miles ranks number three in the entire world. Lot's of cool stuff right here and nobody has looked at the insects."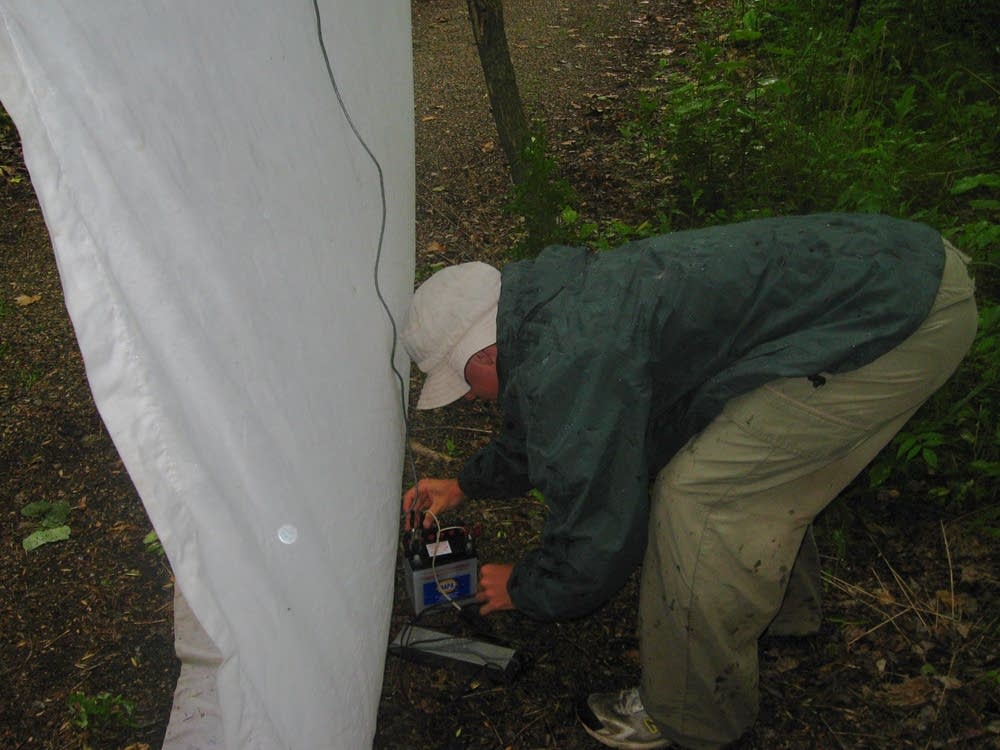 The diversity of insects in the Minnesota landscape far exceeds that of other animals. In Kyle Johnson's world, insects rule.
"You think of deer or moose having the greatest impact, (but) the weight in caterpillars is far greater than that. So if you're going hunting, there's more caterpillar meat out there than deer meat," Johnson jokes. "But you just never see it. Because each one is quite small, but for other animals they're one of the most important food sources out there."
Caterpillars are food for everything from birds to frogs. The moths and butterflies are important pollinators for plants.
But this exploration of a little-known insect world in the bogs also has some larger implications. If global warming begins to change this landscape, insects might be the first indicators.
"A lot of these are northern species at the southern extreme of their range and as climate warms these will start to disappear so now is the time to document them before it's too late and see how they react to the warming climate," explains Johnson.
He says last year, he found insects more common in the southern tier of Minnesota counties. Last year was unprecedented across the Great Lakes region for the number of southern species documented.
When the weather turns cold Johnson will take the hundreds of specimens he's collected this summer back to the lab at the University of Wisconsin-Madison, where they'll be identified and cataloged. He hopes to create a baseline of knowledge about the insect diversity in Minnesota peatland bogs.
And next summer, Kyle Johnson will return to continue his quest to understand the smallest creatures in Minnesota's wildest places.