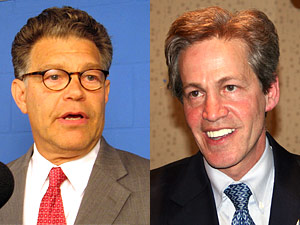 Four of Minnesota's U.S. Senate candidates meet today for a debate at Farm Fest in southwestern Minnesota.
The forum will mark the first face-to-face meeting of DFL endorsed candidate Al Franken and Republican Senator Norm Coleman.
Carleton College political science professor Steven Schier says the debate is an opportunity for Franken to shift the focus of the campaign from his past as a comedian.
"Franken will be attempting to attach Norm Coleman very closely to George W. Bush. You're already seeing this in Franken's ads and I think what Franken's seeking to do is to encourage people when they think of Coleman to think of George W. Bush because George W. Bush is not very popular in Minnesota," Schier said.
Schier said he expects Coleman will use the debate to remind voters of Franken's past controversial writings and statements.
Two Independence Party Senate candidates, Dean Barkley and Stephen Williams, will also take part in the Farmfest debate.