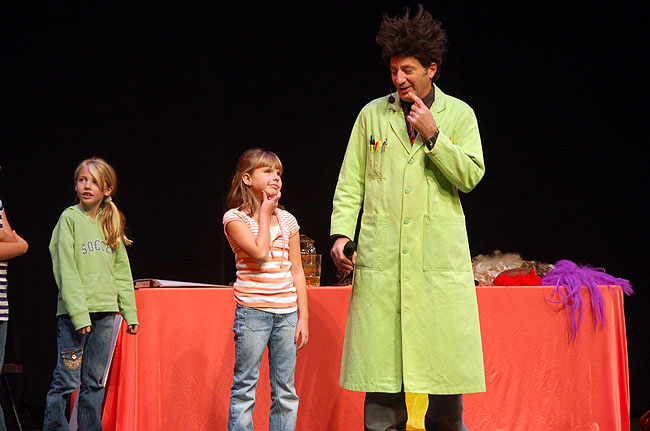 It's a big weekend for puppets in the Twin Cities. Barebones Theater is presenting it's annual outdoor Halloween Show at 7 p.m. Tomorrow and Sunday, as well as next Friday and Saturday at Hidden Falls Regional Park in St. Paul, rain or moon.
And in Minneapolis, award-winning puppeteer Paul Zaloom is performing a puppet-based satire tonight at Heart of The Beast Puppet Theater.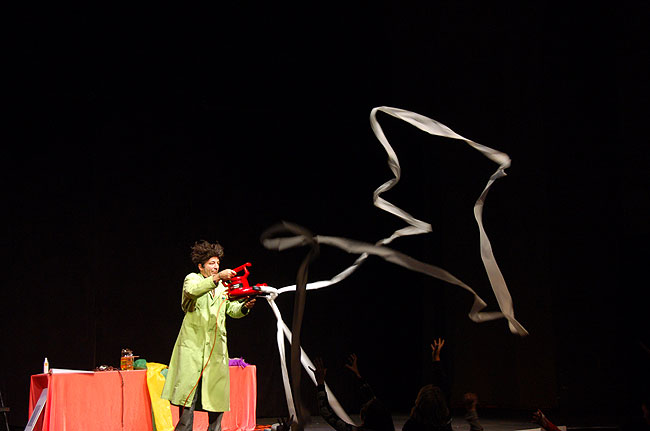 Zaloom is best known as the title character on the over-the-top kids' TV science program "Beakman's World". Though the show stopped taping new episodes 10 years ago, it still airs on Saturday morning syndication in Minnesota and around the country.
And, Paul Zaloom still reprises the Beakman role in live theater productions, including this week at 'Heart of the Beast.'
Students crowd the theater, mesmerized as Zaloom holds up a water glass with a playing card or uses air pressure to spray the room with toilet paper.
However, when Paul Zaloom takes off the "beakman wig" and starts performing for adults, his show takes on a very different flavor.
Tom Crann caught up with him after a performance this week to ask about puppet satire and why the "Beakman" character resonates so well with kids.
OBIE-award winning pupeteer and wacky TV science-guy, Paul Zaloom. He's performing his "adult" show tonight at 8:00 at In The Heart of The Beast Puppet and Mask Theater on Lake Street in Minneapolis. He performs the kid-and-parent-friendly science show, "Beakman Live!" tomorrow at 2 p.m.