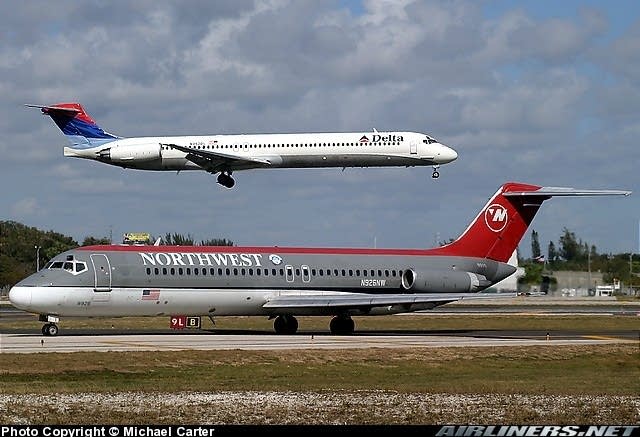 The end of Northwest Airlines has begun.
Late yesterday afternoon, Delta Air Lines closed on its purchase of Eagan-based Northwest, shortly after the U.S. Justice Department approved the deal.
In an industry known for turbulence, Northwest had kept its independence for 82 years. It'll take about 18 months to integrate the two carriers, which will form the world's biggest airline.
But, air travelers should expect no big changes immediately.
With the completion of the merger, Eagan-based Northwest is now a wholly owned subsidiary of Delta. For now, customers will continue to check-in and do business directly with Northwest, just as they did before the merger.
Delta will continue the airlines' separate Web sites, along with the two airlines' reservation systems and frequent flier reward programs.
Northwest spokeswoman Tammy Lee said nothing will change right away for travelers.
"Customers, they should expect business as usual when they show up to check in for a Northwest flight, they will still be checking in at a Northwest ticket counter. They should expect no change," Lee said.
But Lee said customers will soon be hearing about a lot of changes to come.
"We will begin the process of communicating to customers that we are combining the two carriers, with both the frequent flier programs and the ticket counter check-ins and all those things that will be taking place. So we will begin the full integration process, starting almost immediately."
Lee said the combined airline will give travelers a lot more.
"Now they have access to many more cities and a much larger frequent flier program. For customers, this is a big win."
Northwest customers will have their WorldPerks miles rolled into the combined airline's frequent flier program on a mile-for-a-mile basis.
The combined airline will serve nearly all of the world's major travel markets, flying to 66 countries and more than 375 cities.
Delta says that's more than any other airline. The new Delta will have about $35 billion in annual revenue, some 1,000 jets and about 75,000 employees.
Northwest flight attendants will start wearing delta uniforms next spring.
Delta says there'll be no job cuts for most employees, including those in Minnesota, as a result of the merger. Northwest had about 11,600 employees in Minnesota when the deal was announced this past April
And Delta has said there won't be any big changes in flight operations at the Minneapolis-St. Paul International.
The two airlines expect their merger will eventually generate $2 billion in cost savings and additional revenue.
Airline industry consultant Darryl Jenkins said the merger is all about creating the world's first truly global airline.
"Right now in the world you have global corporations. But you really don't have global airlines. So, the race is to be the first global airline and then you can do business with global corporations," Jenkins said.
Jenkins figures Delta will have a great lead on other rivals that may look to join forces to compete with Delta.
"It's going to take the others five years at least to catch up with them. This is a very big deal. They have unprecedented size and scope." But Jenkins cautions things may not go smoothly for Delta as it tries to absorb Northwest. Especially on the labor front.
Most Northwest employees are unionized. Most Delta employees are not. The airline faces a series of votes to determine if unions stay or go.
Then there can be challenges with everything, from reservation systems to baggage handing. Jenkins said mergers are very challenging.
"Integrating large airlines is not easy. Integrations are in fact difficult."
Northwest showed how bad mergers can get, when chaos erupted after its acquisition of Republic Airlines in 1986.
But Northwest and Delta may have an advantage this time. Some of their key systems are already connected. For years, the carriers have been selling tickets on each others flights.
For travelers the question is whether those links and the lessons of the past will prevent a messy merger, or whether history will repeat itself.
But Jenkins believes Delta is up to it, especially with former Northwest CEO Richard Anderson at the helm of the newly minted airline.