Painting the beauty and ambiguity of the Iraq war
Megan Rye's younger brother Ryan left for Iraq in 2004 as a U.S. Marine reservist. There, he ran convoys in the dangerous Sunni triangle. Ryan doesn't talk much about his experiences in Iraq, but he did take along his camera.
"He came back in 2005 and he gave me this incredible gift, this archive of over two thousand images that he had taken," said Rye. "And when I saw those images I just knew that I had the project of a lifetime."
Rye began painting images inspired by the photos. She says the photogrphs themselves are works of art; haunting and endlessly fascinating.
"Yet, had I not had a brother in Iraq, it would never have occurred to me to actually take on this subject matter," said Rye. "Having that personal connection is what drove me to the subject."
Grow the Future of Public Media
MPR News is supported by Members. Gifts from individuals power everything you find here. Make a gift of any amount today to become a Member!
Rye painted men in uniform on patrol, driving military vehicles, or holding guns. She painted the desert sky, and the sand. She played with the photos, doubling them or bleaching out the colors. She pulls in other images from news coverage of the war.
The paintings are crisp and bold and yet they are also unsettling. In one a soldier gazes into the camera, but his face is completely covered with helmet, goggles and a scarf. It's titled "Alien."
Sculptor Judy Onofrio has been following Rye's career for years. She says the war images represent a distinct change from Rye's previous paintings of fish or the tiled floor of Grand Central Station. She says there's a new level of intensity. "I think that she's really trying to understand underneath it all in a very literal way the whole experience her brother went through and in a larger sense, what the world is going through," Onofrio says.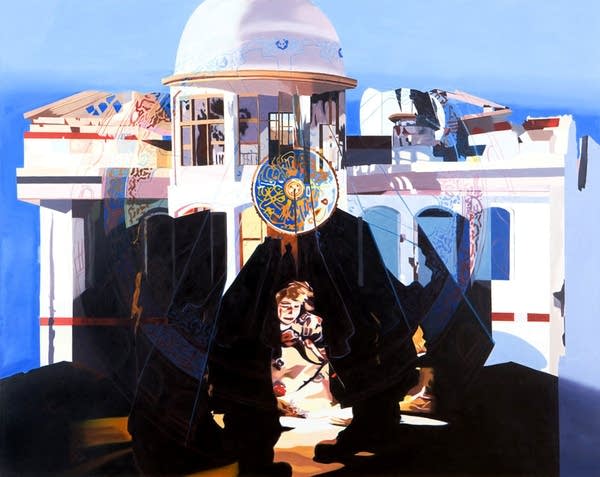 Onofrio says there is a common thread to Rye's work, whether it's of fish or marines. She says Rye's images are always both beautiful and lonely.
Rye says a lot of people have asked her why her work isn't a more obvious protest of the war, showing it's grim aftermath as opposed to lone soldiers on duty. But Rye says media coverage has numbed us to the brutality of war.
"To me, some of those images that one might expect - the bloody bodies in the streets - are the least interesting images," explained Rye. "Those images look like Hollywood, and we're preprogrammed to have this reaction to those kinds of images."
Rye's photographs are now on display at the Burnet Art Gallery in Chambers Hotel in downtown Minneapolis. Rye says she's not using her paintings to tell people what to believe. If anything, she says she just wants to give them the opportunity to reflect upon the war. She says she's surprised by how little media attention the war gets these days.
"I think when your country's at war, we all need to be really focused on that," said Rye. "And I think that by placing this artwork in a gallery ... a gallery to me is like a library or a church in a sense, it's a very specific place, a place of contemplation. And so when the viewer goes into the gallery, all other distractions of the world fall away and they're left with the subject matter."
As a citizen of a democracy, Rye says she feels complicit in the war in Iraq. She says the more than 2,000 photographs her brother gave her may have been the gift of a lifetime, but she'd much rather he'd never gone to Iraq at all.
Gallery
1 of 2
2 of 2