At today's press conference on the Minnesota state budget, state economist Tom Stinson said Minnesota will lose a lot of jobs; 58,000 between now and when the recession ends. And, he said the recovery, projected in 2010, won't come easily.
Stinson said the housing sector continues to perform poorly, and consumer spending, which makes up 70 percent of the national economy, will likely stay low for a while.
"Typically the economy bounces back fairly quickly after the recession is over," Stinson said. "Here, we don't expect to see that because there hasn't been the buildup of pent up demand. Consumption wasn't cut off by high interest rates, so we're not likely to see that kind of change."
On top of that, Stinson said, consumer spending will also be held back because of all the bad news about the financial system. He said credit markets haven't loosened up, despite the federal government's efforts to clear them.
"Credit is the lifeblood of the U.S. economy, of the world economy, and frankly, it's clogged right now," Stinson said. "Consumers have become aware of the problems and, reasonably, have cut back. So these are intertwined. If we solve the credit problem, then that will start consumers to start spending because they'll be more confident."
Presumably, that would allow more companies in a credit squeeze to keep employees on their payrolls, or even to stay in business.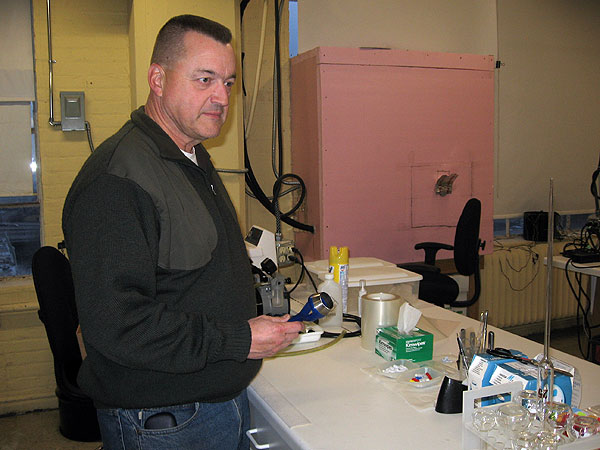 Ted Schwarzrock is the president and chief executive of a pharmaceutical company called Dermatrends, in Minneapolis. The company comes up with ways to deliver medicine through a patch on the skin. That way it avoids roughing up your stomach.
"We are part of it," Schwarzrock said. "We look at where we are and we've got employees who haven't had any income to pay taxes on since October 16."
But the employees are no longer working in the Dermatrends lab. Their white lab coats hang sullenly on the wall.
Schwarzrock has had to shut down the company because of tight credit markets. Earlier in the year, he says he got verbal confirmation of a $1 million credit line from his banker, a guy he went to high school with. He asked to tap it when one of his own customers failed to pay Dermatrends the $1 million it owed.
But, when Schwarzrock went back to his bank, they refused him the credit line, despite the earlier verbal agreement and despite the personal guarantees of shareholders, who had a combined net worth of about $50 million. Schwarzrock went to other banks and had similar conversations.
"They would say we'd be glad to guarantee you with a million dollar line of credit if you put a $1.4 million worth of cash and marketable securities in our bank," Schwarzrock said. "If i could do all that, why would I need to borrow a million dollars?"
Schwarzrock reflects the pressures in the economy and for the state in a lot of ways. The state is no longer drawing income tax revenues from his employees. Those laid off workers, like Schwarzrock himself, are probably out spending a lot less money, contributing to the state's declining sales tax revenues.
All these problems are expected to snowball in the next biennium. When more workers get cut from payrolls, they'll turn increasingly to state programs like health care to keep them afloat. So, in the 2010-2011 budget forecast the state's revenues will drop by nearly 2 percent, while expenditures are projected to climb 6 percent.