Curt Peterson never imagined he'd be a nursing student in a Northwest Technical College classroom in Bemidji.
For the past decade, the 54-year-old was a millworker at Ainsworth Lumber. But the mill shut down last fall, putting Peterson and 140 others out of work.
Now, Peterson is in his fourth week of this Licensed Practical Nursing program. He's lying on a bed, playing patient for a fellow student.
"Okay, Curt, I'm going to get you nice and tucked in here," says a fellow student, "and I'm going to roll you towards me."
Peterson is one of 10 former Ainsworth employees enrolled in the nursing program. They're getting tuition help through the state's dislocated worker retraining program.
"Six months ago we were driving forklifts, shoveling dirt and dust and using a bobcat and stuff like that," Peterson said. "Now we're cleaning people's teeth and giving them bedbaths. How's that for 180 degrees?"
Nursing appears to be a promising career choice. That's because there's a big nursing shortage predicted.
Some 33,000 Minnesota nurses from the baby boomer generation were expected to retire between 2005 and 2020. Students have been flocking to nursing programs for several years. At most schools, they face extensive waiting lists just to get into a program.
However, the bright outlook for nursing jobs is being muddied as the nation sinks deeper into recession.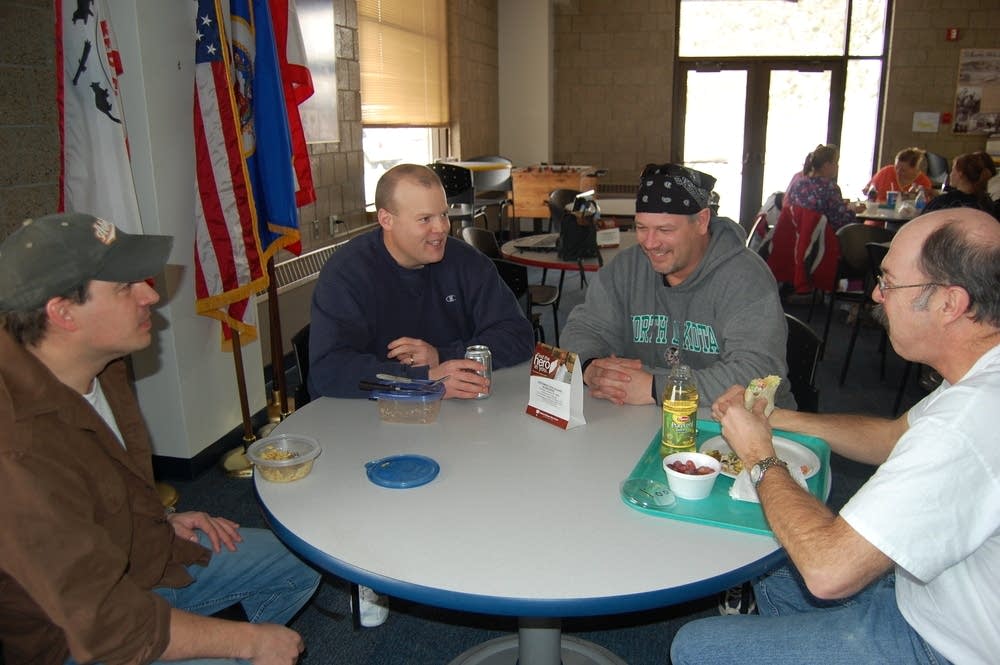 Cheryl Harms, nursing instructor at Northwest Technical College in Bemidji, says many retirement-age nurses are looking at their withering 401k accounts and deciding they can't afford to retire.
"Up until this point, you could go anywhere and get a job in nursing," Harms said. "And now the baby boomers are going to stay working longer because of the economy, and I just don't know what effect that's going to have on how many nurses the market can handle."
While the health care industry sailed through the last two recessions relatively unscathed, things appear to be different this time.
Hospitals in the Twin Cities have cut more than 1,000 jobs in the past few months, some of them nurses. Hospitals across the state have seen cuts in reimbursement rates for patients on public assistance. Jeanine Gangeness chairs the department of nursing at Bemidji State University. Gangeness says health care facilities are struggling to stay afloat, and that's bad news for nurses.
"We're not seeing a decrease in nursing need," Gangness said. "It's that the reimbursements for insurance, or a high number of people who don't have insurance, and so the hospitals just aren't getting the income to pay people."
There are signs that fewer people are seeking health care because they can no longer afford it.
Hospitals also report that a significantly higher number of people aren't paying their medical bills at all. That puts added pressure on struggling health facilities.
Despite the bad economy, some hospitals, especially in rural Minnesota, still report a high demand for more nurses.
There are nursing and other health care jobs out there, according to Kirsten Morrell, with the Department of Employment and Economic Development. It may just take a little more work to find them.
"There is still growth in the health care industry. It is slower than it has been, but given this economy, the fact that it's still growing is significant," Morrell said. "So there are still going to be opportunities in health care and social assistance. There just may be fewer than the past couple of years."
Growth in the health care industry is expected to slow down even more this year. That worries some of the former Ainsworth lumber mill workers who are pinning their futures on a nursing job.
But many of those workers say that with most other industries in the state in even worse shape, nursing may be their best shot right now.