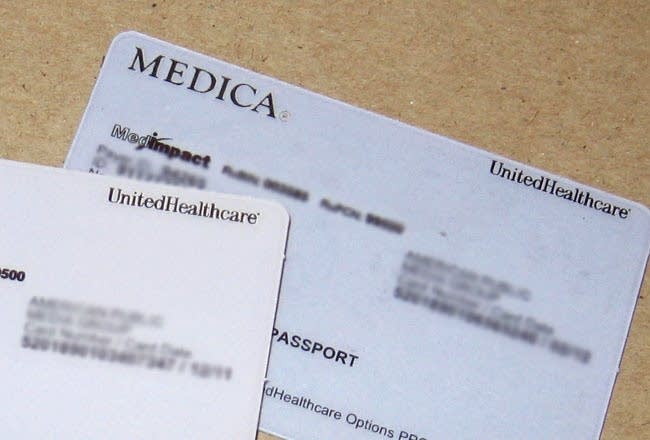 Going without health insurance is a big gamble. But when you're unemployed -- collecting half of your old pay if you're lucky -- you can really feel you don't have a choice.
"I was going without any kind of health coverage whatsoever," said Greg Lane of Minneapolis.
Lane decided he couldn't afford insurance despite having a seizure disorder, "and never knowing when a seizure might arise."
Lane has done without insurance for about a year, since he lost his last full-time job. His premium would have been $650 a month. And that was more than he could pay. Last December, Lane had a seizure in downtown St. Paul. An ambulance rushed him to a nearby hospital emergency room. He was there about four hours.
"I got a bill from the ambulance, the hospital and the emergency room doctor," Lane said. "I ended up with almost a $2,500 (total) bill."
And he had no way to pay it.
Lane thought he might get help through one of the state's medical assistance programs. They cover about a half million Minnesotans. But no luck.
"They told me I made too much money," Lane said. "They said you can't make any more than $1,200 a month."
Lane's experience is not uncommon.
LuAnn Schmaus, a spokeswoman for Hennepin County, said middle-class folks who lose their jobs are often shocked to see how low their income must be to qualify for coverage under one of the government programs.
"It's pretty damn low. It's really, truly a safety net for people who are about to touch bottom," she said.
Schmaus said it seems most unemployed people are better off trying to hold on to their employer-provided health insurance through COBRA. That's a federal law that allows workers to stay on a former employer's health plan. But they have to pay the full premium.
Affordability has been a big issue, though. Without an employer subsidy, family coverage premiums can be $1,000 to $1,500 a month under many policies.
"We expect there will be another 100,000 Minnesotans enrolled in [MinnesotaCare] in the next two years."

Brian Osberg, Minnesota Department of Human Services
The economic stimulus bill signed by President Obama earlier this month offers people some serious help with COBRA payments.
The federal government is promising to pay 65 percent of COBRA premiums for up to nine months.
But there are major eligibility limits. For instance: The subsidies will be available only to workers losing their jobs between Sept. 1, 2008 and the end of 2009.
Insurance companies like Medica say they may have better options than COBRA for many people.
"We offer individual products that, many times -- based on historical COBRA figures -- are much less expensive," said John Chomeau, a vice president at Medica.
Of course, the plans may or may not provide as generous coverage as what's available under COBRA. But Chomeau said COBRA premiums can be crushing for the average family, even with a federal subsidy.
"Twenty-four percent of their unemployment benefits will have to go to COBRA during this period of subsidized COBRA for the next nine months," Chomeau said. "And after that nine-month period, that individual will have to cover 100 percent."
Chomeau said what's best for someone and his or her family will depend on prior medical conditions, deductibles, premiums and other factors.
Some people may find they're better off on COBRA. But Chomeau said people should investigate coverage options offered by for-profit and nonprofit insurers, as well as government health insurance programs such as MinnesotaCare.
MinnesotaCare covers about 114,000 Minnesotans now, but the income guidelines are fairly tight.
For a family of three, for instance, household income can't exceed about $48,000 a year. Assets, except home and retirement funds, can't exceed $20,000. Even then, you can't get covered by MinnesotaCare unless you've gone without insurance for at least four months.
But as unemployment rises, a growing number of individuals and families will likely qualify for MinnesotaCare or other state medical programs.
"We expect, based on current law, there will be another 100,000 Minnesotans enrolled in our programs in the next two years," said Brian Osberg, Minnesota's assistant commissioner of health care.
Osberg said another factor is fewer employers are offering health insurance to workers.
For Greg Lane, the MinnesotaCare program may be his only shot at getting insurance.
"Hopefully, Minnesota Care is something I qualify for," Lane said.
If he qualifies, Lane would have to pay a premium that could be as much as 10 percent of his income. He'd also face co-pays and perhaps a $10,000 annual limit on hospitalization coverage.
But for Lane and many other Minnesotans, MinnesotaCare is a lot better than no coverage at all.