Latest updates
3:55 p.m. - Fargo police have lifted the ban on entering mandatory evacuation areas. Residents in about 120 homes in the Belmont and River Vili neighborhoods can return to their homes during daylight hours to check on their homes and retrieve valuables. Residents should check in with law enforcement before entering the area.
In Minnesota, the Department of Transportation says work has finished on a secondary dike on 8th St., and that Highway 75 will be reopened for one lane in each direction from 30th Ave. S. to 37th Ave. S.
The Minnesota National Guard has a Google Web photo album of soldiers at work in the Red River Valley. You can see those photos here.
The latest reading on the Fargo flood gauge is 40.61 feet. That's down 2 inches from overnight.
3:30 p.m. - Moorhead Police Chief David Ebinger says officers are going to try to seal off parts of the city, to protect flood works and secure homes that have been evacuated. He's speaking now at a press conference.
"The dikes that have been erected, the pumps that are in place, are not a subject of curiosity. If we find you up on the dikes you might get the opportunity to go down and see what our temporary law enforcement looks like," he said.
Ebinger also said that even evacuees won't be let back into the area from 50th Ave. in the south up to Main Ave., and from 8th St. to the west. He said there haven't been any arrests yet, although police have intercepted "some folks."
2:35 p.m. - Fargo-Moorhead area residents got a dose of good news Saturday as the National Weather Service predicted the bloated Red River had crested and was headed down in the next week.
Officials cautioned the region wasn't out of the woods, with the river expected to stay more than 20 feet above flood stage for several days, testing the integrity of hastily assembled sandbag dikes.
Mike Hudson of the weather service said the Red River may already have reached its high point around midnight at 40.82 feet.
As of 8 a.m. it had dropped to around 40.69 feet.
The latest available reading put the river stage at 40.65 feet, down .03 in the last hour.
Fargo city officials expressed some concern this afternoon that people may let down their guard at the suggestion that the river has crested. They caution that the river may crest again, and its level will remain high for several weeks. They are urging area residents to remain on alert.
The river can still fluctuate up to a foot, given that ice floes affect the flow of the river and could lead to periodic rises.
The weather service said earlier this weekk that the crest could be as high as 43 feet. But forecasters put out an alert Saturday that says the river is expected to remain below 41 feet and slowly decrease.
1:50 p.m. - It's the spring break that nobody wanted. North Dakota State University announced it is joining Fargo and Moorhead public schools in canceling classes for the next week. Dorms, dining services and other essential functions will keep going for those who remain on campus.
Moorhead school superintendent Lynne Kovash about schools in Moorhead said it wasn't practical to have school next week, since so many people are trying to save their own homes, as well as their neighbor's home.
In addition, some of the schools have been converted to Red Cross shelters, temporary housing for the National Guard and other uses. Kovash said she's talking to the state's Department of Education, but that she doesn't know yet whether students will have to make up the days later in the year.
1:15 p.m. - The Red River has fallen again in the last hour to 40.68 feet. The river has fallen more than an inch and a half since 3 a.m. Saturday morning.
1:05 p.m. - Moorhead police say the volunteer center in Nemzek Hall at Minnesota State University, Moorhead has shut down for the day, although it has bags and sand standing by.
The city has also decided to start work on a secondary dike, along 8th Street from 24th Avenue to 40th Avenue. They're asking for drivers to stay out of the area.
12:25 p.m. - The National Weather Service has been warning that while the water level on the Red River has been falling since 3 a.m. Saturday morning, it will "bounce" back.
The water level stage on the Red River has been falling steadily for ten hours. At noon, the Fargo gauge showed the level at 40.69 inches.
| | |
| --- | --- |
| River level | Time |
| 40.69 | 12:00 p.m. |
| 40.7 | 11:00 a.m. |
| 40.71 | 10:00 a.m. |
| 40.73 | 9:00 a.m. |
| 40.75 | 8:00 a.m. |
| 40.79 | 7:00 a.m. |
| 40.8 | 6:00 a.m. |
| 40.81 | 5:00 a.m. |
| 40.81 | 4:00 a.m. |
| 40.81 | 3:00 a.m. |
| 40.82 | 3:00 a.m. |
12 p.m. - The Associated Press is reporting two deaths are being attributed to the flooding along the Red River in N.D.
The North Dakota Department of Health says two cardiac-related deaths were apparently caused by over exertion during flood preparations.
The NHDH is also saying there have been 50 flood related injuries, ranging from wrist and ankle injuries to injuries from serious car accidents on washed out roads.
11:50 a.m. - Reports from the National Weather Service today indicate that the flood crest may not be as high as their 42 foot prediction of Friday. While Fargo Mayor Dennis Walaker said at a morning briefing that residents should realize they're still fighting a flood, Moorhead Mayor Mark Voxland is approaching this period with a slightly different take.
"The fight is done, and now is the time of vigiliance," said Voxland.
11:40 a.m. - Minnesota U.S. Rep. Collin Peterson is holding a press conference in Moorhead. He is talking about laying the groundwork for building permanent flood control in the Fargo area. Peterson, who represents the area in Congress, said he'd like "to make the whole river system protected, similar to the way Grand Forks and East Grand Forks is protected."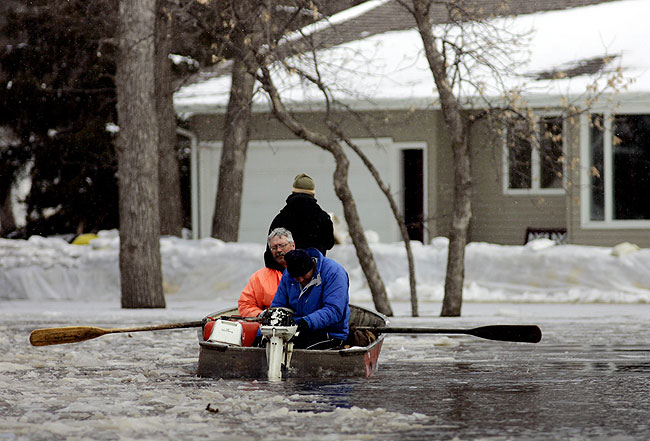 Peterson said work should finish soon in the Breckenridge-Wahpeton area, and he hopes to turn the federal government's attention to Fargo and Moorhead.
State Rep. Morrie Lanning, R-Moorhead, and former Moorhead Mayor, joined Peterson for the conference.
Lanning warned against complacency.
"It's kind of easy to express a sigh of relief and kind of back off a little bit," said Lanning. "We have a huge amount of water that's frozen now that's going to run off. Once we get past the crest, once this melt starts up again, we're going to have an ongoing problem."
Lanning says he plans to ask the Legislature for recovery money, as well as funding for flood mitigation efforts.
10:42 a.m. - Greg Gust, with the National Weather Service in Fargo, says a crest of "43 feet is not off the table," but he's hoping they'll be able to take that "off the table" tomorrow.
That may mean the river is nearing a crest already. The water level hit about 40.8 feet over night and has been hovering about an inch below that since about 8 a.m.
National Weather Service hydrologists will be looking for what's known as a "loop back," as the rise in the water's velocity pauses and even begins to decline. The water may actually continue to rise slightly after that, but that drop in velocity may be a sign that the crest is near. U.S. Geological Survey xrews are taking regular measurements, looking at that speed.
Gust cautioned, though, that wind or ice could unexpectedly drive the flood crest higher.
9:56 a.m. - East Grand Forks, Minn., is opening up a live flood hotline today as the waters rise downstream from Fargo-Moorhead. The number in East Grand Forks is 218-399-3456, and it's open until 8 p.m. tonight.
East Grand Forks was also badly damaged by the high water 12 years ago. Downtown East Grand Forks, though, more closely hugs the river than its bigger twin, and so that city opted for removable floodwalls, in contrast to some of the massive earthen and concrete protections on the North Dakota side.
You can see pictures of crews putting the removable panels in place on the East Grand Forks flood page at http://www.egfflood.info/web/.
9:40 a.m. - President Obama used his weekly radio and Internet address today to focus on the Red River flooding. He praised volunteers who helped fill sandbags and build dikes.
Obama said he is keeping in close contact with local officials, and promised federal aid.
"We will do what must be done to help, in concert with state and local agencies and non-profit organizations and volunteers who are doing so much to aid the response effort," said Obama. "In moments like these, we are reminded of the power of nature to disrupt lives and endanger communities. But we're also reminded of the power of individuals to make a difference."
Obama has declared disasters in all of North Dakota and seven counties in Minnesota. The acting FEMA director has been in the Fargo-Moorhead region since yesterday to meet with local officials and watch the flood efforts.
9:35 a.m. - It isn't just the south end of the Red River Valley that's watching the water. Officials in Grand Forks are moving into action to brace for a crest between 50 and 53 feet by midweek, almost as high as the devastating 1997 floods there.
Spokeswoman Sheryl Simeone said a group of 74 students from Northwestern College in Arden Hills are just finishing up an all-nighter in Grand Forks filling sandbags for the outlying parts of the city.
Although a new dike system protects much of the city devastated by the floods 12 years ago, the city still needs temporary flood protection in some areas.
"We were very, very happy to see that kind of reinforcement, 74 students walking in," said Simeone. "It was huge. They worked all through the night and replenishing the supply of bags."
Simeone says Grand Forks is still looking for volunteers today to help get the sandbags to the places that need them.
9:10 a.m. -- City officials in Fargo have just wrapped up their morning flood briefing. The North Dakota National Guard now has 1,850 troops in the area, walking dikes, monitoring pumps and doing traffic control. They're also sent a demolition team over to the Cheyenne River to break up ice on that stream.
Operations manager Bruce Grubb says they shut down sandbag production at 6 p.m. last night, after filling and delivering 3 million sandbags, more than twice what the city initially planned for.
The city has opened most streets, although police chief Keith Ternes said one person working traffic control was hospitalized after being hit by a passing car. KFGO is reporting the man suffered a broken neck and broken leg.
8:23 a.m. -- The Minnesota National Guard is activating yet more soldiers to aid in the flood fighting efforts in the Red River Valley. The Guard said late last night it was sending 50 soldiers from the Duluth-based 1st Squadron, 94th Cavalry to Camp Ripley to prepare for duty in Moorhead this weekend.
They join nearly 500 members of the Minnesota Guard's Moorhead-based 2nd Combined Arms Battalion, 136th that were activated last week.
The calvary unit is the fourth to report for flood duty. The St. Paul-based 133rd Airlift Wing and Duluth-based 148th Fighter Wing are on the scene with high-tech communications trailers to provide emergency phone, radio and data communications if regular systems are knocked out or shut down.
Overnight - First the floodwaters hit. The water was so deep that more than 120 people had to be rescued by boat. Then a home caught fire and burned to the ground.
While the nation anxiously waited for the Red River to crest in Fargo, small towns like Oakport Township on the outskirts of Fargo were already dealing with their own devastating flooding. And in Oakport's case, fire.
The house fire added another tragic dimension to the situation in Oakport Township. Giant flames ate a huge gash through the roof as black smoke soared into the sky, all while a line of sandbags surrounded the base of the home.
Clay County Emergency Operations Center spokesman Dan Olson said fire crews couldn't get closer than 200 feet from the home in Oakport Township because the area around it was so flooded.
The cause of the fire isn't known, but township officials have been telling residents who are evacuating to shut off gas and electricity before leaving their homes. No injuries were reported.
Sgt. Ryan Alderman of the Clay County Sheriff's Department said authorities had rescued more than 120 people by boat in Oakport Township since Thursday night. About half of the rescued people called officials and requested help, while the others waved down boats while they were on patrol in the town of about 1,600 people.
Oakport has experienced Red River flooding in the past, but plans to build a dike from such high waters never really got off the ground.
Residents of Briarwood, south of Fargo, experienced similar widespread flooding.
Lowell Bottrell paddled a neighbor's canoe through the swirling currents of the floodwaters to help bring his neighbor sandbags, generators and pumps. To keep warm, he wore a "Go Bison" stocking cap, paying tribute to Fargo's beloved sports team at North Dakota State University.
"He was on the edge for a while but he's doing better now, so that's good," Bottrell said of his neighbor. "There was a lot of current. I'm not the most avid canoeist so it took a while to get straightened out."
Bottrell estimated that residents of eight or nine out of about 30 homes in his area had decided to stay. He said he was high and dry because he built his home after the 1997 flood.
Dave Albertson is among the residents of Oakport riding out the flood.
"It hasn't even crossed my mind. I'm toughing it out," Albertson said, standing next to a row of houses encircled by water.