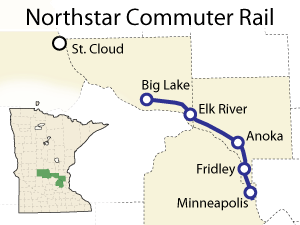 Governor Tim Pawlenty says that Vice President Joe Biden has reiterated his support for federally funding an extension of Minnesota's North Star commuter rail line.
"Well, I had a chance to visit yesterday, along with just a few other governors, with Vice President Biden by phone," Pawlenty said. "We were talking just generally about the stimulus package. And he raised - I sent him a letter about the continuation of the North Star Line from Big Lake to St. Cloud. He raised it and said that's something he's interested in looking at. And he said if we put in an application, it would be in the mix. So we're going to pursue that."
Biden first heard about the line at an appearance in St. Cloud earlier this spring. The 40-mile commuter rail line is scheduled to open service between Big Lake and downtown Minneapolis later this year. The $320 million line was originally conceived to run between Minneapolis and St. Cloud, but cost concerns led to the shorter route.