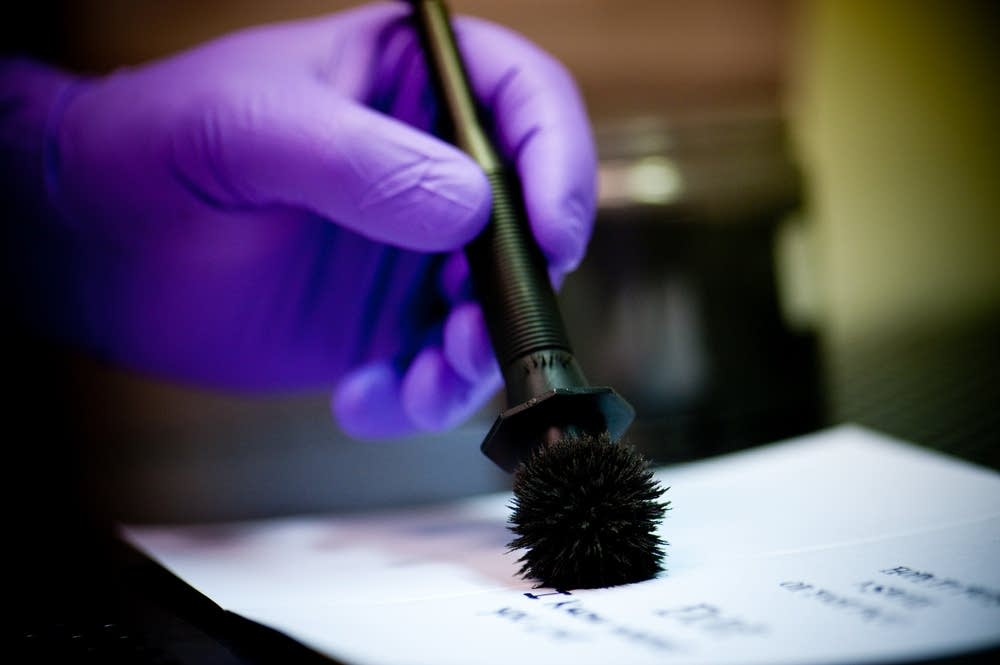 The sour economy is driving up shoplifting. That's what major retailers said in a recent survey by the Retail Industry Leaders Association. Four-fifths of retailers said they saw a spike in shoplifting in 2008, both by amateurs and professionals.
It's the pros who really get to retailers, though, sucking billions of dollars in merchandise out of stores every year. A pro can steal thousands of dollars of goods in a day. Some can "earn" well over $100,000 a year.
To combat these crooks, Target uses lots of alarms, cameras and other technology.
"This is called spider wrap," said Nate Hartle, Target's senior manager for investigations. He was describing black wire wrapped around a digital camera box. The wires run through a small alarm. "If it walks out of the store it will alarm. If it's cut off, it will alarm. It's proven very effective deterrent for us," Hartle said.
Target also deploys many uniformed and undercover security personnel to protect its stores. Each year, the company catches about 75,000 shoplifters.
But Hartle said Target and other retailers need help in the form of tougher laws.
Hartle said right now shoplifting is a low-risk, high reward business for those who make a living at it.
"We want to change that," he said. "We want to prevent it we want to make it tougher for them to sell and we want to increase the penalties."
In some states, a thief has to try to steal $1,000 worth of goods before risking felony charges.
He would put on a pre-made label that said a $200 item cost $30.

Nate Hartle, Target's senior manager for investigations
Professional shoplifters can be prolific. Hartle recalls one Chicago-area shoplifter who focused on electric razors.
"He would come in and select high-end electronic razors -- Norelco shavers -- and he would put on a pre-made label that said a $200 item cost $30 or something like that," Hartle said. "He would hit multiple stores in a single day, up to 10, 12 stores. He impacted over 60 stores in that market. And in total: losses up in the tens of thousands of dollars."
Professional shoplifters go after TVs, cameras, iPods and other pricey goods. But they'll also steal cosmetics, over-the-counter medications, baby formula and other goods in bulk.
This past February, A drug sweep at a Burnsville motel yielded no narcotics. But cops did find nearly 300 bras shoplifted from Victoria's Secret.
Increasingly, professional shoplifters are selling their booty via Web sites.
Hartle said the Internet is a gold mine for crooks. They can easily sell stolen goods to folks hunting for bargains, and perhaps not wondering why some deals are so sweet.
"It'd be very difficult to sell a Dyson vacuum on a street corner and, if you could sell it, you may get 10, 20 cents on the dollar. Online, you could sell it for 70, 80 percent on the dollar," he said.
Thieves may simply grab goods and run out the door with them. But more often than not, they rely on stealth and deception. They'll switch price tags or create fake bar codes. Stick stolen goods in metal-lined jackets or pants. Forage for discarded receipts and try to get refunds for items they never bought.
Sophisticated crooks require sophisticated sleuths.
Target maintains two forensics labs, including one in Brooklyn Park, Minn. Technicians pull fingerprints from coupons, packaging and other objects crooks handle but leave in stores.
"Often they will leave their fingerprints behind," said Rick Lautenbach, Target's manager of forensic services. "When they do that, we can examine those fingerprints from store A, examine fingerprints from store B and determine whether or not those fingerprints were left by the same person."
Fingerprints are a key tool Target uses to figure out if someone is ripping them off repeatedly.
Hartle said Target can literally follow crooks from store to store. And with video analysis tools, Target can identify thieves by things as subtle as the wear patterns on their pants.
At the company's Brooklyn Park campus and at other locations throughout the country, Target security staff remotely monitor surveillance cameras in the retailer's roughly 1,600 stores.
"We have the ability to monitor different hot spots, usually based on what type of crime or incidents are occurring," said Hartle. "These teams watch those stores and gather evidence."
Target regularly builds cases against crooks and then hands the evidence over to police. That expedites police investigations and prosecutions.
Retailers contend they have sufficient evidence to show they deserve state and federal laws that better protect them from organized crime.
Such legislation is currently pending here in Minnesota. U.S. Sen. Amy Klobuchar, among others, is sponsoring federal legislation. Klobuchar's bill would expedite the identification and prosecution of professional shoplifters, foster stricter penalties for them and curb the online sale of stolen goods.