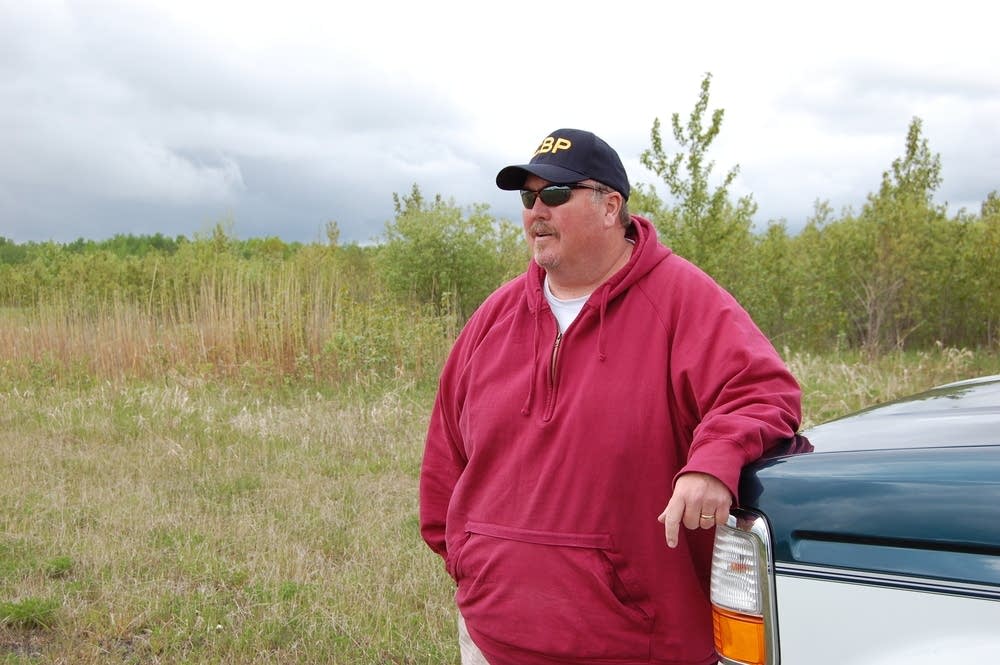 State and federal laws are designed to protect wetlands, a natural resource important for clean water and wildlife habitat. But for people in Koochiching County in far northern Minnesota, those laws can be frustrating, because much of the county is designated as wetland.
In fact, officials in International Falls say the complex laws that protect wetlands are stifling economic development.
Nearly 80 percent of Koochiching County is wetlands. That's more than 1.5 million acres.
Wetland isn't always what you'd expect. For instance, there's a scruffy piece of property in International Falls next to the health clinic that is designated as wetland.
There's no standing water here, no frogs or ducks or cattails. But this is officially a wetland. It's also the site where the community wants to build a much-needed new hospital.
"The development of this hospital does not hurt the environment, it does not hurt nature," said International Falls City Councilman Tim "Chopper" McBride. "That's not our intent. All we want is to have a little development, the ability to develop. That's all we want. We need development up here. We're not a dying community, but we're bleeding a little bit."
Here's where things get a little complicated. The city can build a hospital here. But wetlands make the project much more expensive.
State and federal laws say if wetlands are disturbed, they may have to be replaced somewhere else. That so-called mitigation could add $100,000 to the cost of a new hospital. That estimate is based on the state's assessment of the site.
But the U.S. Army Corp of Engineers claims jurisdiction over the property, too. The Corp enforces federal clean water laws, which can be more restrictive. Hospital officials worry if the Corp is involved, the project will cost even more.
International Falls city administrator Rod Otterness says Minnesota has done a good job protecting wetlands. According to Otterness, the U.S. Army Corp of Engineers has gotten more aggressive in northern Minnesota.
He points to a disagreement with the Corp over a runway expansion at the local airport. Wetland requirements from the Corp delayed the project Otternes says and added costs. He adds, it's a practice that has scared many local businesses.
"When the U.S. Army Corp of Engineers gets involved, everything slows down, everything becomes more expensive, everything becomes more frustrating to the people we're closest to," said Otterness. "Our business owners are finding out that if they want to expand out their back door of a business that may have been there for 40 or 50 or 60 or more years, that somebody is now calling their back yard a wetlands."
Five years ago, Thor Thompson decided to build a boat and marine sales business on a seven-acre site along Highway 53, International Falls' busiest business corridor.
"It's been frustrating, to say the least," said Thompson. "I mean, this is bureaucrats at their best."
Thompson says he followed all the rules when the state identified wetlands on his property. With state approval, Thompson built a couple of large ponds to offset the wetlands loss.
A few years later -- through what he describes as an administrative mistake -- Thompson was ordered to do more wetland restoration work on his property. He spent a year fighting the state, and last summer he won the case on appeal.
Now, Thompson says the U.S. Army Corp of Engineers claims jurisdiction on his property.
The Corp wants Thompson to do the restoration work the state decided wasn't necessary. He says if the Corp of Engineers gets its way, the additional work will cost him close to $100,000.
"If I have to go ahead with a restoration project, it's going to break me. It would," said Thompson. "My only question is, who do you sue on a case like that? It's just disgusting. All I can do is laugh. Otherwise, just sit here and pull your hair out."
The Army Corp of Engineers won't comment on active wetlands cases. As for the proposed hospital site in International Falls, Corp officials concede the site is a good choice.
The hospital's board of directors, meanwhile, disputes the Corp's jurisdiction. They've already lost one appeal. This week, the hospital board will decide whether to continue its fight in federal court.
Hospital officials want to break ground this fall, but they have yet to file a permit application with the Corp.
Lead project manager for the Army Corp of Engineer's field office in Bemidji, Kelly Urbanek, says the Corp's mission is not only to enforce federal laws that protect wetlands, but to consider the economic development needs in communities.
"It's intended to be a balancing process," said Urbanek. "It can be complex and it can be very challenging."
Urbanek says she realizes the Army Corp of Engineers is sometimes unpopular in places like International Falls. She's encouraged city leaders to use a Corp program designed to inventory wetlands and simplify the development process.
"We know the importance of the projects that the city is trying to pursue, most notably for economic development," Urbanek said. "I understand the resistance from the city, and the best I can do is to offer them more assistance to get through that, so hopefully I can assist them in realizing that the program does indeed work."
The goal of state and federal laws is to achieve no net loss of wetlands. In a county where 80 percent of the land is wetlands, that's a big deal.
Now, the state of Minnesota is moving forward with the biggest change in the state's Wetland Conservation Act in more than a decade.
When adopted later this summer, the new rules will tighten restrictions on wetlands and probably make developing wetlands even more costly.